Trail Mix: Blazers 103, Wizards 96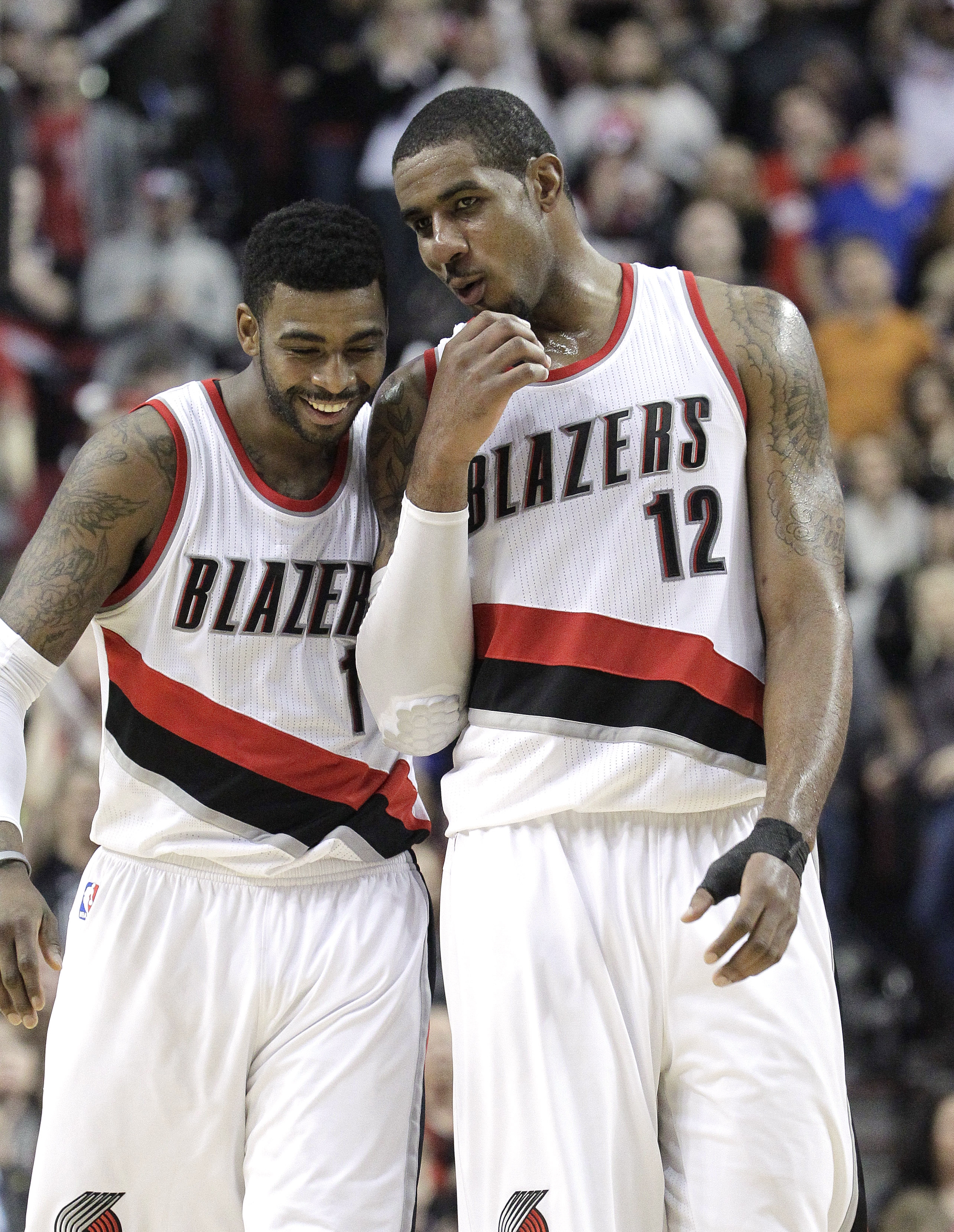 The Portland Trail Blazers defeated the Washington Wizards 103-96 Saturday in LaMarcus Aldridge's return to the court after missing two games with a left thumb that will need surgery.
You kind of knew that's how it was going to end, right?
Oh, you didn't hear? LaMarcus Aldridge is a living legend in Portland. 
[youtube http://www.youtube.com/watch?v=FnqMEaZq6xo]
Video via YouTube Anne Peterson 
The mood from the Blazers and their players was like a big party before the game. Everybody wants to chat. And Saturday when a scene formed around LaMarcus Aldridge before the game, they were talking about it in a much different manner than they did before Aldridge addressed the media 48 hours earlier to discuss his injury, surgery and recovery.
That the Aldridge news coincided with a sunny day and a date a good, physical Washington Wizards team made it too easy to predict the ending.
But while the Blazers had storybook finish, there was a lot of doubt and they had to comeback from being down double-digits against John freaking Wall.
But they did and Aldridge made huge plays for the Blazers down the stretch and his presence lifted the rest of the Blazers up. There were double teams, there was space for people to create off the dribble. Damian Lillard's biggest 3-pointer in the 4th quarter was a "practice shot."
The Blazers had great performances from role players and did it with some better team defense in the second half.
Meyers Leonard continues to perform when called upon. Leonard played 21 minutes, finished the game in crunch time and had nine points. He only had two rebounds but the Blazers didn't suffer against a pretty good rebounding team in Washington, out-rebounding them 44-41. "I'm glad he makes shots," Stotts said. "That's the most obviously thing. But once he made those shots I thought his presence changed, I don't know, the geometry of the floor. He creates some space. He defended his position well. I thought he played when LA was posting up he read the double teams well. And you know it was a solid game. Obviously keeping him in during crunch time, he deserved it." With Aldridge and Leonard in the game, the Blazers have two legitimate jump shooting threats at the 4 and 5 positions. ""When you got two guys that can shoot as well as those two guys, they don't have a choice but to respect their ability to shoot it," Lillard said "It really stretches the floor. Having a guy like Meyers that's been shooting the ball so well the past 10-12 games. Teams have to respect it because he'll knock the shot down. He's proven that over the last 12 games. I mean it's open out there. I'm able to get into the paint and make plays."
The Blazers haven't played Aldridge, Leonard and Lillard together a ton and knowing Stotts, who knows when we're going to see it. But it could be something worth looking into, especially with the big man depth being what it is and Chris Kaman also playing through injury, just to see the kind of opportunities it could open up for Lillard. The most Blazers most used line-up with Leonard is with him and the other four regular starters is a +29.8 per 100 possessions according to NBA.com.
It wasn't all good news for the Blazers on Saturday. Nicolas Batum said before the game he forced to sleep with a brace on his right wrist but will travel on the upcoming road trip and Jason Quick reports that Batum's had a torn ligament in the wrist for some time. Also, it sounds like Joel Freeland he is going to be out a while. "It's getting there day by day," Freeland said. "I'm just doing everything I can. I've been talking to Chris (Stackpole, the Blazers Director of Player Health and Performance). He thinks I'm meeting the goals I need to meet. It's getting better. It's just a waiting game at the moment." When Kerry Eggers of the Portland Tribune asked him if it would be a couple of weeks, Freeland responded: "At least, yeah. It's all dependent on the pain. As soon as the pain goes I'll be cleared to start." Freeland expects he won't be playing on the Blazers upcoming four-game road trip. "I couldn't really put a date to it. He keeps telling me you're meeting your goals. He doesn't really know a date. It's just whenever my body recovers." The Blazers are "hopeful" that Robin Lopez can return before the All-Star break.
That news got you down, Blazer fan? Here's more quotes about Aldridge.
Wesley Matthews: "Yeah. He was big time. Even if he didn't have the monster game that he did. His sacrifice of his own body and for him to recognize for him to recognize how special this season is and can be and continue to be, for him to give that up to be out there with us in the trenches, it speaks volumes. I mean, he can't sit out. He doesn't want to sit out. He loves this game and now he figures, if he's got something to give, he's going to give it. I can relate to that." Matthews also had a quote of the year nominee when he talked about how he learned that Aldridge would come back. "I thought it was a glitch on my phone. NBA game time app popped up and said 'LA is going to play.' I was like, 'I need to turn my phone in.' And then I saw him and I just gave him a hug." It started to hit Matthews during warm-ups that things were almost back to normal. "I mean, when you see him getting ready to warm up and coming out in the anthem and all that stuff. It's just like it's regular for the most part. We're still missing guys but it's still good to have that centerpiece back in playing."
Terry Stotts: "Well it was a win that we needed to get. Understatement: it was good to have LA back. I'm glad he had a good game with the thumb and the splint. It was very encouraging." On the leadership Aldridge showed "You can't say enough," Stotts said. "That was big time. Not only coming back and playing through the injury but then not favoring, going hard, not shying away from contact, being aggressive on both ends of the court–I mean that was big time."
Damian Lillard on the MVP chants for Aldridge: "It sounds right to me. That's what type of season he's had. Like I said he'd been huge for our team. Him being out there after that injury, I think that was just icing on the cake. He's worthy. "
Full Lillard quote on the play that got him a wide open 3-pointer in the last 3 minutes. "We threw it in to LA and everybody else was basically on the other side of the floor. And coach said we are going to try to throw it into LA and if not they told me to shoot to that side of the court and try to get an outlet. We got it into LA so I was in the middle of sprinting to the opposite side it seemed like everybody just ran to him. As soon as he turned he saw me and I was wide open. It was a practice shot." Barton who was the inbounder on the play: "I threw to LA, they sent a quick double and he threw it out to Dame. It was a post up for L (Aldridge). They doubled like they should have, he kicked it out. He made the play he was supposed to.
"His presence is bigger than anything he does," Barton said. "You know so they have to respect him. And it opens up shots for anybody on the court with him. He's just a calming for everyone on our team. He's seeing everything. Once he talks to you and give you direction you know you can listen to a guy like him because he's been there and done that."
I commented on twitter that tonight was the first time this year that I heard MVP chants for Aldridge this season. I conferred with a few other reporters postgame and they agreed. Maybe there had been other times but they didn't register or weren't loud enough. Tonight's were on another level.
Blazers PA announcer Mark Mason gave LaMarcus Aldridge a curtain call on the way out, having the fans who were still left in the building give it up one more time for Aldridge as he exited stage left.
Speaking of been there and done that, Washington's Paul Pierce hit his 2,000th career 3-pointer making him the fourth player to do so joining Ray Allen, Reggie Miller and Jason Terry.
Wizards coach Randy Whitman was fired up after the game, saying the Wizards dribbled too much, when asked a follow-up about if they could have gone inside more. They shot 44 midrange jumpers per NBA.com. "We didn't do anything, like I just said, we dribbled the ball. What else do you want me to say? You're not listening to my quotes. We got away from what were doing in the first half."
The Blazers kick off a four-game Eastern Conference roadie Monday in Brooklyn against Nets who are fresh off a brutal Western Conference trip.