Blazers forward LaMarcus Aldridge (thumb) to delay surgery, play Saturday vs. Wizards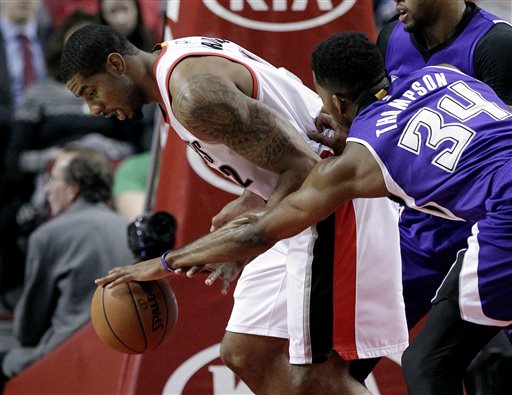 Saturday morning the Portland Trail Blazers tweeted out that forward LaMarcus Aldridge would put off surgery and play against the Washington Wizards. Adrian Wojnarowski of Yahoo! Sports delivered some details.
Sources: Aldridge tested thumb on his own and reported to Portland trainer on Saturday morning he wanted to play. This was his decision.

— Adrian Wojnarowski (@WojYahooNBA) January 24, 2015
News broke Thursday that LaMarcus Aldridge tore the radial collateral ligament in his left thumb would elect to surgically repair the thumb. According to Marc Spears of Yahoo! Sports, Aldridge said he will try to play and "go from there."
"We are having a good season and I want to keep it going. Going to try and play with it if I can and go from there," @aldridge_12 told Yahoo

— Marc J. Spears (@SpearsNBAYahoo) January 24, 2015
Yeah, I couldn't believe it either. Aldridge told reporters Thursday he was going to get surgery "soon".
[youtube http://www.youtube.com/watch?v=BwheDFljUlI]
The news that Aldridge would return was a shock to everybody, even the Blazers. At least one Blazer found out the news on twitter. Obviously while the news is exciting, it remains to be seen how Aldridge will perform in an NBA game. Aldridge uses his left hand on the defensive end and also sometimes to clear space on offense.
It looks like tonight's game against the Wizards is a trial run. The Blazers will likely be galvanized by the return of their best player and captain. Tonight is also going to be as great of a test as any to test how he will be able to hold up. The Wizards big men are a handful. They are big and they are skilled. Nenê and Marcin Gortat are a wonderful duo and Aldridge will likely have to help over and contest shots from John freaking Wall.
So tonight we will learn a lot about how well Aldridge will be able to hold up for the rest of the season.
In their 90-89 loss to the Boston Celtics on Thursday they went 4-of-23 from the field in the fourth quarter. Wesley Matthews needed to create more for the team and now they also likely won't have Nicolas Batum who is doubtful.
Winning against the Wizards at full strength would be a test for the Blazers. It'll be a helluva trail run for Aldridge.