Trail Mix: Celtics 90, Blazers 89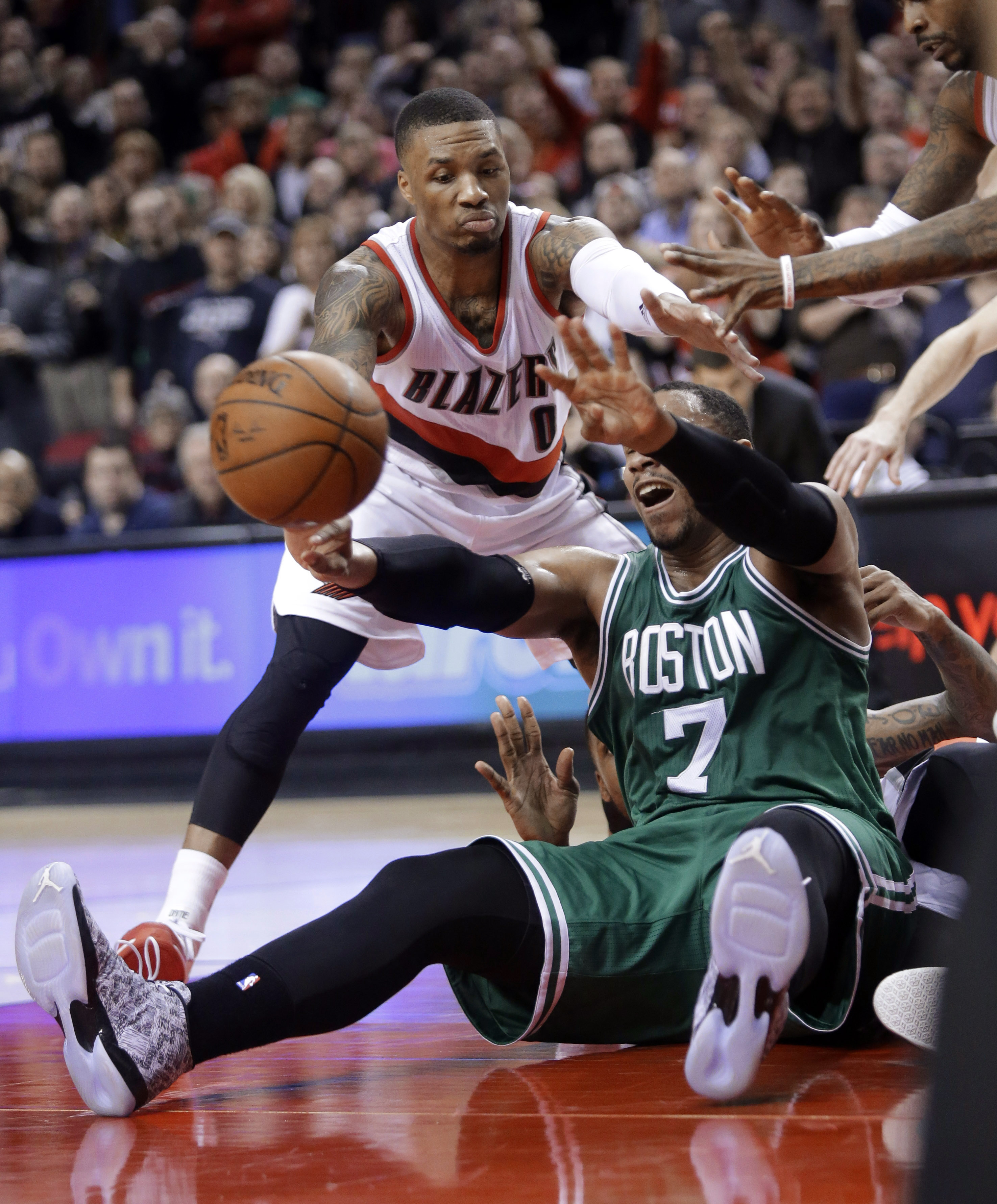 The Boston Celtics defeated the Portland Trail Blazers 90-89 on a last-second 3-pointer from Evan Turner that came out of a scrum in the final seconds. Jared Sullinger kicked it to an open Turner who won the game.
[youtube http://www.youtube.com/watch?v=mfrLtJxEfbI&w=560&h=315]
The Blazers had a bad day. They found out they would be without power forward LaMarcus Aldridge for 6-8 weeks to surgically repair his left thumb (video). Then Nicolas Batum left Thursday's game in the third quarter after re-injuring his right wrist.
The day was not easy on the Blazers. And when you thought there would be a happy ending to their terrible, awful, very bad day that, too, was ripped from them. The injuries they suffered are ones that they can recover from. But as their depth wears thin, they can ill-afford losses like tonight's.
"Tough loss," Wesley Matthews said. "We got to hold the fort down. We've got to figure it out. We've got to find ways to win. We need to play basketball the right way. We need to continue to play, what's got us 31 wins. Obviously we don't have a lot of our key guys that made huge contributions to those 31 wins. But we're still professional basketball players. We know how to play this game we just have to play at the highest of our ability."
The Blazers are now eight games in front of ninth place Oklahoma City in the playoff race. But after tonight the Blazers have 28 of their final 38 games against Western Conference teams. As our editor Micah Rice noted, even Aldridge returns on the early side of the 6-8 week timeline, 12 of the 18 games within that time are against teams .500 or better.
That's what made tonight's loss all the more crushing from the Blazers perspective. While "next man up" dominates the rhetoric and the NBA has seen a great deal of those bench to stardom stories, the Blazers are human too.
Look no further than their reaction to hearing the news of Aldridge. Before Aldridge spoke to the media, several players returned to the locker room and jokingly were documenting the scene and commenting on the crowd surrounding Aldridge's locker. Something to take the attention off the fact that heir season has changed right before their eyes, 50 minutes to tip-off.
The Blazers have a big cushion and they won't likely miss the playoffs. But this team had bigger goals. This team wants to move past last year's second round finish and a trip to the Conference Finals or perhaps even the Finals. With home court in the first two rounds it would have been much easier.
This likely changes the route the Blazers will have to go if they want to accomplish their goals. After tonight's loss they are third in the Western Conference and only a half game ahead of fourth place Dallas. Oklahoma City is 7-3 in their last 10 games. Seven of Portland's next nine games are against teams with records .500 or better. It won't be easy. But this is definitely something to keep track of as the Blazers move forward.
When asked about playing without Aldridge and Batum, Blazers head coach Terry Stotts didn't feel the need to analyze any deeper. "I don't want to get into not having LaMarcus and I don't want to get into not having Nic out there," Stotts said. "We played a different style of game. Every knows what Nic can bring and what LA brings, so we have to figure out different ways of scoring and sometimes different ways of playing. The differences are fairly obvious."
The Blazers talk about their ball movement as a corner stone of their offense, which it is. But the biggest reason their offense is effective is because of Aldridge. The Blazers work off Aldridge perfectly as every post-up or pick-and-roll drawing attention or double teams that the Blazers ball movement could then exploit. While great ball movement sounds nice, good ball movement doesn't guarantee efficient offense.Without Aldridge and now Batum as well as Robin Lopez, their best screener and a effective pick and roll finisher, the Blazers are running out of ways to collapse the defense.
Matthews also admitted that he made a mistake on the final play by losing Evan Turner. "Myself and T-Rob got a piece of it, the ball is loose – we've got to be dogs on a steak right there. Bad bounce, bad play. I lost track of him and he hit a shot."  On film, it's looks worse than it did from media row. Matthews wasn't close enough to Turner but had he been where he should have, Sullinger doesn't even have a pass to even throw. The Blazers had every reason to be mad at the world. But on this last play, they can't blame anybody but themselves. And that's why Matthews was fuming after the game. 
The Blazers were 4-of-23 in the fourth quarter and they were 1-of-9 from long range. "We still need to shoot threes and getting good threes is a little different," Stotts said. "Wes had a nice rhythm going and we needed our three point shooters to take them when they're open. The challenge now is probably to get good open ones. Defensively, I thought we were able to get some stops and get out and run but if you look at the box score, we shoot 37 percent and we lose it basically of the buzzer. It was a good effort. Our offense is going to be different. Different guys are going to have different night. It's probably not going to be the same thing every night."
Evan Turner on the game-winner: "I picked it up in time. I was just able to shoot it high enough so it felt good. I kind of prayed to make a big shot and it happened."
Weird stats of the day: The Celtics are the only franchise in the NBA that has a winning record in Portland at 29-25. The Blazers used their 11th starting line-up of the season today after using just two starting line-ups all of last season.
Jason Quick of The Oregonian spoke with the hand surgeon who performed surgery on the radial collateral thumb ligaments on Nick Young of the Lakers and Chris Paul of the Clippers which is the same injury that Aldridge has on his left hand.