Blazers GM Neil Olshey confirms LaMarcus Aldridge's thumb is in a cast in radio interview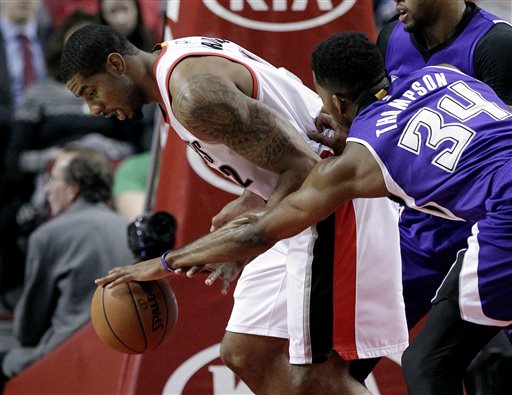 While we wait for the Portland Trail Blazers to release a timeline for recovery on their injured start LaMarcus Aldridge, there have been some developments.
In an appearance on Sirius XM's NBA Today, Blazers general manager Neil Olshey confirmed Sean Deveney's report that Aldridge's thumb is in fact in a cast.
[soundcloud url="https://api.soundcloud.com/tracks/187383672″ params="auto_play=false&hide_related=false&show_comments=true&show_user=true&show_reposts=false&visual=true" width="100%" height="450″ iframe="true" /]
"What I've gotten from our guys is, doing one so soon after the trauma to the thumb, there's was still a little bit of bleeding in there," Olshey said of the initial MRI.  "It wasn't a great image. So they wanted it to settle a couple of days and get a new image today."
"And then at that point, our hand specialist or anybody LaMarcus wants to take a look at it will take a look at it," Olshey added. "At the point we'll find out if it's something that he can is willing to play through or if it's something that's going to have to be fixed surgically."
Head coach Terry Stotts didn't give much of an update regarding Aldridge before Thursday's game against the Celtics.
Sean Deveney of the Sporting News reported earlier today that Aldridge had his left thumb in a cast.
Heard MRI LaMarcus Aldridge had was inconclusive bc thumb still too swollen. Having another today, but was told thumb's in a cast. Not good.

— Sean Deveney (@SeanDeveney) January 22, 2015
Blazers head coach Terry Stotts confirmed the inconclusive results in the first MRI to the Oregonian's Joe Freeman before Portland's loss in Phoenix Wednesday.
"For whatever reason, they needed to do another one," the Blazers' coach said before his team's Wednesday night matchup against the Phoenix Suns at US Airways Center.
The most recent official update from the Blazers was given on Tuesday when they said he was schedule to get another MRI later in the week.
X-rays came back negative, meaning there was no broken bone. But there good be ligament damage and there's been no such determination on the injury yet from the Blazers.
Portland's Thomas Robinson tore a ligament in his right thumb in Summer League and underwent surgery in late July to repair it. He was back on the court by training camp in the first week of October.