Blazers forward LaMarcus Aldridge expected to miss 6-8 weeks following surgery on left thumb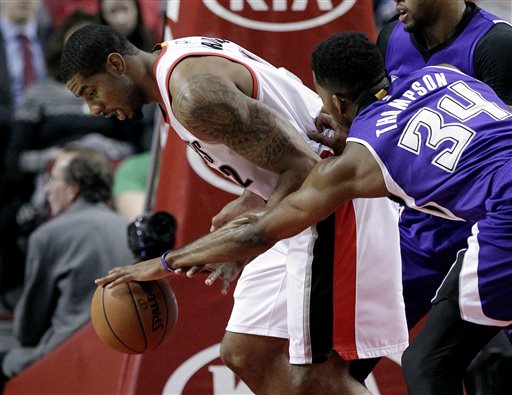 Portland Trail Blazers forward LaMarcus Aldridge will be out 6-8 weeks, the Blazers announced on Thursday evening. The three time All-Star suffered a tear of the radial collateral ligament of his left thumb in Monday's win over the Sacramento Kings.
[youtube http://www.youtube.com/watch?v=BwheDFljUlI]
"I think it's just the best move to make right now," Aldridge told reporters regarding his injury.
Aldridge said he experienced some ups and downs during the process of the diagnosis as the initial results of an MRI were unclear. According to Aldridge both a local doctor and someone from Cleveland looked over the result before coming to a decision to get surgery.
Aldridge said that the date for surgery would be "soon," but could not give a definitive date for when the procedure will be done.
The loss is obviously huge for the Blazers who are already without starting center Robin Lopez and back-up center Joel Freeland.
Blazers general manager Neil Olshey said that the Blazers were "hopeful" that Lopez would return before the All-Star break but would not "push" him to do so on Sirius XM radio.
Without Aldridge, Lopez or Freeland, for who knows how long, the burden will fall on Chris Kaman Thomas Robinson, Meyers Leonard, Dorell Wright and probably Victor Claver to carry the load.
Aldridge uses up more possessions than anybody on Portland's roster and has the lowest turnover rate on the team. His post-ups and his midrange offense help Portland's offense go and gives them a source of quality possessions they don't otherwise have.
Nicolas Batum picked up the scoring in Aldridge's absence Wednesday in Phoenix with 27 points, 10 rebounds and five assists. Dorell Wright also had a nice game in the starting power forward spot.
You can bet that opposing defenses will be keying in even more on Damian Lillard without the threat Aldridge.
The Blazers were 8-5 last year in 13 games without Aldridge. So far this season they are 3-2 without Aldridge but all of those wins were against Eastern Conference opponents. 28 of Portland's remaining 39 games come against the Western Conference.
The injury happened on this play against Sacramento's DeMarcus Cousins.
[youtube http://www.youtube.com/watch?v=pdU77iTtBm4&w=560&h=315]