Trail Mix: Blazers 98, Kings 94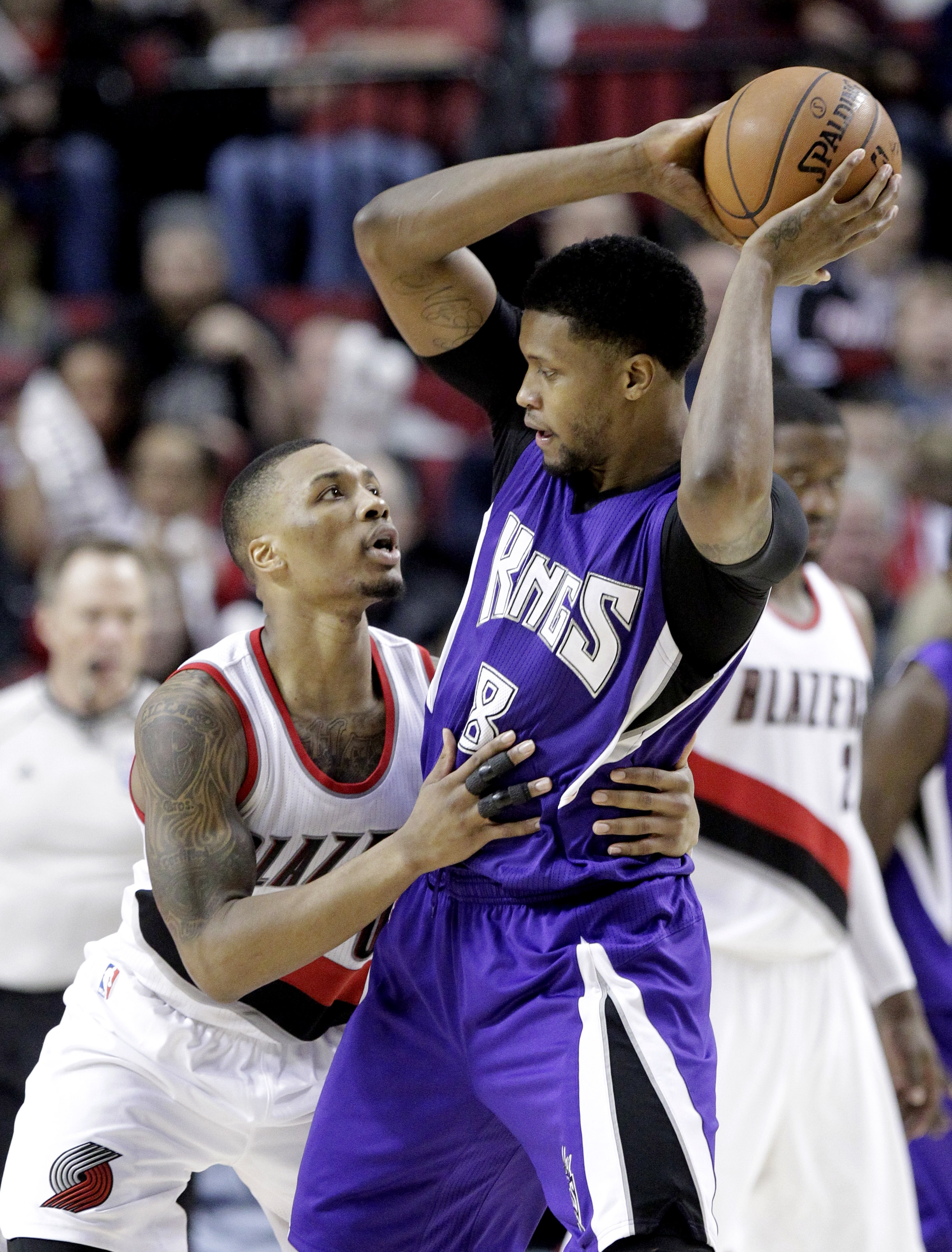 The Portland Trail Blazers beat the Sacramento Kings Monday night by the score of 98-94. Or by the skin of Thomas Robinson's chinny chin chin.
LaMarcus Aldridge injured his hand and x-rays came back negative according to the Blazers. According to Jabari Young of CSNNW.com, he is going to see a hand specialist on Tuesday.
His status is uncertain with Portland leaving Tuesday for a back-to-back beginning in Phoenix on Wednesday before coming home to face the Celtics on Thursday. On Saturday they have a tilt with the bruising and beastly Washington Wizards. This win was huge if Portland is without Aldridge for even just a week and could be more important if he's out longer. The video of the play didn't look all that good and not returning to a game isn't ever good.
Robinson and his partner in productive chaos on Monday, Will Barton, changed the fourth quarter with their energy. Nicolas Batum hit a go-ahead 3. Damian Lillard carved out a piece of Lillard Time in the final minutes to help the Blazers win a game they had no business winning. But Robinson may have had the most important play of the game.
With under two minutes left, Cousins picked up his sixth foul, forcing him to go to the bench and watch the most important moments from the sideline. Cousins was the best player on the court tonight, finishing with 22 points and 19 rebounds. But he was forced to watch because he grazed Thomas Robinson's chin, creating just enough contact to get whistled for his sixth foul.
It wasn't unlike this job Tyson Chandler did on Cousins less than a week ago.
https://vine.co/v/ODI5ejYBtdE/embed
Robinson had disrupted Cousins' rhythm, perhaps gotten into his head and forced him into big mistakes. The Truck transformed into Dennis Rodman in the nick of time. Only a few possessions before, Robinson drew a charge on Cousins.
Even after Cousins left the game, Robinson kept it going. He was trash talking former college teammate Ben McLemore on the Kings' chance to tie the game with a 3, which fittingly ended with a turnover. What did he say to his old college buddy?
"Give it to me," he said. "Like Sherman. Like Richard Sherman in the post."
Dennis Rodman. Richard Sherman. Whatever he wants to be, Robinson may have done the most important job for the Blazers to escape the night with a victory.
"That was huge," Lillard said about Cousins fouling out. "We weren't trying to get him to foul out. But in my opinion he's one of the best bigs in the league, top two, top three bigs in the league and it would have been a handful down the stretch to stop him. That's why I thought T-Rob was so huge for us because he fought him down there. That's a big guy, a physical guy, and he fought him and made things hard for him. When he fouled out, it was him trying to fight through T-Rob fighting with him and it turned into an offensive foul. He's out of the game and now that's a problem we don't have to worry about."
Barton played all 12 minutes of the decisive quarter. It was a game where the Blazers needed energy and aggression above all else.
Stotts pulled another rabbit out of his hat and the show continues for the Blazers. The Blazers line-up down the stretch that won the game had Robinson and Barton, the Fulton Reed and Dean Portman of the Blazers, along with Lillard, Matthews and Batum.
"That was a get the win by any means (line-up)," Wesley Matthews said. "We had never played that line-up before. I don't know how much that line-up will ever be together but it was necessary at the time and it got us a win."
That win puts the Blazers 10 full games ahead of ninth place Oklahoma City in the standings with 40 games left to play. A fact that came into focus tonight after Aldridge left the game. Already without two rotation big men, the loss of Aldridge would be much tougher to survive than Portland did last year.
The Kings had 23 turnovers tonight. But they had eight of them in the fourth quarter. Without Aldridge, the Blazers went with guerrilla tactics on defense, looking to force one of the league's highest turnover teams into old mistakes.  The Blazers scored 11 points of Kings turnovers in the fourth quarter. "I wanted to be smart with our pressure," Stotts said. "I didn't want to gamble, but being more aggressive–I thought we had good length, we had good athleticism. We were kind of forced to play a smaller line-up with all our big guys being out. They kind of matched up with us. But I give credit to the guys that were in there. When you have Williams, Thompson and Gay out there, they're still a pretty long, athletic team. So we did a good job rebounding the ball and created some offense with our defense."
After his immediate reaction to what he called a "gut-check win" and a "must win," Wesley Matthews expressed a sentiment I saw being echoed on my twitter timeline regarding the status of LaMarcus Aldridge. " I kept looking at the end of the bench. I thought LA had went to go to the bathroom. I was waiting for him to come back. But, you know, guys stepped up. T-Rob came up and played big. Will changed the game. D-Wright, Meyers, Vic came in and made plays for us. It was a gutty performance for everybody."
Everybody on the roster except for Allen Crabbe did play.
On whether Barton's attacking play towards the basket was a reason Stotts put him in the game, here was Stotts' reply: "We were looking for points wherever they came. We didn't shoot the three well. I thought we moved the ball well and got 3's. For Wes and Dame to go 4-for-21 on 3's that you'd mostly would take. There were a couple of tough ones probably. Will gives a different dimension. A night like tonight we needed a different dimension."
"I just told myself to go out there and play my game," Barton said. "Do what I do best. And that's attack, get to the rim and make plays for myself and attack the rim and make plays for others. Have confidence in myself. We all work hard on our games. I just wanted to bring what I bring to the table. I'm not a jump shooter or anything like that. I got to attack."
 From the Kings perspective of things, here was Darren Collison after the game on his feelings after reaching the halfway point of the season: "I think we're fine, I think we're playing much better right now than our past couple of games. Even though we didn't win I think we're playing like a team right now and w'ere fine and focused on basketball right now."  Look, Portland. You could be a team that is just happy to be focusing on actually playing the game.
With about 20 seconds left and the Blazers up by one, Lillard made a quick move to the basket and got fouled. Stotts said that he was fine with Lillard taking the shot early in the clock. "We wanted to get a good shot. So what we wanted was to go at about 15. And that gave us time to get to the rim, make passes. It made no sense to run the clock down and not score and let them have a chance to win the game."
 We'll have the latest on the Aldridge injury Tuesday.