Blazers forward LaMarcus Aldridge leaves game vs. Kings with hand injury (VIDEO)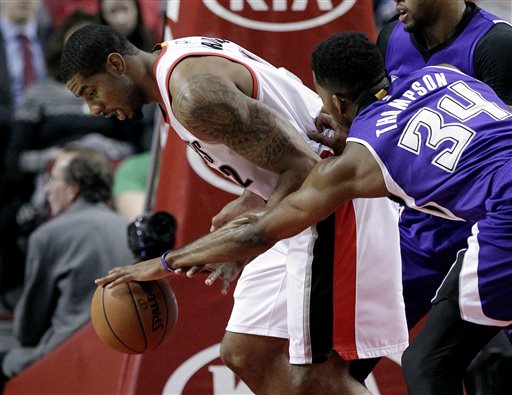 When it rains it, it pours, they say. The Portland Trail Blazers are in the midst of their first three-game losing streak of the season and in the second quarter of Monday's game against the Kings, they got kicked even harder.
Three time All-Star forward LaMarcus Aldridge left Portland's game in the second quarter after apparently injuring his left hand on this play with DeMarcus Cousins with 2:46 left in the first quarter.
[youtube http://www.youtube.com/watch?v=pdU77iTtBm4]
Video via YouTube user watchnba201415 
Aldridge wouldn't come out until the 10:26 mark of the second quarter and the Blazers updated that he will not return for the duration of Monday's game with the Kings.
After the play in question with Cousins, Aldridge kept on looking at the thumb on his left hand and moving it slightly while he was on the court. It wasn't unlike what Robin Lopez and CJ McCollum did after breaking their hands mid-game.
There has been no further diagnosis of Aldridge's injury other than a "hand injury."
The Blazers are already without starting center Robin Lopez (right hand) who is just now wearing a soft cast on his right hand. Joel Freeland has been out since Jan. 3 with a shoulder injury.
Aldridge scored 10 points and grabbed one rebound in 14 minutes Monday.