Kawhi Leonard's return sparks Spurs in blowout win over Blazers 110-96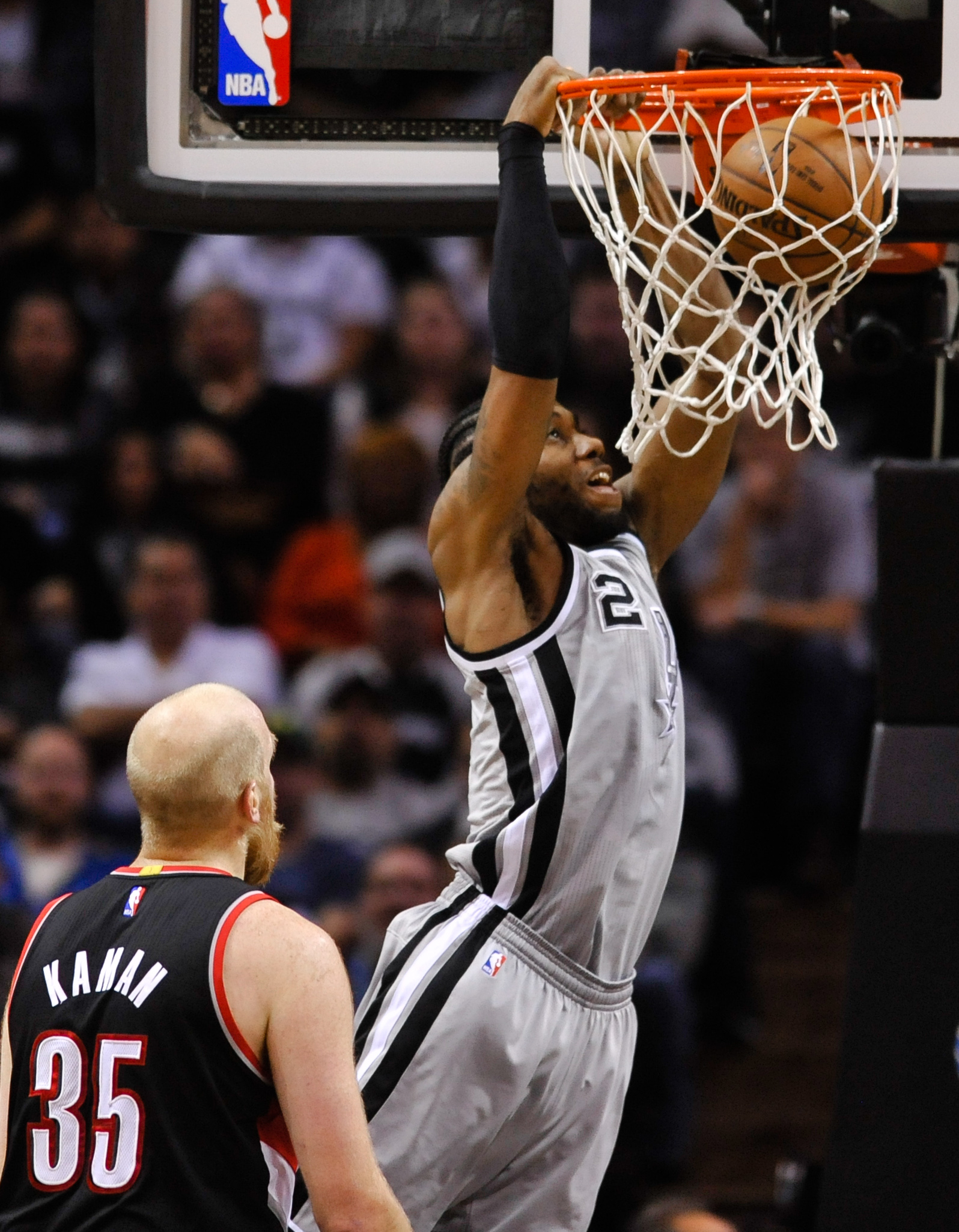 That looked a little familiar didn't it? The San Antonio Spurs made the Blazers pay for every mistake and outhustled them on their way to a 110-96 blowout.
Kawhi Leonard made his return after missing 15 games with a torn ligament in his shooting hand and scored 20 points to go with five assists, four rebounds and three steals. He played with aggression even late into the game and didn't let the Blazers sniff much of a comeback. His presence seemed to spark the Spurs but that wasn't all that won them this game.
Every mistake the Blazers made, the Spurs made them pay for it. Whether it was liveball turnovers or second chances, the Spurs got far more opportunities than the Blazers offensively. The Spurs took 20 more field goals than the Blazers. San Antonio had a 15-2 advantage on the offensive glass and were incredibly efficient when the Blazers turned it over, converting 16 Portland giveaways into 25 points.
LaMarcus Aldridge had a pretty good game and Damian Lillard got his by the end of the night even though he didn't make a single 3-pointer.
Outside of the dynamic duo, nobody in Portland's starting line-up scored in double figures which made moot the wonderful performances off the bench from CJ McCollum and Meyers Leonard.
Tonight the Spurs looked like the team that won the championship last season and it seemed like at least tonight there was nothing the Blazers could really do about it. Matthews fought hard against Leonard but he was clearly a man on a mission tonight even throwing scowls around in a Popovich-like manner when the team was up big in the fourth quarter.
Aldridge actually looked really good tonight and if anything, maybe he should have been more aggressive. The Spurs also refused to let Matthews back players down in the post, almost always sending a double team. They paid attention to every detail and whenever the Blazers missed one, they made Portland pay for it.
Matthews also somehow played through this tonight.
https://vine.co/v/OjO5FeHg2Aj/embed
I wasn't the first to make comparisons to this game and the playoff series between these two teams but I certainly won't be the last to do so. It looked like a clinic tonight and the Spurs never let off the gas. One play towards the end of the first half showed the Spurs commitment to leave no stone unturned.
After Lillard missed a shot with under five seconds left in the first half, Tim Duncan grabbed the rebound and zipped a pass up the court to a streaking Patty Mills who got behind Wesley Matthews for a lay-up.
The lay-up didn't count after a replay review showed he didn't get the shot off. But the tone was very clearly set by the Spurs that they would not stop until their mission was complete.
The Blazers would look like they get closer but then you'd look at the scoreboard and they'd still be down double-digits. It's hard to beat the Spurs when they play like this but the Blazers can ill-afford to get outworked in doing the little things by such a wide margin the next time around.
Tonight, the Spurs looked like a team that could rapidly move up the standings if they keep playing like this.
It looked like early in this game Stotts was trying to go with a short rotation yet again, using just eight players in the first half. He didn't stick to that as he was forced to try and find answers on his bench in the second half. McCollum and Leonard responded well with the extra minutes but it wasn't enough to carry the Blazers through all of their mistakes. Matthews and Batum didn't play big minutes but I'm starting to wonder if going into an eight-man rotation is the right move with how banged up those two seem to be. This is a very tough stretch against tough Western Conference teams and perhaps the rotation is a reflection of how important these games are. But Batum and Matthews both look a little banged up.
Steve Blake was 0/2, Kaman was 2/5 and Matthews and Batum were a combined 3/11. That's not going to get it done.
Will Barton unleashed a 360 slam dunk in garbage time which led the Spurs fans to inexplicably boo. When you learn how to do anything that cool in front of thousands of people then talk to us, Spurs fans.
Patty Mills seemed to blow by the Blazers far too often tonight. It didn't really matter whether it was Blake, McCollum, Lillard or Matthews on him. He was just too fast and explosive for the Blazers and used that speed to rack up 18 points by the end of the night.