Trail Mix: Clippers 100, Blazers 94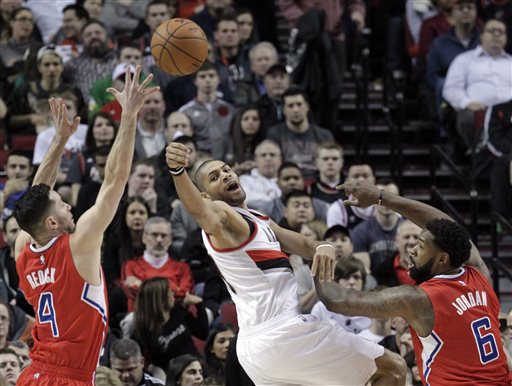 The Los Angeles Clippers defeated the Portland Trail Blazers 100-94 Wednesday at the Moda Center.
The situations for both of these teams coming in were very different.
The Blazers have been hit by injury after injury, Damian Lillard made the NBA world burn and they were the first team in the league to 30 wins. The Clippers had just finished a weekend that epitomized their season by blowing out a good Dallas Mavericks team Saturday and losing to a not-so good Miami Heat team by double-digits Sunday.
One team was clearly exceeding expectations while another's roster has been the constant source of trade speculation.
After the game, one team was throwing around comparisons to playoff games and throwing out statements like Wednesday was a "mental toughness" win and blaring G-funk from DJ Quik* from a portable Beats by Dre speaker.
*(thanks to OregonLive.com's Sean Meagher for confirming the music and capturing this wonderful moment in the Clippers locker room)
The other one was desolate and Terry Stotts down-played the comparisons to a playoff game with both teams playing 8-man rotations. Chris Kaman sat in the corner. Damian Lillard and Steve Blake where speaking quietly to each other. There was no music Wednesday for the Blazers with Nicolas Batum's season-long funk reaching a grimacing low.
The Blazers didn't necessarily need this one if you look at the records but this might be the game that hurts most to lose when looking ahead at the schedule for the rest of the week.
After losing on Wednesday the Blazers, the Blazers have a back-to-back against the San Antonio Spurs and Memphis Grizzlies on Friday and Saturday.
"You got to give them credit," said Blazers center Chris Kaman about the Clippers. "They came in here and beat us. It doesn't help that we have to go to San Antonio and Memphis on the road. It doesn't get any easier."
Such is life in the Western Conference.
Batum's had a rough year. But tonight's game had more awful plays and more times that he looked afraid to shoot than before. Although he's struggled with his 3-point shot, he was actually shooting 3's at a higher rate than he did last year (50.3 up from 49.1). So Batum has still been putting up his 3's, he just hasn't made any of them. But tonight he was actively turning down looks and he had a very sad lay-up attempt where the ball slipped right from his outstretched right hand. He had 4 points, all on free-throws and he took five shots. He had six assists and five rebounds but he also had 3 turnovers.
Aldridge on Batum: "We need him. I think he knows that. He's a a big part of this team and what we do offensively and defensively. So, we need that Nic guy from last year. I don't think he's happy with it. I think he's trying to figure it out and I think every guy on the team is trying to help him out too."
The Blazers clearly need Batum to be able to shoot. Having him out there without his normally league average to above-average 3-point shooting seemed like a major detriment to Portland's offense tonight. Everybody has bad games and Batum should and probably will bounce back. But that's been the thinking most of the year, too. But the Blazers need Batum badly.
They also could have used Wesley Matthews tonight. Iron Man has been very good all season for the Blazers and probably the team's third-best all-around player this season. But boy did he have a bad night and Batum's shortcoming become all the more noticeable when Matthews' isn't as sharp as we've come to expect. Matthews was three-for-13 from the field with 5 rebounds and 0 assists. He missed two wide-open 3's on one possession. Matthews went for the glory and couldn't come through as Portland's Avenger. At the 2:48 mark he had a 3-pointer that appeared to be tipped by Matt Barnes fall well short. A few possessions later, LaMarcus Aldridge cleared a side for Matthews and directed him to post-up on JJ Redick. But Matthews shot in the lane off that post-up was blocked by DeAndre Jordan. Matthews then attempted to out Chris Paul Chris Paul by trying to steal the ball or draw a foul call by flopping back. But the call was awarded to Paul. Then he had another airballed 3 a few possessions later. Batum somehow forced a jump ball with Blake Griffin by diving on the floor but that was all. The Blazers offense completely stalled in the final five minutes.
The Clippers really needed and wanted this game. In the Scouting Report, I thought the Clippers would have a great game because inconsistency, has been their consistency all year. They proved that they are still very good and showed why many, like myself, thought they would go to the Finals. But I doubt an 8-man rotation is sustainable for very long but it's not exactly a secret the Clippers roster isn't a finished product just yet.
The Clippers outscored the Blazers 15-6 in the final five minutes of the game. 10 of their 15 points came on Chris Paul free-throws but six of them came in the final 1:16. Jamal Crawford made the important shots, as a soccer fan might say, in the run of play. He hit a big 3-pointer to break an 89-89 tie with 3:58 left and a tough long-2 with 2:05 left to put them up by 5.
Terry Stotts on the final five minutes: "Converting shots is important. We looked at a little bit of everything. They did a good job of trapping Dame all night in pick and rolls. We went to LA on the block. I don't think there was much difference. I give them credit, they played good defense. Getting stops, getting out in transition, we missed some 3's. #-point shot is important and we didn't shoot the 3 really well." The Blazers were six-of-26 (23 percent) from 3-point range while the Clippers were eight-of-23 (35 percent).
The Clippers also clearly tried to take the Lillard out of the game. The Blazers gave the Clippers credit for their execution in trapping Lillard in pick and rolls. Doc Rivers was just fine with Aldridge taking tough long two's. According to Lillard, he could hear the Clippers bench trying to keep their guys on the court paying attention to every Dame-related detail. "I know they like to show on pick and rolls to begin with," Lillard said. "They just don't trap. Tonight it just seemed like I even heard their bench yelling sometimes. 'Don't let him get it, don't let him pass it out.' It was them trying to make sure that I wasn't the one making plays and getting into the paint." Lillard had 15 points with 12 coming in the third quarter and only four assists.
The Blazers also had 13 turnovers. Lillard and Batum both led the team with three turnovers.
Every Blazers big man who played, Aldridge, Kaman and Meyers Leonard, each had a double-double. "I don't think their bigs really killed us too much," Aldridge said. "I thought every big took the challenge tonight. I thought guys played physical down there. I thought Meyers played great tonight. I thought every big tried to rebound so that's good for us." It's easy to say the Blazers didn't have Robin Lopez tonight and having he or Freeland in the middle would always help. But it was hard to ask more from Kaman and Leonard, who played 31 minutes, to do anything more than what they did. Leonard also showed a little more to his game once again as he showed confidence putting the ball on the floor. He didn't have any turnovers and also dished three assists in addition to his 11 points and 10 rebounds.
CJ McCollum also logged big minutes. He played tough defense on the court and made a tough shot in the second half. His struggles over the last few games from 3-point range continued as he went 0-for-three from long-range.
The Blazers take on the Spurs in San Antonio on Friday and the Memphis Grizzlies at the Grindhouse on Saturday.
ESPN's Ramona Shelburne wrote a very nice piece on how Damian Lillard always felt Portland was the right place for him.
Amin Elhassan and Tom Haberstroh of ESPN Insider debated who is better between Chris Paul and Lillard. Paul and the Clippers are 2-0 against the Blazers this season and Paul outplayed Lillard tonight. In their previous meeting down at Staples Center Nov. 8, Lillard had 25 points, eight assists and seven rebounds against Paul's 22 points and 10 assists. These two teams play again on March 4. Should be fun.