Trail Mix: Blazers 103, Magic 92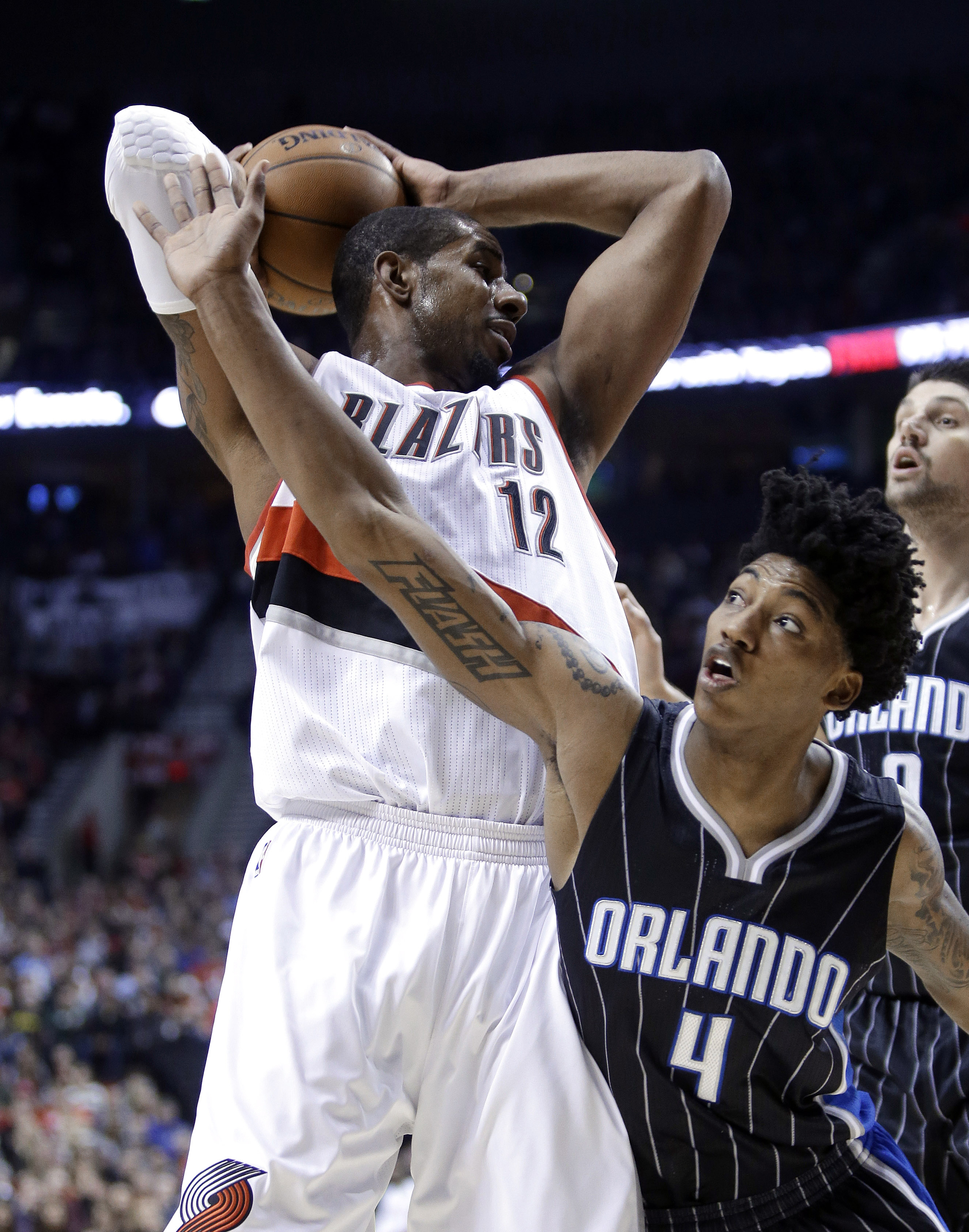 The Portland Trail Blazers had a fast start and an excellent finish to defeat the Orlando Magic 103-92 Saturday night. LaMarcus Aldridge had 25 points and Wesley Matthews had 18 points. Orlando's Nikola Vucevic had a career-high 34 points.
In between, there was a whole lot of grey. The battle of the black and white was a hazy affair for the home team in the middle quarters. Vucevic beat the Blazers up on the glass. Elfrid Payton's youth and length seemed to bother Damian Lillard for a time. Nobody other than Aldridge could score for the Blazers and after a very good first quarter, Meyers Leonard reminded everyone that youthful promise still has its growing pains.
There was a lot of youth on the court but grey dominated the game. Part of it was likely because a great deal of attention was being paid to the Seahawks game. The other was likely that the Blazers just didn't have a lot of energy after their great start and stopped taking care of the ball. They finished with 20 turnovers.
"They got more aggressive and more confident, and we relaxed," said Lillard. "We thought that it was going to be easy because of the way that the game was going, but really it was that way because we played hard, we were locked in. We took what we did for granted and they took advantage of that and made it a dog fight pretty much."
"I thought they found some confidence," Aldridge said. "We didn't do a good job of not letting them be confident tonight. We did a good job to start the game. And then we gave up some easy things. They played better after that."
The Magic are now losers of six straight, so you can understand why the Blazers thought they had put away the young and wounded team without two of it's top-four leading scorers.
Leonard unleashed a 3-pointer, a running baby hook in the lane off the dribble and a hook shot from the block off the glass. Will "The Thrill" Barton caught a 3/4 court alley-oop from Steve Blake early in the second quarter and Barton's partner in fun Thomas Robinson caught one himself. And then on the next possession Robinson had another uncontested slam.
But the Magic brought the fight to them and the Blazers couldn't stop Vucevic. Oladipo had good moments but finished six-of-21. Poor Elfrid Payton can't shoot although he carries as much fight as you'd want from your starting point guard.
After the game, the Blazers locker room was quiet and if anything, you could hear a few Blazers lamenting plays they could have run to better expose the Magic trying to jump their plays.
The Lakers took the Blazers down to the wire Monday. The Magic played the Blazers tough and it won't make Sunday's tilt in Tinstletown any easier.
Native Angelino Allen Crabbe won't be making the trip to his hometown with the Blazers. Crabbe told reporters prior to Saturday's game that he received an MRI and that his knee injury was "nothing serious." Still, Crabbe won't get to practice until Tuesday at the earliest. He's hoping to run by Monday but whether that will actually happen remains to be seen.
Matthews continues to step up consistently whenever this team needs it. He's unquestionably been the team's third best player as he continues to get better every year. "He was big. He was just being Wes," Aldridge said. "Getting steals, making shots. Just being active. He's one of those guys that can make things happen offensively and defensively. That's who he was." Matthews being Matthews hasn't gone as viral as #LillardTime but it looks like Matthews will be getting paid very well for his services this summer.
Leonard unleashed some nice counters after the Magic started to close down the airspace on his perimeter shots. He knew the time was going to come when team's were going to have to respect his jumper. "I work on it every day with Kim," he said of the counters. "Shot fakes from the 3-point line into the one-dribble pull ups. Today I used two dribbles and finished with a little runner. I have to continue to get used to it within a game. I'm certainly happy that I went to it tonight and attacked the basket. But you know teams are going to obviously make it a little harder for me to shoot set 3's. So both continuing to work on a quick release and moves to the basket. I want to be as much of an all around player as I can and try to help us however I can. Whether it's rolling to the bucket, spacing the court, etc." Leonard is 12-for-28 (43 percent) on 3-pointers this season.
The Magic suck. It seems like they shouldn't be this bad after two seasons of "rebuilding." A lot of people are pointing to the coaching.  "It's never the coaches fault or anything…You can't blame it on Jacque (Vaughn), look at the guys out there playing, you can't say that it's Jacque's fault," Vucevic said. "The effort has to come from us, he can't control that. He can give us plays x's and o's and all that, but if we don't come out with any effort it's not going to do anything. We obviously want this thing to turn around, not just for him, but all for us. Nobody in this locker room enjoys losing, it's no fun. Everything's much better when you win, so we all want to get to the point, unfortunately we're not there yet, but we have to take it step by step."
The Blazers are 19-0 after 3 quarters.
Matthews and Lillard saved their best for last in the fourth quarter, combining for 18 points in the final period. The Rain Bros. are in the top-20 in fourth quarter scoring per game. Phoenix (Isaiah Thomas and Eric Bledsoe) and Cleveland (LeBron James and Kyrie Irving) are the only other teams with two guys in the top-20 in fourth quarter scoring according to NBA.com. The Blazers backcourt produces when it counts so far this season. Matthews leads the NBA with 113 3's.
Matthews took in a game at West Linn High School on Friday and when he tried to make a halfcourt shot, the NBA's 3-point leader airballed three straight tries.
Nicolas Batum's four blocks tied a season high but he made his presence felt with three in the first quarter.
Chris Kaman picked up four fouls in six minutes. He played 19 minutes and had 10 points and two blocks. He also led the team in turnovers.
Grantland's Zach Lowe had a tweet yesterday that caught fire in the Blazers interwebs about the Blazers being interested in Wilson Chandler. I've mentioned Chandler before and it's not exactly a secret that the Nuggets don't think they are going to make the playoffs. Chandler has one year left on his deal which is only partially guaranteed according to Basketball-Reference and Eric Pincus. The Nuggets also have some hefty trade exceptions so the Blazers don't even need to match Chandler's full $6.7 million salary to make the money work. We know Olshey is a draft guy. But the Blazers have a very good chance to win now the partial guarantee for next season gives the Blazers flexibility. It would also add a lengthy wing defender and shot maker to the roster giving Stotts more flexibility with match-ups. We'll see if the Blazers feel the need to make a move.
Blazers play the Lakers Sunday at 6:30.