Trail Mix: Blazers 99, Heat 83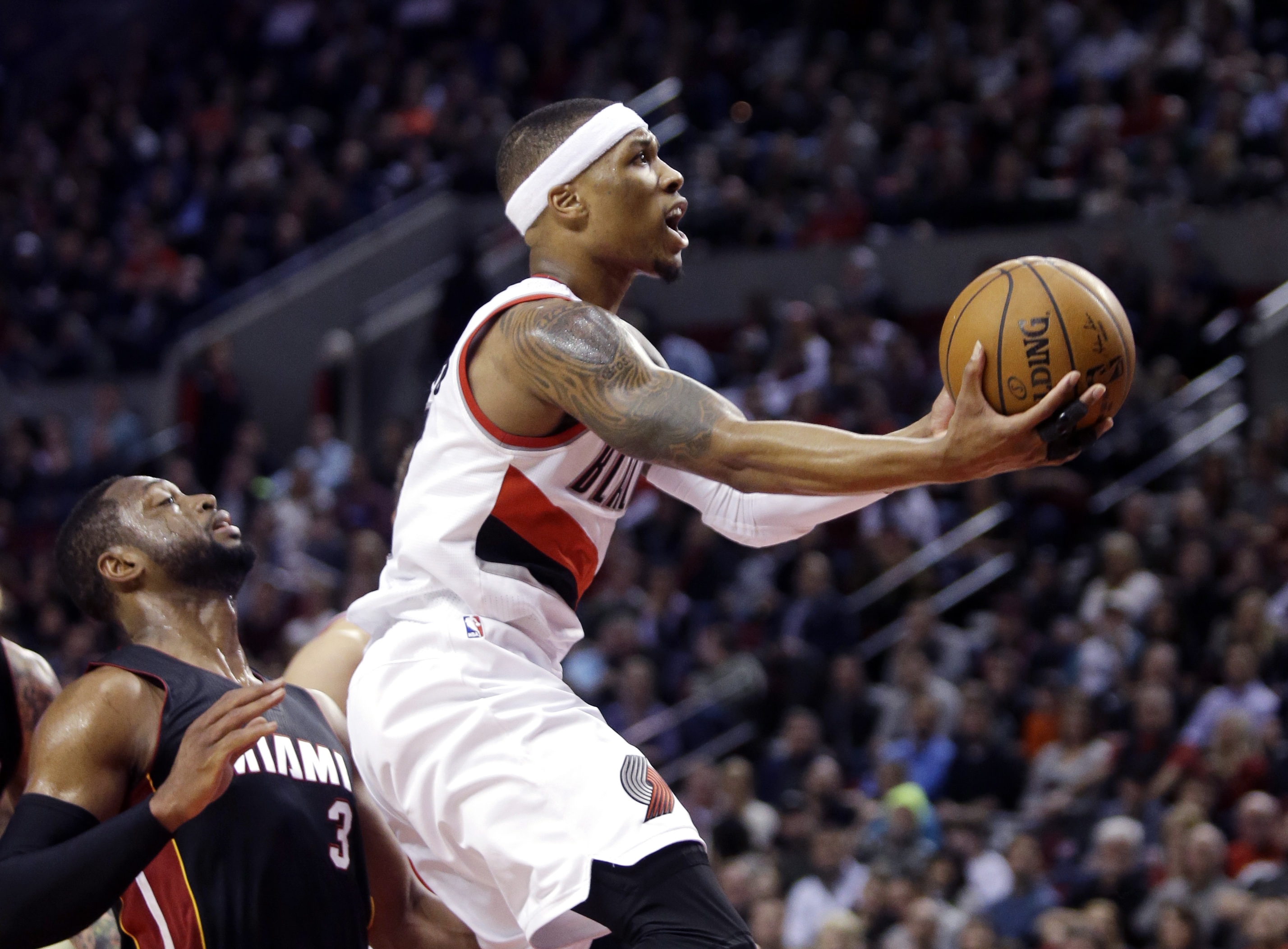 The Portland Trail Blazers used a dominant defensive second half to beat the Miami Heat 99-83 in front of a nationally televised audience.
Earlier in the day, the Blazers announced much more important long term news by signing Neil Olshey to a contract extension.
The Blazers started off the game slow and they didn't really know how to match-up with Miami in the first half.
Terry Stotts wanted to play Dorell Wright but with the Heat playing Hassan Whiteside in their second unit, Stotts decided he needed to change it up.
Enter: Meyers Leonard.
Chris Kaman got the second straight start but Leonard was in down the stretch for the Blazers again. And tonight his shot did not fall and there were no four-point plays.
"I thought it was very steady," said head coach Terry Stotts of Leonard's game. "Obviously the last game he made his shots, made his 3's. But I talked about his rebounding last game. I thought he had good timing on his rebounds again tonight. They only had one offensive rebound int he second half til the last four minuets. He had something to do with that. He, Chris and LA.
But Leonard was solid again. And that's what the Blazers have always needed from that position alongside LaMarcus Aldridge. And it's a big step for Leonard. The Heat are the worst rebounding team in the league and they were outrebounding the Blazers 26-22 in the first half.
LaMarcus Aldridge led the team with 12 rebounds and Nicolas Batum and Chris Kaman each had nine. But Leonard had seven rebounds in the second half, which was tied with Aldridge for the most. He played nearly 20 minutes and really seems he's getting the finer points of rebounding.
"He's learned how to position himself and go get it," Aldridge said. "He's very athletic. I just thought he never understood how to engage a guy and go get the ball. I think this year he's really learned how to engage a guy and go get it. I think that's showing now."
Leonard's good games have come against sub-par teams. But he's showing growth in a way he didn't before.
Monday and Thursday are the first time in Leonard's three year career he's recorded nine rebounds or more in consecutive games. Olshey's first draft pick, Lillard, has been a rousing success. Leonard has been scrutinized but the Blazers picked up his option for next season and he's the only big man with a guaranteed contract through next season.
Aldridge had a great game. Dwyane Wade was great with the ball early in the game. But by the fourth quarter Wesley Matthews, who scored 18 points although he was deemed questionable with a hyperextended knee, looked like he was playing with him by the end of it.
It seemed incredible how poorly the Heat played in the 3rd quarter. Lillard clearly wasn't comfortable after a fall with Dwyane Wade but he made a few big plays and Aldridge just went to work.
The fall —->
https://vine.co/v/OpHXQ0HahHL/embed
Lillard also gave the crowd a scare on Thursday when his body twisted in the air after colliding with Wade before hitting the deck. Lillard bent over and was holding his back for much of the play. After the game Lillard didn't appear to be too comfortable and his response to how his back felt expressed a little frustration. "My lower back is just a little sore. I don't think it was the collision that really caused it. It was my body just spinning. My lower back just locked up a little bit. I don't know how. But as soon as my body kind of twisted like that, that's when it happened." Lillard said that he used some heat wraps on his back at halftime. He didn't have a great game.
Tonight was his 200th career game and he has done so without missing a game.
Matthews was describing the discomfort that the brace he wears creates. "Velcro and straps and I got a strap here, strap here and strap here. And I got to tighten it so it doesn't slide and it probably isn't doing what it's supposed to be doing. You know it's cutting into my calf muscle, my quad muscle. That things heavy."
Lillard said that Matthews has promised him yesterday that he was going to play. He felt like Matthews was himself. "He looked good," Lillard said of Matthews. "He did a lot of the things the the always does. And that's what we needed from him. I asked him yesterday 'are you going to play?' And he said 'yeah I'll play.' I know that he wouldn't put himself out there if he couldn't be himself. He's a tough dude. I didn't expect anything other than what he did."

The Blazers defense was also fantastic again. The Heat aren't terrible at offense but they haven't been very good. The Blazers held the Heat to 35 second half points. Overall the Heat scored 93 points per 100 possessions which would rate somewhere between the 29th ranked Pacers and the appalling 76ers offense (but Tony Wroten is fun!) averaging 90 points per 100 possessions according to NBA.com. You did it Miami! You're better than Philly!

Chris Kaman was very good tonight on both ends with 10 points, 9 rebounds and 2 blocks. It seems like Stotts is trying to find the right amount of minutes for Kaman to play while Joel Freeland and Robin Lopez are out. Stotts didn't go with Leonard earlier and against the Magic, a smaller team, he may not go with him Saturday. But the Blazers are forced to find creative ways to fill the center position.
The Heat led in this game by 10. Which brings us to the worst stat for the Heat this season. They are the league's worst 3rd quarter team by a wide margin. They're outscored 18.2 points per 100 possessions in the 3rd quarter of games. That's worse than even the Knicks.
Lillard's reasoning for wearing a headband: "I was just messing around with before the game and I ended up just keeping it. I did it for TBT–Throwback Thursday."
Forward Nicolas Batum wore a "Je Suis Charlie" t-shirt in warm-ups today in support of the victims of the shooting at the offices of the Paris satirical newspaper Charlie Hedbo.