Blazers GM Neil Olshey signs extension, named President of Basketball Operations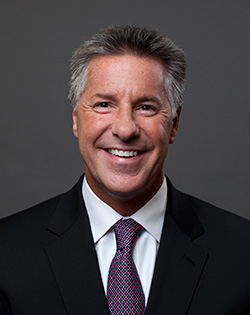 On Thursday, ahead of their tilt with Miami Heat, the Portland Trail Blazers announced that they've agreed to a contract extension with general manager Neil Olshey.
The Blazers also announced that they have named Olshey the President of Basketball Operations.
Comments from owner Paul Allen and Olshey in a release from the team:
"Our team has made great strides under Neil's leadership, and I am excited to extend his contract," said Allen. "Neil has done an outstanding job as General Manager by quickly rebuilding our team into a playoff contender. The franchise is clearly on the upswing, and I hope to see further improvements in the years to come."

"This extension is a validation of the efforts of the entire Trail Blazers front office and an endorsement of the level of commitment expected of us by our owner Paul Allen," said Olshey. "The level of passion for this franchise by our owner, season ticket holders and fans, drives us to build a team that this community can be proud of."
Olshey was named the general manager back in 2012 and since then the Blazers have made a rapid ascension upwards. With the draft pick that was acquired by the previous regime by trading Gerald Wallace to New Jersey, Olshey drafted Damian Lillard with the sixth overall pick in the draft. He also drafted Meyers Leonard with the 11th pick in 2012.
A month later he matched a lucrative contract offer by the Timberwolves made to Nicolas Batum. Towards the end of his first summer he made what some saw as a surprise by hiring the twice-fired Terry Stotts over Kaleb Canales, the Blazers assistant who finished the season as the team's interim head coach.
Stotts implemented a complicated offensive system but the Blazers clicked early on and looked like a threat to make the playoffs before the team's roster construction sabotaged their season and wound up winning just 33 games. But the Blazers established a style of play that would become their calling card even if it was soured by a season-ending franchise record 13-game losing streak.
The Blazers wound up with a top-ten pick as a result which became CJ McCollum whose battled injuries his first two seasons. In the same draft he traded to acquire Allen Crabbe who has started several games this season at small forward and one of the best stories of the Blazers season.
In the offseason of 2013, Olshey outdid himself by getting Robin Lopez for the wholesale price of second-round pick Jeff Withey, a future second-rounder and cash. It looks even more ridiculous when you consider the Cavs gave up two first round picks for Timofey Mozgov.  He also brought in Mo Williams and Dorell Wright who were key players in the team's first series victory in 14 seasons.
Another, perhaps more unheralded tendency of Olshey's was to bring in veteran players who could serve as examples for the team's younger players such as Jared Jeffries and Earl Watson.
This season Steve Blake and Chris Kaman, Olshey's two signings, have done everything the Blazers have needed them to do. Following their exit from the 2014 playoffs, they signed Stotts to an extension.
Of course, these moves are not done in a vacuum and as Raptors GM Masai Ujiri told Grantland's Zach Lowe you need a little bit of luck. For instance, the Blazers swinging and missing on Spencer Hawes in the offseason has looked like a blessing in disguise given the interior presence on both ends that Kaman has given them.
But there's no denying that since Olshey took over the reigns that the Blazers have only continued to trend upward.
According to USA Today's Sam Amick, the contract for Olshey is a 3-year deal with a team option for a fourth year.
Well-deserved extension for Blazers GM Neil Olshey. I'm told it's three years guaranteed, with a team option for the fourth year.

— Sam Amick (@sam_amick) January 8, 2015
After last year's 54-win season and fifth place finish in the regular season, the Blazers are 27-8 and in second place in the Western Conference.