Blazers forward Nicolas Batum wears "Je Suis Charlie" shirt in warm-ups after Paris shooting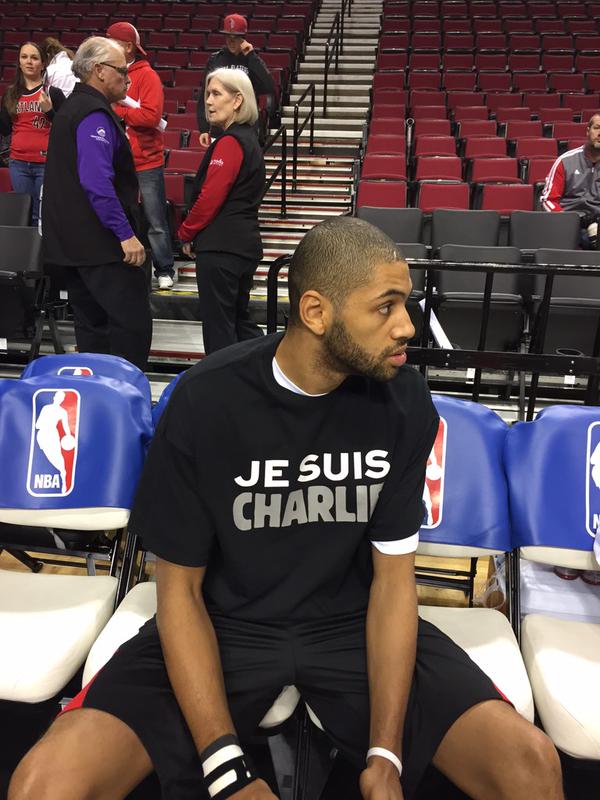 Portland Trail Blazers forward Nicolas Batum wore a "Je Suis Charlie" t-shirt to honor the victims of the shooting at the offices of the French satirical newspaper Charlie Hedbo in Paris.
"Je Suis Charlie" translates to "I am Charlie."
He wore the shirt both during his individual pregame workout and as the Blazers warmed-up on the court just before Thursday's game against the Miami Heat.
The French forward who is in his seventh season with the Blazers spends his offseason's in Paris. Batum gave his reaction to the tragic shooting and death of 12 people at the offices of the French satirical magazine Charlie Hedbo in Paris on Wednesday.
From Casey Holdahl of TrailBlazers.com 
"I woke up this morning and it was the first thing I saw.," said Batum. "That's sad, twelve people killed like this. I have no words to explain what happened. I read that this morning, people came in and shot police. It's sad for those people who tried to do their jobs.

…

"We have different opinions, okay," said Batum. "But you've got to respect everybody's opinion. You can't shoot those people… You can't kill someone because you disagree with somebody."
Batum is not the first Blazers player to make a statement with a t-shirt in warm-ups this year.
UPDATE: Trail Blazers reporter Casey Holdahl noted that Robin Lopez was also wearing a "Je Suis Charlie" shirt under his sportcoat during the game.
Earlier this season Damian Lillard and a few other Blazers wore shirts that said "I Can't Breathe," following the lead of those like Derrick Rose, LeBron James and others, to protest the verdict in the Eric Garner case.