Trail Mix: Blazers reportedly interested in Jermaine O'Neal, Damian Lillard hunts 3's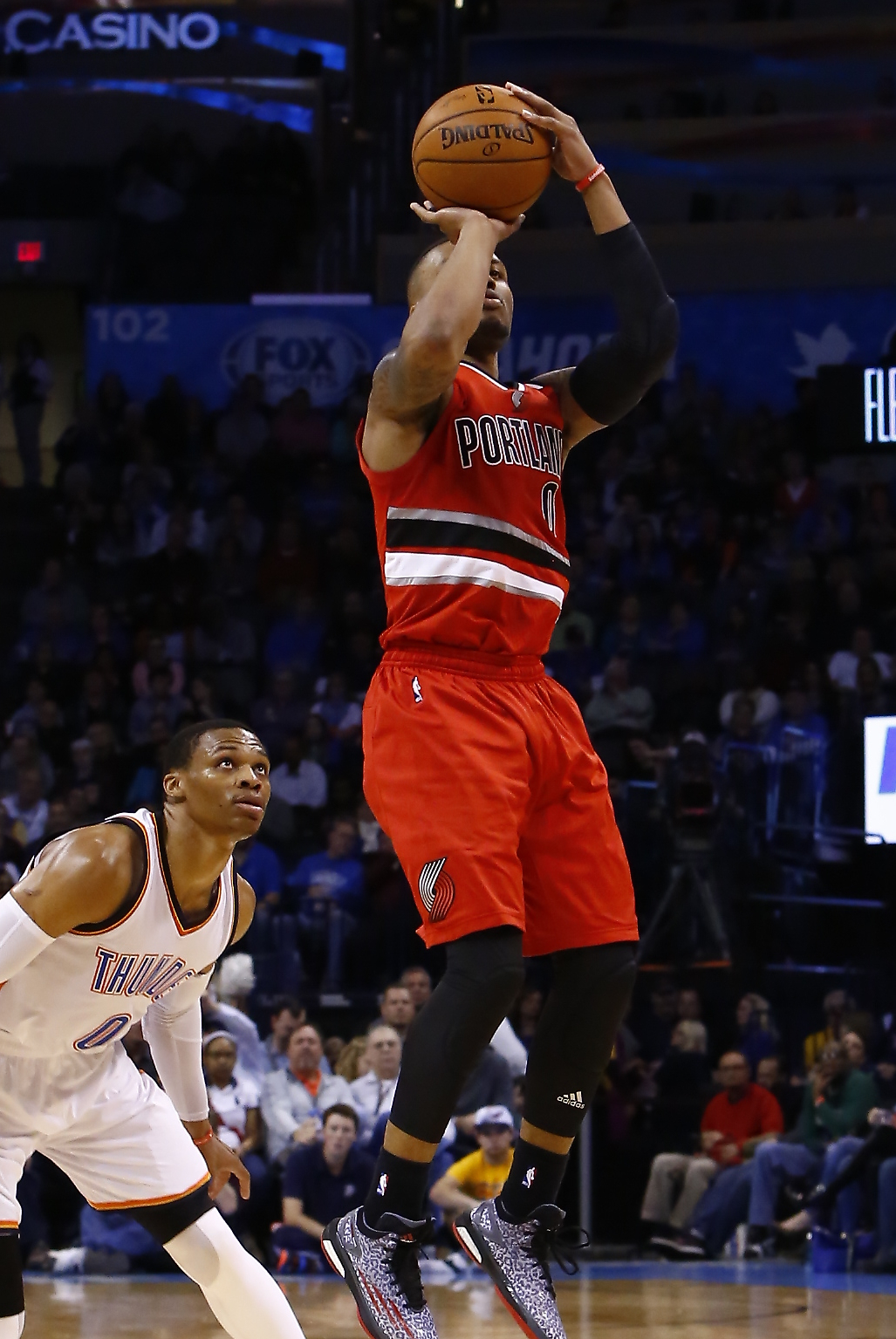 The Portland Trail Blazers are reportedly interested in 18-year NBA veteran and one-time Blazer Jermaine O'Neal according to ESPN.com's Marc Stein.
The Blazers are expected to be without starting center Robin Lopez (hand) until February and Joel Freeland (shoulder) isn't expected to re-evaluated until late next week at the earliest.
According to O'Neal's instagram, he is in Germany receiving treatments on his knees which he has done for the past few seasons.
http://instagram.com/p/xemt0-HK2k/
The report also names the Phoenix Suns and Golden State Warriors, the team who O'Neal played for last season and has the league's best record, as suitors.
But Stein writes that the Mavericks are the front-runners and that the Cavaliers and Clippers are also calling.
The Dallas Mavericks are widely regarded as the front-runners for O'Neal's services should he decide to play, given that O'Neal has made the Dallas area his offseason home base in recent years. The Cleveland Cavaliers and Los Angeles Clippers also are known suitors for O'Neal, who began this season focused on spending time with family and off-court business interests after a successful 2013-14 campaign with Golden State.
This isn't the first time that the Blazers and O'Neal have been linked to each other in recent seasons. As recently as the offseason of 2013, O'Neal expressed an interest to Chris Haynes in playing for the Blazers where he met his wife and was originally drafted.
The CSNNW.com report addressed reasons why the Blazers would be a destination although he eventually signed with the Warriors.
Although the offseason is still young for O'Neal, he has his mind set on a handful of teams he feels he can make an immediate impact on and the Trail Blazers are one of the teams at the top of his list.

"Portland is a team I have to look at this summer. That city has always been in my heart because one: Mr. [Paul] Allen gave me my opportunity, and two: that city took me in as their second child," he explained. "I didn't play for two or three years but you couldn't tell. The organization and the fans really allowed me to grow at my own pace. It's a special place to me. I met my wife in Portland. At this point for me, it's all about competing and winning and the Blazers are doing those things."
Of course, for the Blazers to add O'Neal they would have to open a roster spot through trade, waiver or buyout as they have the maximum allowable 15 players under contract.
Grantland.com's Kirk Goldsberry, the creator of some of the coolest shot visualizations and a great analyst had a very interesting piece on the Rockets' James Harden and his style of scoring.
It's been said before that Harden is the perfect player for the Rockets hyper-efficient front-office approach to the game where they barely take any midrange shots compared to the rest of the league. One of the ways that Goldsberry illustrated Harden's greatness was by how many 3-pointers he makes and creates for teammates.
But in Goldsberry's great analysis it also showed that Portland's Damian Lillard is second in the league in 3-pointers made and created.
The top 3-point producers (made 3s + assisted 3s), as of January 4:

1. James Harden – 195
2. Damian Lillard – 170
3. Stephen Curry – 159
4. Kyle Lowry – 141
5. Ty Lawson – 138
The Blazers aren't quite like the Rockets but they shoot a lot of 3's. I asked Lillard about his strategy in looking for 3-point shooters.
"When I get in the paint I'm always seeing where defenders are," Lillard said. "Most of the time I know who they are guarding. That makes it easier. So I'm always looking for Wes and Nico. Anytime I put the ball on the floor I'm always looking. Because if their man is two feet away from them I know that I can zip a pass to Wes he'll get it off and it will be a good look for him and a good look for Nico. So I'm always looking for those guys."
Lillard has a lower usage rate than Harden, meaning he ends fewer possessions with a foul, shot or turnover, but Harden has been the league's leading scorer and is a master at getting to the foul-line.
Also at today's practice, Meyers Leonard hit a light which dangled from the ceiling much to the amusement of Wesley Matthews.
https://vine.co/v/OpbLAdtTWWw/embed
Within minutes, Neil Olshey made sure that the light was taken care of before it came down on the court.
Meyers Leonard broke a light at #Blazers practice. Whoops. But Neil Olshey called in the quick fix. pic.twitter.com/6xoHjjID2T

— Mike Richman (@mikegrich) January 7, 2015
The Blazers play the Miami Heat Thursday night at 7:30 on TNT and they may be without Wesley Matthews who is questionable. They will also likely start Chris Kaman.
On a more somber note, the Blazers French forward Nicolas Batum gave his reaction to the tragic shooting and death of 12 people at the offices of the French satirical magazine Charlie Hedbo in Paris on Wednesday.
From Casey Holdahl of TrailBlazers.com 
"I woke up this morning and it was the first thing I saw.," said Batum. "That's sad, twelve people killed like this. I have no words to explain what happened. I read that this morning, people came in and shot police. It's sad for those people who tried to do their jobs.

…

"We have different opinions, okay," said Batum. "But you've got to respect everybody's opinion. You can't shoot those people… You can't kill someone because you disagree with somebody."
And finally a little bit of self-promotion with the latest episode of the Blazer Banter podcast with @Marco_Romo highlighting the match-up with the Miami Heat.