Trail Mix: Blazers 98, Lakers 94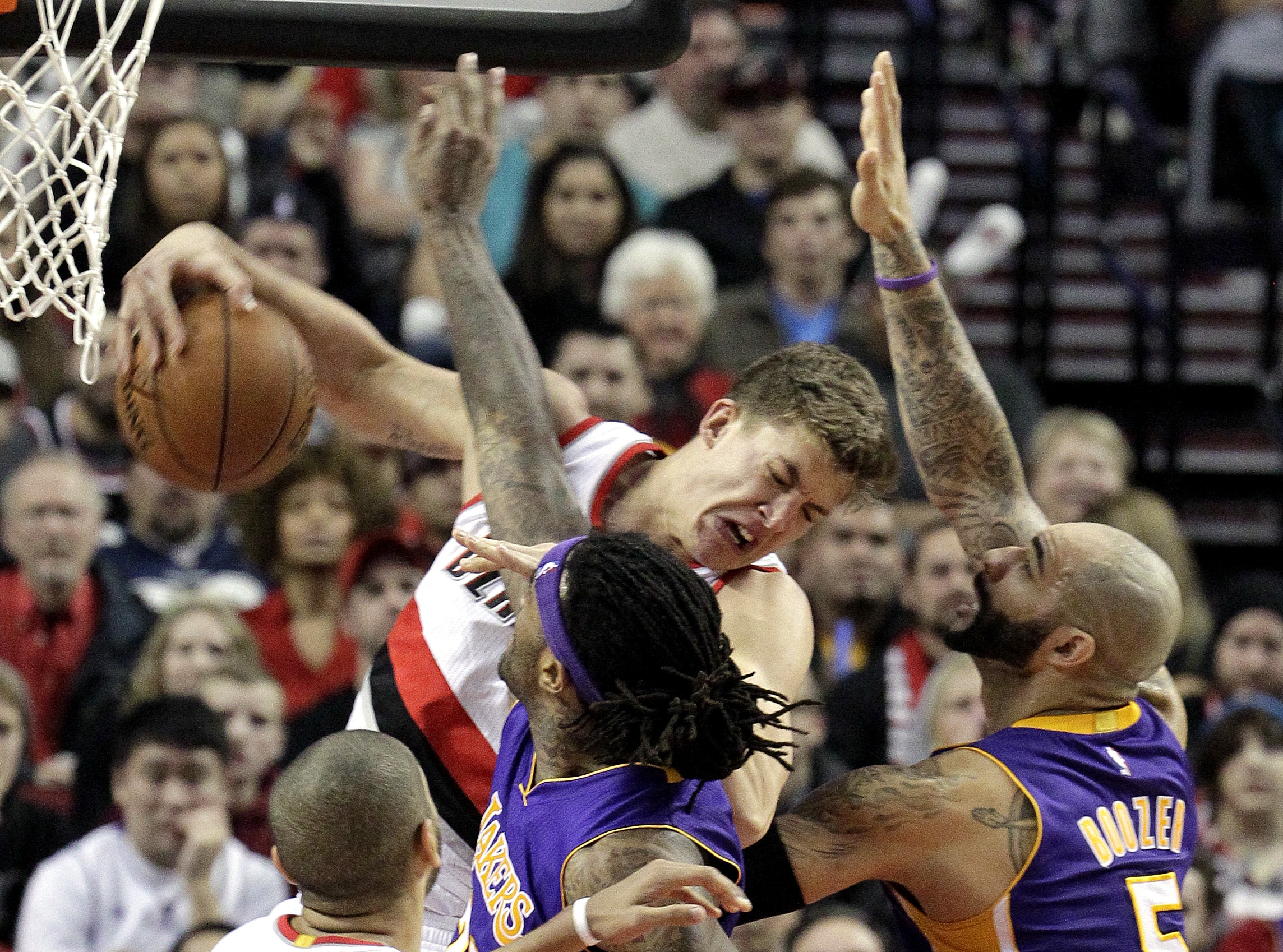 The Portland Trail Blazers narrowly escaped the Los Angeles Lakers Monday at the Moda Center 98-94. Damian Lillard scored 39 points including 16 in the fourth quarter to propel the Blazers to a win.
The comeback came through Lillard, LaMarcus Aldridge, a tall glass of Meyers Leonard and some good ol' tanktastic late-game play from the Lakers. But it was unmistakable that Wesley Matthews writhing in the ground in pain colored the mood of the night.
Matthews went to the ground at the 8:18 of the first quarter. By the 3:45 mark he was back on the bench. The crowd cheered and Terry Stotts smiled.
He played 30 minutes but he wasn't quite the same. In one of his first plays back he lifted off both legs for a rebound. A possessions later, he euro-stepped from right to left, the same leg he had been grabbing at earlier in the quarter, and was fouled by the Lakers' Jeremy Lin. Then immediately after the play he hit his head on the stanchion and tapped his toe on the ground while slightly raising his knee. He made that same tapping motion throughout the night. He said was "sore" after the game.
With his immediate reaction, the caution seems very understandable.
"More frustrated than anything," he said of his thoughts when he was carried into the locker room."I didn't really know when it happened. I've hyper extended my knee before. It didn't really feel like that. The pain didn't go away right away. I was anticipating the pain to go away right away and subside but it didn't. It was hard to straighten it and all that. As I started to get helped off. I could feel it kind of calming down. I was trying to test by putting some weight on it. I got back here and did the test and everything. I was able to go back out there."
Matthews admitted that he didn't feel like himself but in his tough guy way wouldn't blame it for his 1-of-9 night.
"I don't know if mechanically it did," he said. "I definitely felt weaker, less explosive and all that because I'm feeling every movement. I think more so mentally. I was worrying. I will get past it. I'm not going to blame my shooting and stuff on my knee. I'm not that type of person.
Matthews said he never saw the replay.
Here's some reaction to the sight of seeing Matthews go down in the gamer from Monday's game that'll be in Tuesday's Columbian.
"I was real nervous," Lillard said of his reaction when he saw Matthews initially go down. "When I saw him do it at first, I thought he just slipped. He hurt his knee falling on the ground and on the replay it looked like he hyperextended it."

"I thought he was hurt," Blazers head coach Terry Stotts said. "It didn't look good on the replay. I was shocked to see him come back. I'm not a doctor, but it didn't look good."

Matthews did return eventually and played 30 minutes but was one-of-nine from the field. He said he felt the knee affected him mentally.
Terry Stotts joked after.
"He came back and said he was ready to go and I said, "what are you doing here?"
But when asked about if he would get anymore testing, Stotts was quick with his response.
"I have no idea," he said. "Obviously he was checked out before he went back out on the court. We'll keep tabs on him."
But on to the fun stuff.
Enter Nick Young aka Swaggy P reaching Peak Swaggy
[youtube http://www.youtube.com/watch?v=t8JKPkpH9xw&w=560&h=315]
Meyers Leonard had a double-double. He played really well and most importantly for him and the Blazers he rebounded well. He finished by tying a career-high with 12 rebounds. "Obviously he made his shots and that was the noticeable thing. For him to get seven defensive rebounds in the second half in a game where they were getting extra possessions. They were good rebounds. He went and got them in a crowd. Those were as important as the shots he made in the first half." Leonard scored eight of his 12 points in the matter of six minutes but he was most proud of his rebounding. "I think shooting can be up and down," he said. "Generally when I'm open I have a good chance to make it. But the rebounding was the main thing. Learning to hit it earlier, get better position. It's difficult to watch on film and everything. And I was happy I came out and did a good job rebounding." Leonard snagged key boards and grabbed six of his 10 defensive rebounds in the fourth quarter. The Lakers also apparently A) haven't gotten the memo or B) were ignoring that Leonard shoots 3's and makes them. After tonight he's the team's leader in effective field goal percentage at 59.3%. Wesley Matthews has the second-best at 58.5 but of course he was a much larger sample size. We haven't seen a big enough sample of Meyers yet. And these couple of weeks is a real opportunity for everyone, the Blazers and Meyers included, to get to know more about him as CSNNW.com's Dwight Jaynes wrote following tonight's game. We've seen peaks and valleys with Leonard but it's pretty clear that he has at least been serviceable and he is really confident shooting the ball.
He sounded like an old-pro when describing his four-point play. "I knew the shot clock was winding down," he said before Matthews, the team's leader both in banter and horseplay, rightly corrected him while chuckling by his locker that it wasn't winding down.  But Leonard continued. "I jabbed him off, he took half a step and he kind of nudged me so I decided to put it on the rim and luckily it went in." But that shot was a shot in the arm the Blazers needed off the bench with Kaman starting but getting tired later in the game after playing pretty well for the majority of his minutes. There were eight seconds left on the clock when he hit it but during the game and on my DVR, you could hear someone near Leonard counting down "FIVE, FOUR…"
Lillard said that Leonard's success is just another example their bench has improved. "Every time we have a guy go down somebody's come in and stepped up big for us," he said. "It was T-Rob, it was AC, it was Will. Joel goes down and Meyers steps in his place. And he's playing a time where he's not really used to being in the game. And he makes a huge four-point play. he's grabbing rebounds and boxing out. Pick and roll coverages he's on top of it. Again our guys off the bench came through for us."
Lillard's clutch play ended up being the game's headline and he had to be. He was spectacular. This is what he does. If you don't have Damian Lillard on your team within a few scores, you can win the game. Only Miami's Dwyane Wade and New York's Carmelo Anthony average more but nobody has scored more total points in the fourth quarter this season than Lillard with 205 points. Jamal Crawford of the Clippers in second in the league with 202. He's at his best in the final five minutes when the game is within five points where he's shooting 40 percent from the 3-point line and 46 percent from the field. He hasn't been the best or the most efficient numbers wis, but your chances are usually pretty good.
Leonard began by talking about the team's faith in the system but just like the rest of us, he's left with only cliche's to describe what he does, like the rest of us. "As far as Dame goes, he's a clutch player. Tha'ts all their is to it. He surely knows how to get a shot off and make plays for others. A lot of times it's him in an iso and getting a shot at the rim. Stepback, whatever he wants to go to. Obviously he has an ability to put the ball in the basket at the end. I'd pick plenty of other guys on our team to get us a bucket too.
Lillard made his 500th career 3-pointer tonight in his 199th game, which made him the fastest player in NBA to do so. Klay Thompson previously held the record at 214 games.
LaMarcus Aldridge passed former Blazer and currently Lakers broadcaster Mychal Thompson in defensive rebounds for fourth in Blazers franchise history.
The Blazers are 8-5 after trailing by three quarters and 6-2 when doing so in Portland. They've also held their opponents to under 100 points 22 of 35 games.