Moda Center Food Review: Seven Rivers BBQ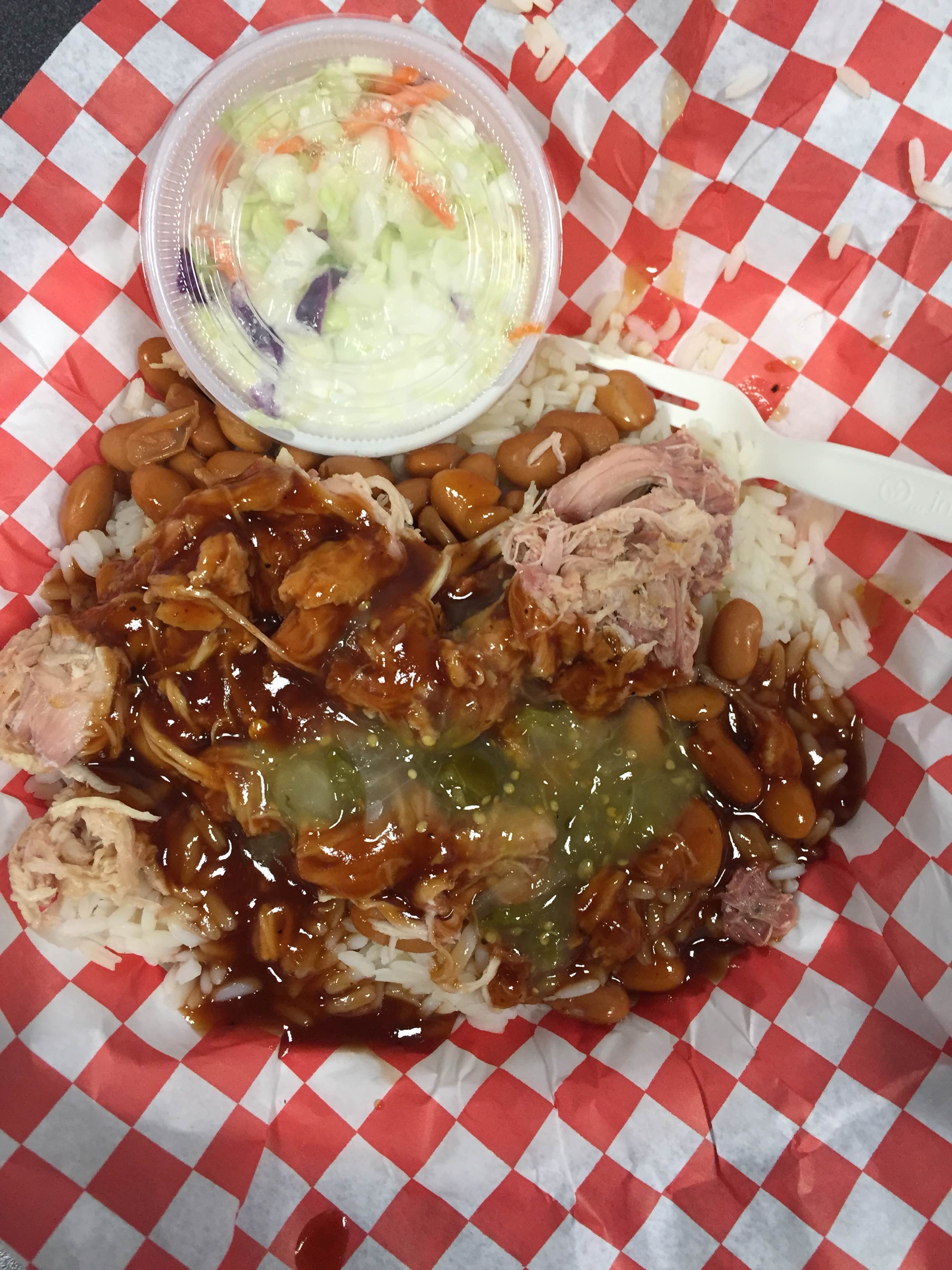 Previous Moda Center food reviews: 
We're back! It's been a little while and please excuse us for the absence of the Moda Center food review. It's the holidays and I was already not having much of a diet. Plus, we gotta stretch these out a little bit.
Sunday night I went to one of the Moda Center food locations that I've had my eye on for some time in Seven Rivers Barbeque.
If you've been to the Moda Center/Rose Garden before, you've probably seen the mountain-like nachos with pulled pork. But I wanted something a little bit easier to eat without so much cheese so I went with BBQ chicken, red beans and rice.
The retail price for the item of my choice was $9.75 and it provides a hearty meal that will surely leave you feeling fed.
But as a self-proclaimed hot sauce connoisseur I was most impressed by their hot sauce selection. I was so caught up in the hot sauce selection that I even forgot to take a picture of the offerings. And I also have to admit that I let myself down.
The chicken, rice and beans combo had good flavor but I'm not usually a BBQ guy. I certainly enjoy it but I need a little kick. And that's why I loved the hot sauce offerings so much even though I felt like I didn't put enough on it for my own personal taste.
They at least four house made sauces and several other bottled hot sauces.
It was still very good but I definitely want to go back and try it with the hot sauces they have to offer.
The dish itself was very basic and at least Sunday there was little-to-no line for their 100 level location. They have multiple locations all over the arena and tonight I finally saw why it has been such a staple. My buddy Colin has been telling me for years about the pulled pork nachos at the arena.
It was especially good to see that they offered an option that is more like a traditional dinner plate than the nachos. It was what I was in the mood for and while I didn't execute the meal as well as I should have, there's no reason you all can't learn from my mistakes.
Also, their cole slaw was very good. I would recommend, especially for the food to price ratio.
Here's their full menu.