Grantland's Bill Simmons and Zach Lowe kick around Blazers trade scenarios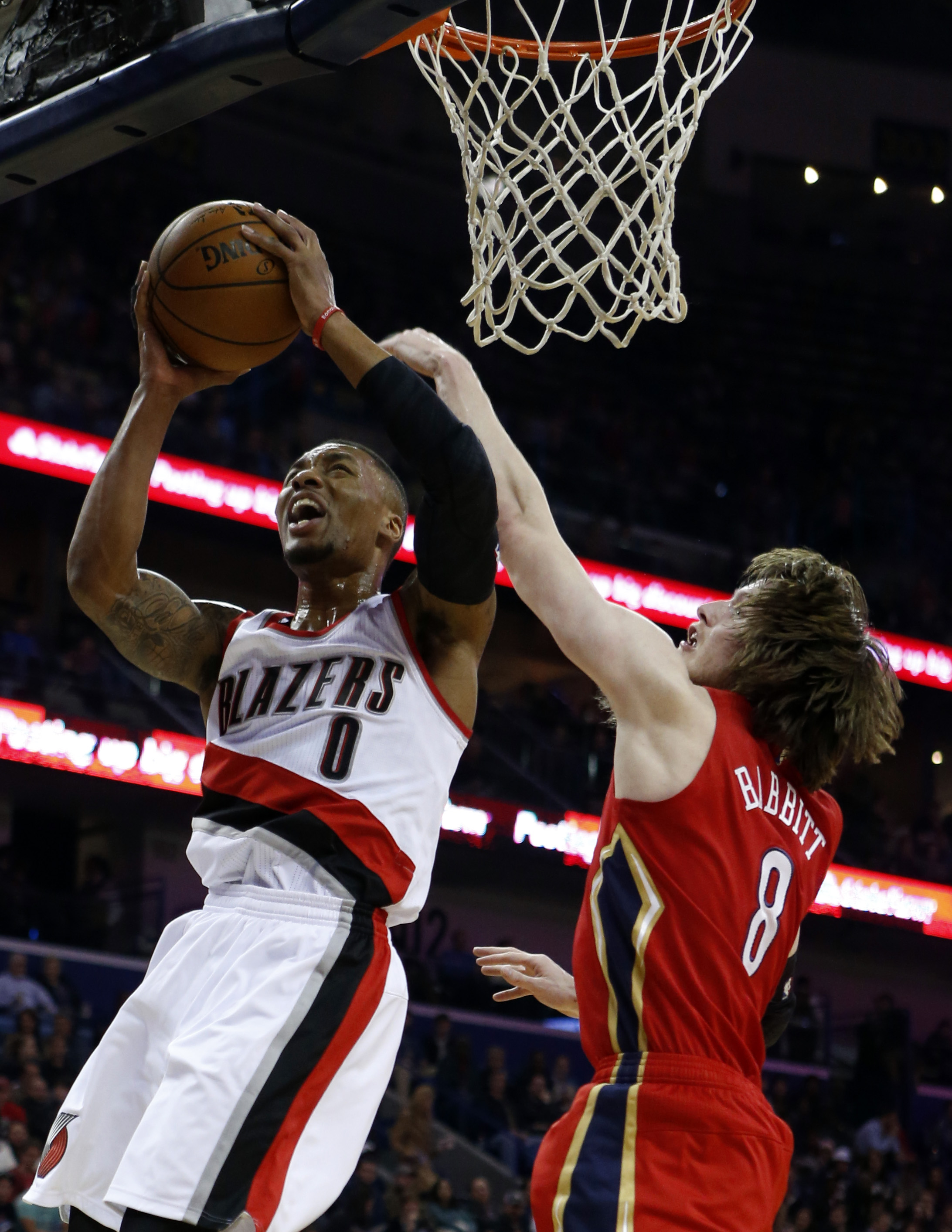 The Portland Trail Blazers are 22-7 and in 2nd place in the Western Conference heading into Tuesday's divisional tilt against the Oklahoma City Thunder. Kevin Durant and Nicolas Batum both will not play but the Blazers have announced LaMarcus Aldridge (upper respiratory illness) is active.
With their performance as of late, particularly on this road trip without Robin Lopez, they've started to get a lot more attention. And Grantland boss Bill Simmons and Zach Lowe discussed possible trades to improve the Blazers on the latest edition of the B.S. Report.
The begin talking about the New Orleans Pelicans and how they used their assets to try and build a team to win with Anthony Davis. Lowe talked about those deals in his Tuesday column. The discussion about the Pelicans leads into a conversation about Robin Lopez, who was traded to essentially clear space for Tyreke Evans, and then the Blazers.
Both agree that the Blazers are real contenders and should go after a deal. Lowe recommends Wilson Chandler while Simmons, noted Celtics fans, thinks Portland should put together a package to take Jeff Green of his favorite teams hands.
They also talk about Meyers Leonard shooting 3's and Steve Blake. The Blazers centric portion begins at about the 39 minute mark.
Zach Lowe: Timing is everything. Look at the team that has Lopez now, Portland. Portland is a team that absolutely should consider flipping first round pick. If they can get a first round pick and like, I'm just making this up: Meyers Leonard, minimum salary if you need it for Wilson Chandler. Beef up you bench and be a wing player that can play 20 minutes maybe it gives you a little more versatility to play small ball when Aldridge sits if the match-up dictates it. Like, that's an asset play that makes sense because Portland has a chance to win a championship. All their guys except for Lillard are prime age and Lillard is basically in his prime anyway. That's a timetable asset play that makes sense in a way that New Orleans didn't quite make sense. I think Portland will sniff around deals exactly like that by the way. Portland's good. Portland has won me over.

Bill Simmons: I like Portland as well. They are the number one Jeff Green candidate for me. That's kind of the perfect Jeff Green spot right. We need you to play 25 minutes, you'll never have to shoot a shot in the last 90 seconds of a game if it's tied and we're down one. And he'll be like that sounds awesome. I hate shooting in the last 90 seconds. Can I just shoot when we're up 10? He'll be great. He'll be perfect.

ZL: It's tough for them to carve out. They can do it. They can cobble together enough salary. It's just I wonder if they look at Jeff Green…The Chandler/Jeff Green…Jeff Green's played almost all the 3 at small forward this year for Boston. Some teams look at him as more of a 4 or a hybrid and they just don't want small ball fours because LaMarcus doesn't mesh well with those guys. He wants a 5 next to him.

BS: That's interesting.

ZL: Portland will sniff around for sure.

BS: So LaMarcus doesn't like the small ball fours?

ZL: That's been an issue. He's always said I want a banger next to me. When they used to play Gerald Wallace at the four and LaMarcus at the five they would kill teams. And he would say "I don't like taking the banging, I'd rather have a big time center or a big body next to me." That's why they went after Hibbert, they got Lopez, that's their M.O. I don't see them really downsizing but yeah if they could add a wing player that can kind of take the CJ McCollum, Will Barton, Steve Blake at the 2 minutes and kind of upgrade them that's powerful.

BS: They have the (Thomas) Robinson and (Dorell) Wright expiring contracts which gets them almost seven million. Then they have Joel Freeland at 3 million expiring. Meyers Leonard is two years left at cheap money and McCollum.

ZL: Did you see he took seven 3's last night?

BS: Who did?

ZL: Meyers Leonard.

BS: Really?

ZL: He can shoot. He's a good shooter. Seven 3's is a little bit much.

BS: You mentioned how they can upgrade the Steve Blake spot. Steve Blake's been prominently involved in this Blazers season. I wasn't prepared for that. I thought he would have been  more likely to see him on Cassidy Hubbarth on the ESPN NBA show at 12:30.

ZL: He's okay. This is like his 19th time playing for the Blazers. They love him there. He's probably got four second homes there.

BS: Some guys, one team is the right team for them and that's it and can't play for the other 29. For whatever reason one team is the right fit. Maybe that's one.
Here is what Olshey said at media day when asked about whether the Blazers would use their draft pick as a chip in potential deals.
The good news is it's not encumbered anymore. One of the most difficult things in this league is to make deals when all of your assets aren't liquid. Getting our draft pick back gives us a real ability to be aggressive in the trade market because it was encumbered. I'm a draft guy, I love the draft. we have our draft board up. Planning on going to practices in october. Hopefully our pick will be late in the first round but it is good to take the encumberment off to have the flexibility to construct deals with every possible tool at our disposal.
While Lopez is out it would seem Portland would want to make use of their front court depth with players like Freeland, Leonard and Robinson. While Kaman has had some good games this season he still hasn't played over 70 games since the 2009-10 season.
The idea of getting Chandler, a talented scorer and a more versatile defender than anyone on Portland's roster, certainly has intrigue. He's also flashed a consistent 3-point shot for Denver this season.
Green has been averaging nearly 20 points a game for a struggling Celtics team and is a little bigger than Chandler. He's played power forward before in his career and could provide similar versatility to Chandler on defense.
As the Blazers start to get more attention as a contender, they will certainly be linked with names who have been rumored to be moved.