James Harden scores 44 points in Rockets blowout win over Blazers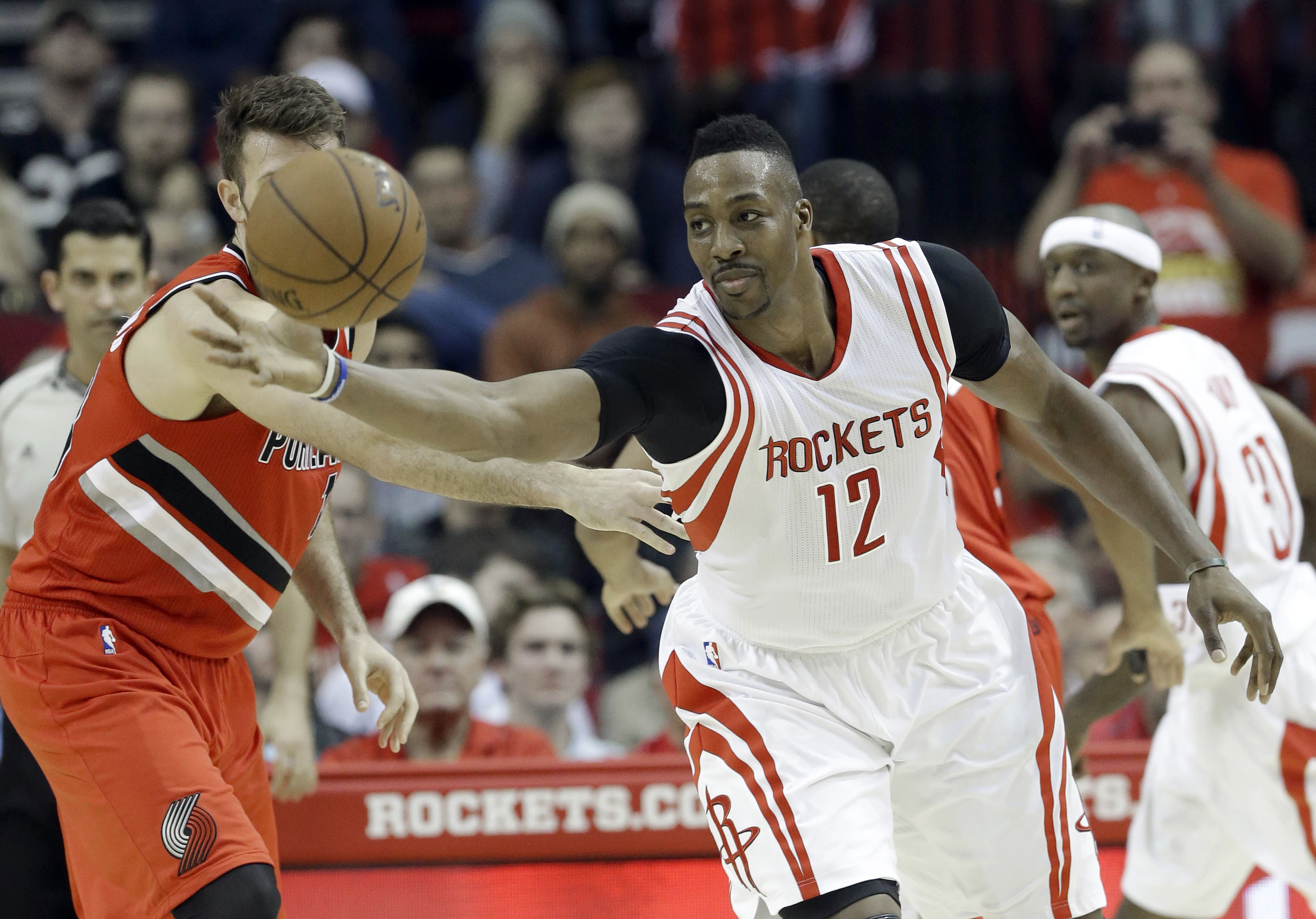 James Harden led the Houston Rockets to a 110-95 blowout victory Monday against the Portland Trail Blazers with 44 points, seven assists and five steals. The Blazers were without All-Star big man LaMarcus Aldridge and were already without Robin Lopez.
They needed someone to have a big game and unfortunately for the Blazers nobody's game could rise as high as Harden's and Damian Lillard's shot would not fall. He was 0/5 on 3's and could never really find that extra gear this evening.
Without Aldridge in the line-up they not only lacked an offensive game-changer and but also their most reliable rim-protector and defender without Lopez. Houston's Dwight Howard didn't have a great game and he didn't respect Meyers Leonard's 3-point shot which opened up opportunities for Portland.
And alley-oops for Leonard.
https://vine.co/v/OXUKI9nM7A1/embed
But Harden made none of that matter by putting on an offensive clinic, doing what he does by hitting 3-pointers with defenders breathing on him, getting to the basket and the foul-line. Harden also took advantage of some very weak Blazers fouls to finish baskets and still get free-throws.
The Blazers also missed Aldridge when it came to taking care of the ball. Nobody on the Blazers ends more possessions than Aldridge but Aldridge almost never turns the ball over. The Blazers turned it over 23 times tonight in a high-turnover affair. The Rockets had 18 and Lillard led the team with six. The turnovers weren't everything but especially against a good Western Conference team, the Blazers need him. But especially on the Rockets who force turnovers at the sixth-highest rate in the league.
And while Portland's bench looks better on the box score after the game, they didn't have a game they'll probably like to remember. Houston newcomer Corey Brewer was dynamic in Rockets' breakneck style of game and he was hitting his 3's, which doesn't happen often. He was shooting 19 percent on 3's coming into the game and went two-for-four from deep. He also had five steals.
The Rockets played very tough defense and almost every corner that was there against the Pelicans wasn't there Monday. Lillard worked to get his shots and they couldn't fall. Couple in the fact that Nicolas Batum barely looked to score didn't help Portland's cause. He took only three shots and scored just two points. He's struggled from the 3-point line this season but he still normally takes four or five 3's. Monday he took just one. Even though Meyers Leonard was hitting 3's, without Aldridge, the Blazers needed more from Batum.
Batum's counterpart Trevor Ariza didn't have as great of a game but Portland needed to win almost every match-up without their best player against two superstars.
This game can certainly be viewed upon as a moral game for Houston. They had lost two straight games at home and were facing the team that eliminated them from the playoffs last season. This wasn't revenge, that can't come until the playoffs.
But tonight two teams and different tracks came in and the more desperate team won. And tonight Blazers fans saw why Harden has been mentioned as a frontrunner in the MVP discussion. Harden wasn't bad but he wasn't particularly good and The Beard did almost everything. He had 42 and seven after the third quarter.
It looked like the Blazers would throw in the towel by starting a bench-only line-up to start the fourth quarter. But their reserves cut the Rockets lead to 16 and Stotts tried to bring Lillard back to see if a comeback was possible before eventually pulling him out of the game. With Oklahoma City tomorrow and Aldridge's status still uncertain, the Blazers will need Lillard in against Russell Westbrook.
Notes: 
Meyers Leonard scored 13 points in his 2nd start of the season. As I stated above, Howard didn't really respect his shot and he went three-for-six from deep.
CJ McCollum looked like he got his rhythm back from before the injury. He scored 17 points which included two 3-pointers on six-of-nine shooting. McCollum was 0-for-four in the last three games.
Thomas Robinson who was a key factor in Portland's last two victories was relatively quiet and had one particularly bad turnover when he tried to throw an alley-oop to Meyers Leonard in transition.
The Blazers face the Thunder tomorrow. The Blazers may not have Aldridge tomorrow but the Thunder could also be without Kevin Durant who has missed the last two games after injuring his ankle.