The Scouting Report: at New Orleans Pelicans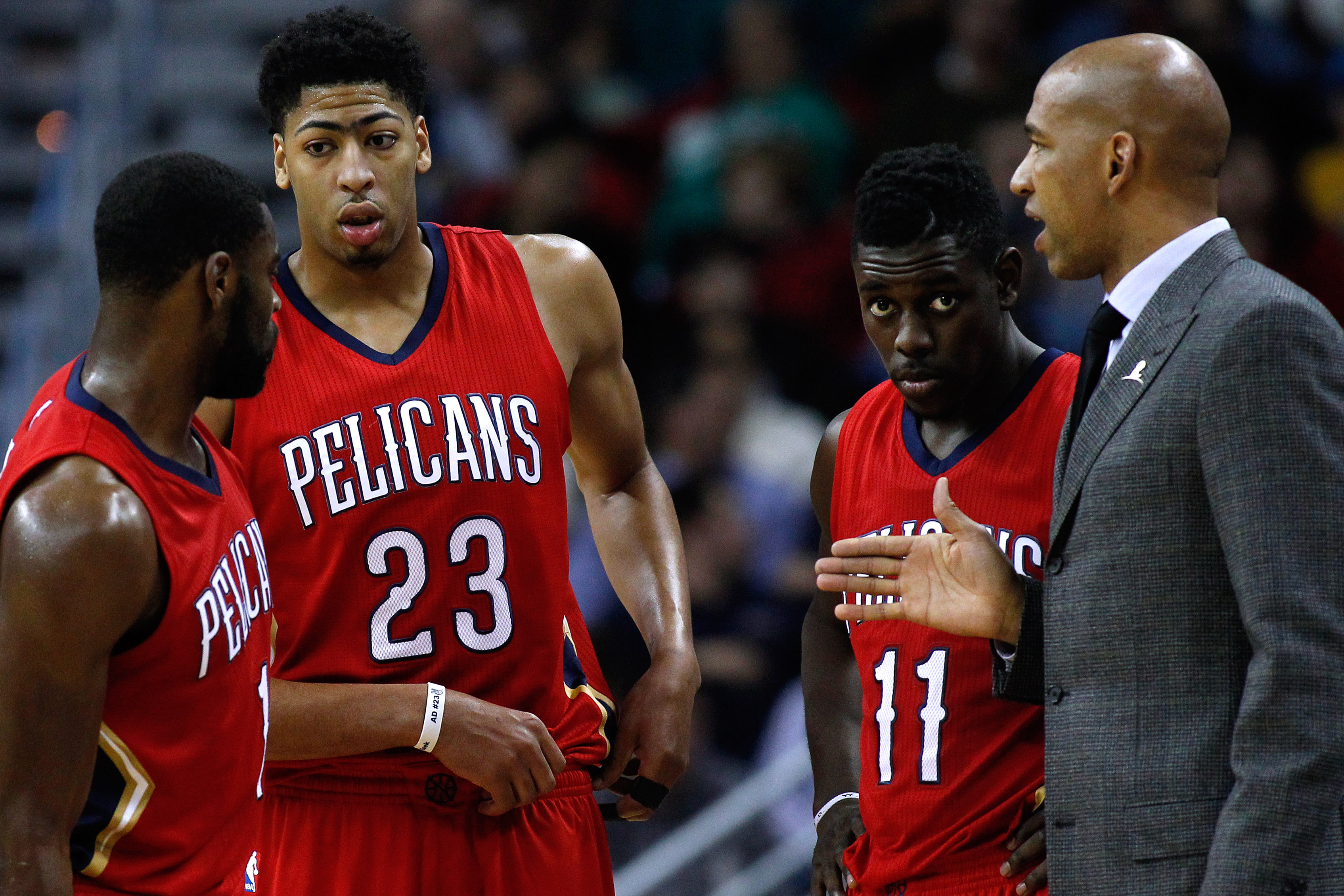 Projected starting line-up: Jrue Holiday, Austin Rivers, Luke Babbitt, Anthony Davis, Omer Asik
Injuries: Tyreke Evans (questionable), Eric Gordon (out indefinitely)
The New Orleans Pelicans are coming off a big win in Houston over the Rockets on Thursday night. They have arguably the league's best power forward in the NBA and perhaps the league's most dominant player in Anthony Davis. And yet, they are in very serious danger of missing out on the playoffs.
At 13-12 the eighth-place Pelicans are just two games ahead of the Oklahoma City Thunder who are charging up the standings. The Thunder are winners of seven of their last eight games and it seems like it's already a stupid question to ask whether they will make the playoffs. This would create a scenario where the Western Conference sees the same eight Western Conference teams from last year with the Pelicans looking like the first team out, to use a March Madness term.
This seems absurd but that's the power of the Western Conference. So even though the Pelicans may be on the outside looking in come the playoffs, they are a very talented team that Portland must be ready for. Especially without Robin Lopez, who was a key factor in Portland's comeback win against New Orleans on Nov. 17.
And Monty Williams is turning the current day Pelicans into something reminiscent of some late -00's Blazers teams.
The Pels are starting Luke "Chalupa God" Babbitt at small forward and then they bring Ryan Anderson off the bench to bring shooting off the bench. But one key signing has been former Blazer and Dante Cunningham who has been flung into duty since signing with New Orleans as a free agent. He's already played 220 minutes, more than most of the team's reserve players, in only nine games.
But Williams has also had to do some unconventional things due to injuries to key wing players like Tyreke Evans in their win on Thursday against the Rocekts. Babbitt is the starter and is shooting nearly 50 percent from 3 but played only 14 minutes while Williams rode Cunningham for 34 minutes. He also chose to play a particularly odd line-up with three power forwards, Cunningham, Anderson and Davis in the line-up.
Cunningham is also a capable midrange jumpshooter which creates more space for Davis to wreak havoc on pick and rolls. Omer Asik will be available in this one unlike the Nov. 17 meeting and he should be one of many bodies to take a shot against LaMarcus Aldridge.
If Portland can get a win here it would be hard not to consider their trip to already be a success being as shorthanded as they are. Nicolas Batum missed Friday's game against the Spurs and his status has not been updated for Saturday against the Pels.
They may not make the playoffs by seasons end but Davis and the young Pelicans will make the Blazers earn it.