The Scouting Report: Milwaukee Bucks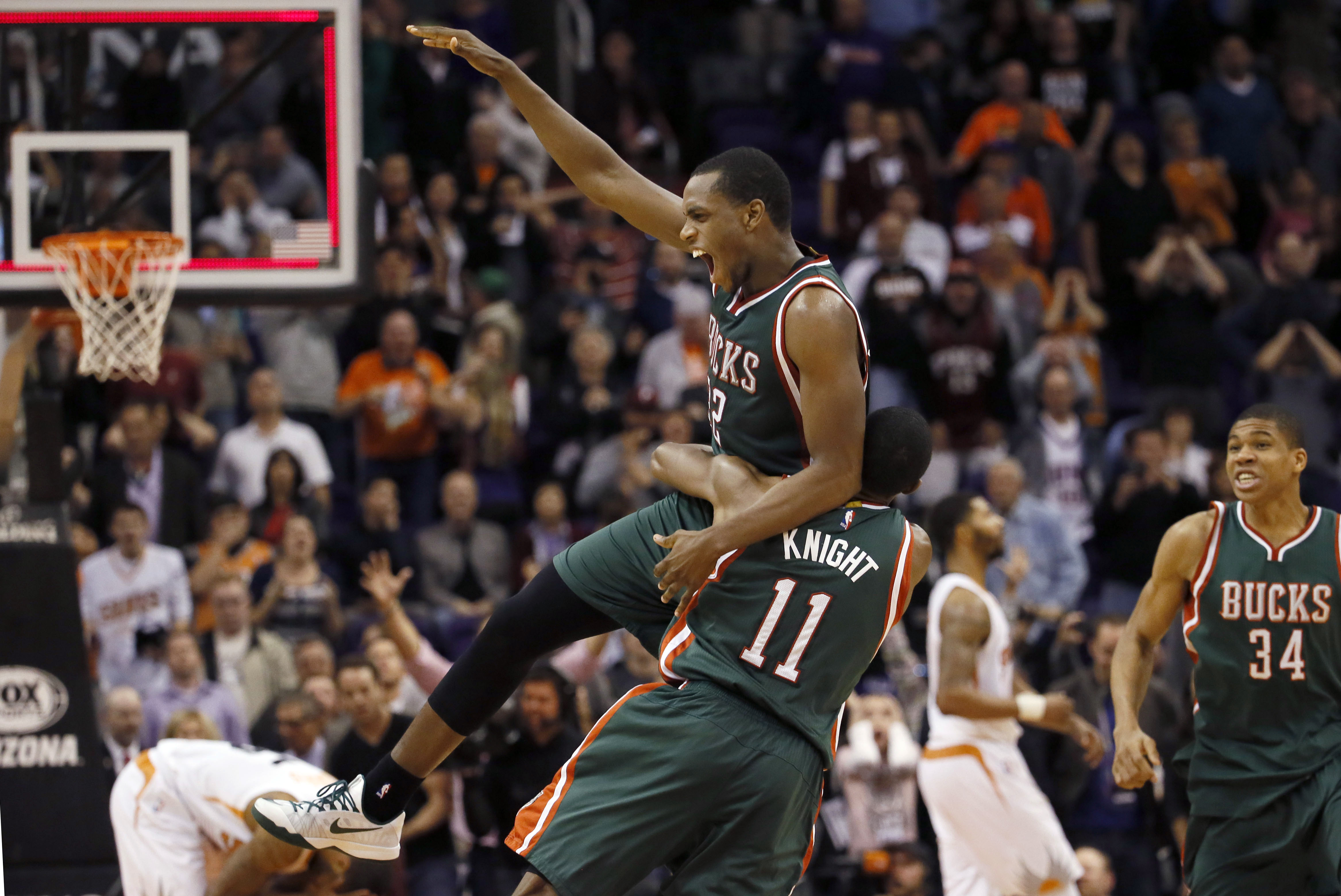 Projected starting line-up: Brandon Knight, OJ Mayo, Giannis Antetokounmpo, Khris Middleton, Larry Sanders
Key additions: Head coach Jason Kidd, Jabari Parker (No.2 overall pick), Jerryd Bayless.
Key injuries: Parker out for the season
As you may have heard by now, the Bucks lost Jabari Parker for the year in their last game.
But Khris Middleton saved the day with a ridiculous game-winner to steal the game from the Suns. And then one of my favorite game-winner celebrations in a long time. Look at Bayless fall to his knees. Pure joy. These are the 2014-15 Milwaukee Bucks and they are one of only fun teams that play in this year's Eastern Conference.
[youtube http://www.youtube.com/watch?v=s3RiFZa2DcE&w=560&h=315]
The young Bucks are more than just Parker. They have been a true joy to watch at times. Head coach Jason Kidd is already looking like a great tactician with his substitutions and use of the Bucks bench.
Giannis Antetokounmpo also known as "The Greek Freak," has gone from a player that could maybe look like a good player one day to an actual good player in his second season. He hasn't been a threat from the outside but he's done a much better job getting to the rim.
According to Basketball-Reference shot charting, over 57 percent of Antetokounmpo's shots are coming from within three feet. He's also cut down his turnovers and he looks like a more confident ball-handler. Preseason talk and a few starts at point guard proved to be a gimmick. Giannis can bring the ball up the court but the engine that makes the Bucks go is point guard Brandon Knight.
Knight has often been the butt of many NBA jokes. He was dunked on by DeAndre Jordan. He was crossed over badly by Kyrie Irving in the Rising Stars game. But Knight is having another solid season for the Bucks after taking his game to a new level last season in a down season.
As his team has improved, he's been even more effective and he's made some big plays. He's Milwaukee's leader in minutes, points, assists and steals. Almost everybody on the Bucks plays around Knight.
Kidd struggled early in his coaching career and resorted to some not-quite legal methods to try and win games. But there aren't many jokes about what he's doing anymore. He's playing an almost Popovich-like rotation with the Bucks. His starting center, Larry Sanders, is playing just over 21 minutes a game. According to NBA.com, the Bucks most-used line-up in their win on Monday included four bench players along with Brandon Knight.
The starting line-up may be the same from game-to-game, but the Bucks are one of the more unique teams in the league. In the bland Eastern Conference, their youth and talent has made for one of the most watchable teams in the league.
Their defense has slipped since a wonderful start to the season where they were playing at a top-five level. They're currently 12th in defensive efficiency but have a bottom-ten offense. While that doesn't sound very threatening to the Blazers, we've yet to see them take the court without rim-protector and hustle-guy Robin Lopez. Those drives by Antetokounmpo will be a lot more threatening without the threat of Lopez.
Khris Middleton will likely be more involved with Parker out of the line-up. He's a pretty good 3-point shooter and got a lot of experience last season in taking a lot of shots for a bad Bucks squad. OJ Mayo is also finally in shape again even though he hasn't found the success from deep earlier in his career.
The Blazers have a very tough road-trip ahead against four Western Conference teams. But the Bucks are young, talented and well-coached. There is potential here for a "trap-game." Without Robin Lopez, the Blazers will certainly need to be on alert. The Bucks have snuck up on people but the Blazers can't let them sneak up on them. And even then, this game could be tough.
We've yet to see these Blazers without Lopez and we don't know how that will change things for them.