Trail Mix: Blazers 108, Spurs 95 and Robin Lopez fractures hand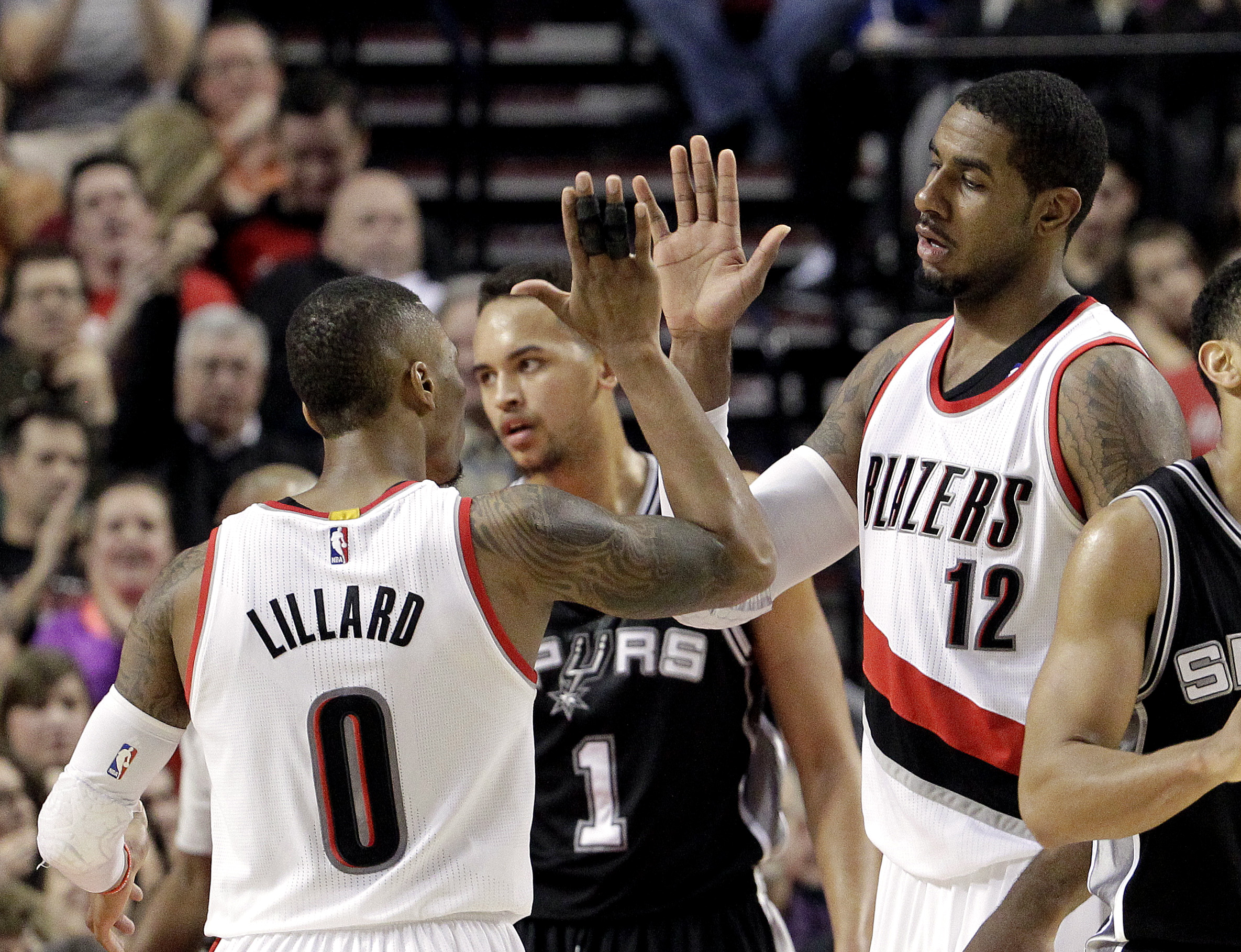 The Portland Trail Blazers defeated the San Antonio Spurs 108-95 Monday at the Moda Center. Damian Lillard and LaMarcus Aldridge both had 20-point, 10-rebound double-doubles in the win.
But the win came at a cost with Robin Lopez fracturing his right hand. Lopez told reporters there could also be multiple fractures. Lopez nor the Blazers would give a timetable for his return, saying that he will be re-evaluated. Yahoo! Sports' Adrian Wojnarowski reports that Lopez is expected to miss a month.
Portland Trail Blazers center Robin Lopez is expected to miss four weeks with a fractured right hand, league sources told Yahoo Sports.

Lopez will meet with a hand specialist on Tuesday in Portland.
The Blazers are approaching un-charted waters without the center that's played . And perhaps nobody is going to be more affected by the absence of Lopez than Portland's three-time All-Star LaMarcus Aldridge.
Aldridge said he came into the Blazers locker room looking for Lopez after the final buzzer,
"As soon as I got back here after the end of the game I went looking for him and I couldn't find him.So I was going to drop by his house if I didn't see him," he said. "Luckily I saw him in here. He came in the locker room and he had the little cast on. He didn't know much about it yet."
But now the Blazers will reportedly be without Lopez for about a month. They are getting CJ McCollum back to practice on Tuesday but the loss of Lopez will be tough for the Blazers to hide.
Aldridge assessed that he will likely have to take more of Lopez's duties as a presence around the basket. "Maybe I'll have to try to cover the basket more because he's our rim protector. He's the guy that clogs the paint. So I might have to take that role some more. We have guys that can step up and play for him."
Lopez clearly means a lot to Aldridge and to the Blazers. "He's a big part of this offense and this team and our identity. He does so many things that people don't notice. He's a hard worker. A guy that does all the things that nobody really does in the first unit. It's going to be tough. Joel and Meyers and Chris Kaman can play more minutes. T-Rob is always good to go out there because he's active and plays hard all the time. So, I don't mind put him out there also.
Lopez was thought of as Portland's "missing link." Last season, Lopez was the most efficient pick and roll finisher in the game and his screens allow Portland's ball-handlers to flourish. Replacing him is something Damian Lillard said he'd rather ignore. "I don't even want to have to think about playing without RoLo," Lillard said. "He covers up a lot of our mistakes. He's the most unselfish guy on our team. He doesn't worry about I didn't get the ball, refs calling fouls. He doesn't get mad. He's the most selfless guy on the team. It's going to be tough without him. I think everybody in the locker room hates to see him not playing because of an injury. Hopefully we get him back out there as soon as possible."
Wesley Matthews said that the Blazers defense on the ball and in terms of ending possessions will be key for success without Lopez.

"

Our paint is definitely going to have to get tighter,"Matthews said. "We are going to have to sure up our defense on-ball because we won't have the rim protector like RoLo. We're going to have to rebound a lot more and just have to continue to be vocal and play with energy like T-Rob, Joel, Meyers. RoLo keeps a lot of balls alive on offense."
"It's frustrating," Lopez said. "We've been playing so well and I've been having such a great time being a part of this team and this season which I plan to still be. And I plan to do that on the sidelines as a teammate. It's going to be a little frustrating."
So who will replace Lopez in the starting line-up? Stotts wouldn't say. But he has a few options. "We have a plethora of big men that we're going to be fine," Lopez said. Stotts can start Chris Kaman at center but at the risk of running up his minutes, something Stotts addressed as a concern earlier in the season. Kaman is also the number-one option on the second unit so it's unlikely to see him start. Joel Freeland plays a bang-around style and could help replicate some form of Lopez's dirty work style of play. Meyers Leonard is also an option. Thomas Robinson could also see more minutes alongside Aldridge, a pairing that Portland used towards the end of last season. Freeland has posted the best offensive rebound percentage on the team, a skill that Matthews referenced. Freeland has basically played the part of dirty-work guy alongside Chris Kaman on the second-unit. Although Lopez hasn't shot as well so far this year, his pick-and-roll game, offensive rebounding and post-presence will be hard to replace.
Matthews also made a joke about his personality and what that brings to the team. "He's quirky, he's goofy. I don't think that's going to change at all. He might be even goofier. He's probably going to get annoying, honestly. We'll probably get tired of him."
Lillard aggressively attacked the rim again tonight. He had nine shots inside the restricted area according to NBA.com. We touched on it a little bit in our game story in Tuesday's Columbian. Lillard said that part of the reason he is attacking more is because of the splints he has on two sprained fingers on his shooting hand. "In some of the workouts I've just been working on coming out downhill. Coming off screens and being in attack mode and seeing how the defense guards me and make plays off of that. Last game and tonight I've been able to get to the rim. I try not settle with too many jumpers because I don't want to with the splints on my hand even though I'm a lot more comfortable with it now. If I see a lane to drive I'm gonna take it."'
Lillard also had a career-high 10 rebounds. "I realy liked the way he went after some defensive rebounds. I thought Damian really played hard. He played with a lot of determination. He was taking the ball to the basket, but to have a career high rebounding–I think his rebounding hasn't really been talked about much. He's averaging over 5 a game at that position. That's something that we've talked about for a while as far as getting rebounds from our guard position. He went after them tonight." We addressed Lillard's rebounding and the Blazers change in approach to offensive rebounding in last Monday's Columbian.
The Blazers extended their rotation a little bit. Stotts said it was in part to the game's rhythm. On the decision to play Will Barton in the first half he said " Look, the opportunity was there tonight. There was a long stretch where the rotation got out of sync. The timeout didn't go until 3 minutes in the first quarter so that's a time I usually put Wes back in, he hadn't even been out yet. So, that substitution was mainly because those guys played an extended period in the first quarter and the rotation wasn't the same." Stotts played Thomas Robinson in the fourth quarter with LaMarcus Aldridge as a contingency plan with Lopez leaving the game.
Stotts talked respectfully about the expectations Portland had coming into the game with the Spurs benching Tim Duncan, Tony Parker, Manu Ginobili and Tiago Splitter. He then made a joke about his CBA days.  "I don't know if anybody expected us to blow them out. That group of players, we talked about before the game, 5, 6 7 of those guys were instrumental in the playoffs last year. They've won games with those guys before. We knew it wasn't going to be easy. They had players make plays. Kyle Anderson comes in makes some plays. Baynes comes in makes some plays. I thought we played a relatively consistent game. I thought it would have been nice to make a run here or there or sustain a run for a while. You win every quarter. An old CBA guy like me, I look at the quarter system. That's a 7-0 win. A 7-0 win is a 7-0 win."
Stotts was also asked about whether he would take a Spurs-like approach to resting his players. "To be honest, no. When Tim Duncan was 26 he was playing 40 minutes a game. If I had a 38 year-old, I'd look to do that. Our starters are all in their prime. And when guys are in their prime they should play."
Boris Diaw also sung the praises of the Blazers after the game when asked if the Blazers look like true contenders. "Yes they are. They have been for years. They used to be a young team but year after year they get better and better and became a big threat."
Here are some video highlights from tonight's game via YouTube user Damien Prince [youtube http://www.youtube.com/watch?v=sJ124UWDAMU&w=560&h=315]