Derrick Rose's 31, Chicago bench push Bulls past Blazers 115-106
This was an entertaining basketball game. Stars challenged stars. Derrick Rose had his highest scoring game in almost three calendar years. And behind that performance and a major bench advantage, the Bulls beat the Blazers 115-106.
Before the point guards for both teams put on a show in the second half, LaMarcus Aldridge put on a show. He scored 21 points in the first half including some expectedly ridiculous ones. One footed leaners, turnaround jumpers, 3-pointers. You name something in the Aldridge Arsenal of moves and he probably did it.
Aldridge led the Blazers to a stellar first half and looked like he was poised to steal the show in primetime against the team that traded his draft rights back in 2006. But as was the case in Portland, Chicago's bench made the game far more interesting than it was at the start.
The Bulls second unit is very different from the way their starters play. They like to space the floor with Nikola Mirotic, who had a career-game against the Blazers in Portland. In our Scouting Report we noted that Mirotic and Chicago's bench could make a difference in the game's result this time around with their best offensive players in uniform. It did.
Terry Stotts swapped Meyers Leonard into the second unit for Joel Freeland. Freeland was the primary player who took Mirotic in the first meeting and perhaps Stotts was looking for a more athletic look. In theory, it sounds like a logical move.  In practice, it was a disaster for the Blazers. Leonard was a -16 in just over five minutes of play.
Mirotic started off the game 2-for-7 but he seemed to beat the Blazers down the court almost every possession and was relentless on the boards. He also took six foul shots. In the second half, Stotts went back to Freeland who provided some good moments. But the damage was done by Mirotic.
It wasn't just Leonard who had a night they'd rather forget coming off the Blazers bench. Outside of a third quarter flurry from Steve Blake, the Portland bench was outplayed from start to finish.
Chris Kaman, a good bet to be able to get his shot off early and often, took just four shots total in 20 minutes of play. Kaman averages nearly nine field goal attempts per game and it was a little weird how little he was involved. He also grabbed just two rebounds as he came in averaging nearly seven.
Some credit should go to the Bulls bigs, who are probably the best core of big men in the league. But Portland needs Kaman to be the productive force he's been for their bench to be successful. If he isn't, these are the results you get.
Though Kaman did provide this moment of And-1 mixtape flair via @MarcoRomo.
https://vine.co/v/O6gQdmWUrzA/embed
The Blazers defense was not stellar by any means. But the Bulls made a lot of tough shots in addition to getting to the rim at a very good rate. Chicago took 32 shots inside the restricted area, which is a concerning number for the Blazers. The highest average in terms of shots allowed in the restricted area per game is currently 30 according to NBA.com. So yes, the Blazers interior defense was a little lose.
But the Bulls also made a lot of tough shots in the paint, mostly floaters from both Rose and Aaron Brooks, who scored 17 points off the Bulls bench.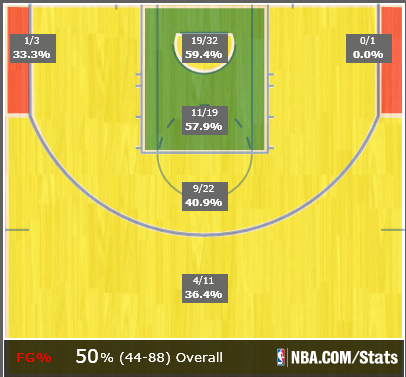 Lillard charged late with one of his patented late explosions. He scored 18 points in the final period including some ridiculous shots that he makes look normal. He finished with 33 points.
But Rose had a simple answer for every spectacular Lillard shot. It was his and his team's night.
Notes:
Nicolas Batum's shooting woes were a focus once again tonight. He went 1-for-5 from the three-point line and 3-point percentage after tonight is down to a sad 24.1 percent. To put into perspective how odd this is, think about this: in his six pro seasons, Batum has never shot worse than 34.5 percent from 3 in a season (2010-11). In five out of his six pro seasons, he's shot better than 36 percent from the 3-point line. He looks like he's the same player and he's doing many of the same things. He's slightly improved his assist numbers while cutting down on turnovers. He's shooting over 70 percent at the rim like he did last year according to NBA.com. His rebounding is basically the same. The amount of 3's he's taking is basically the same. But the perimeter shot just will not go with any consistency. We're beyond calling this a slump. This is a nightmare shooting season for Batum so far. He's never been even close to shooting this poorly for an entire season. It's just weird.
With the loss, the Blazers are no-longer batting .1000 against the Eastern Conference. The Blazers play the Pacers tomorrow night in Indianapolis for a chance to go 11-1 against the East.
Hubie Brown touched on this in the ESPN telecast, but you really see what the Blazers are missing when Robin Lopez and Chris Kaman have off nights. They aren't thought of integral parts of the offense but they were a combined 3-for-12 from the field for six points.
It has to be noted that the Bulls played a playoff-type rotation tonight with only eight guys playing. Yes, Bulls coach Tom Thibodeau has a reputation for running his players into the ground but this is a grain of salt to take with the Blazers loss. The Bulls played this game like they needed it. And after losing a close game to the Mavericks at home last week and getting demolished by the Warriors, it seems like Thibs wanted to make sure he scored a home win against a good West team.