Blazers Damian Lillard wears "I Can't Breathe" shirt in warm-ups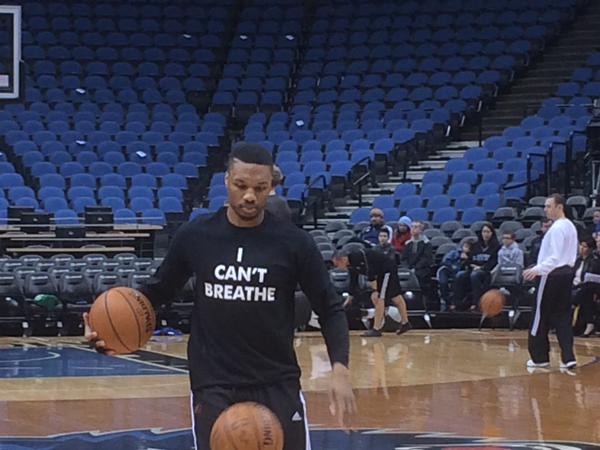 Beginning with Chicago's Derrick Rose, players around the league have been donning the black t-shirts that say "I can't breathe" in white letters.
This evening in Minnesota, Portland Trail Blazers guard wore a similar shirt during warm-ups according to multiple reports.
Wesley Matthews, LaMarcus Aldridge, Dorell Wright and Will Barton also wore the shirts.
There was protest that marched to the doors of the Moda Center during last week's Blazers-Pacers.  "I can't breathe" has become the rallying of the protests following a New York grand jury's decision not to indict the officer who put Eric Garner, a black man, in a choke hold and killed him. The incident also happened on video as he could he heard saying "I can't breathe."
From the Columbian story from that night:
Squad cars and police on motorcycles packed Rose Quarter. Lillard and Lopez saw no problems with the protesters presence.

"I mean it's a protest," Lillard said. "So their intention is to get people to join them and gather for the cause they represent. And I'm not mad at them about it."

Lopez added: "As long as it's a peaceful demonstration, I don't really see the harm in it."
Lillard has been vocal about the law enforcement's treatment of blacks through social media over the past few weeks, especially on his instagram.
Forward Nicolas Batum showed support for protesting the treatment of black citizens by law enforcement in Paris.
On the same night of the Pacers game with the protest, CJ McCollum was discussing the case of Howard Morgan, a black off-duty police officer who was shot by police and sent to prison.
LeBron James and Kyrie Irving both wore "I Can't Breathe" shirts in Monday's game against the Brooklyn Nets.
The Blazers haven't been far from silent on the issue but Lillard wearing the shirt is the first public display of a sentiment from a player on the team.
Terry Stotts on Lillard's shirt: "I think it's good for our players to have a social conscience."

— Jon Krawczynski (@APkrawczynski) December 10, 2014
Last night, all but one member of the Los Angeles Lakers wore the "I Can't Breathe" shirts including Jeremy Lin, the first non-black NBA player to wear the shirts pre-game.
Lillard explained his decision to TrailBlazers.com's Casey Holdahl.
Lillard said that the Garner case, in which a grand jury chose not to indite the officer involved in Garner's death despite the incident being record on video, was especially concerning as it was reminiscent of the death of an acquaintance and friend of his brother, Houston.

"For me it's because I knew a guy, Oscar Grant, who had a similar situation," said Lillard. "It hit home. Oakland is one of the main cities right now that's protesting it and making a stand about it. It's also one of the more recent things that actually got caught on camera, so I got to actually see it. I think when you can see something for yourself, that makes you want to lobby for it even more. I think that's why it's 'I Can't Breathe' because that's the video we saw. I feel like there's something to be said about it."
There's more comment from Lillard in Holdahl's report that is highly recommended.