Trail Mix: Blazers 88, Pacers 82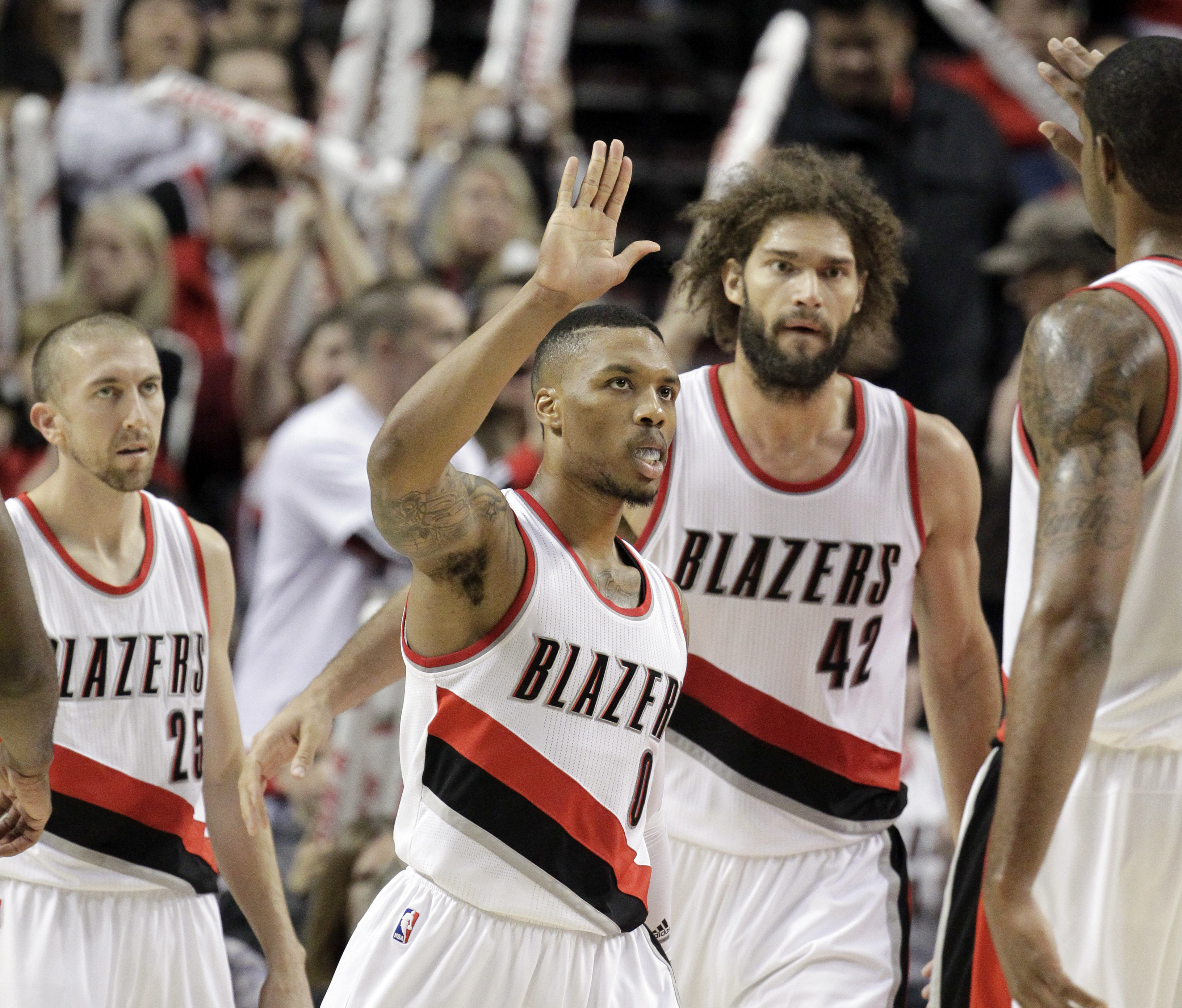 The Portland Trail Blazers defeated the Indiana Pacers 88-82 on a bizarre night at the Moda Center.
We obviously talked about the events both on the court, in the arena and outside of it in our story for Friday's Columbian.
It was an odd night at the Moda Center and you could sense it from long before tip-off. We later found out the heightened tensions were because of protestors who were converging on the Moda Center. The police were out in numbers.
The protestors, as you could see in a twitter search, were similar to the ones that have popped up all over the nation in light of recent events in St. Louis and New York. The deaths of Michael Brown and Eric Garner have sparked these protests all over the nation about law enforcement and it's treatment of citizens. More specifically, black citizens. In both cases, law enforcement officers were not indicted. Protesters on twitter and Instagram used the hashtags #BLACKLIVESMATTER and #ICANTBREATHE.
And before the game and before the topic of protests came into focus for the night, injured Blazers guard CJ McCollum was coincidentally talking about another case involving law enforcement and a black male being shot, while sitting by his locker pregame. It was the case of Howard Morgan.
According to reports about the case, the police said that Morgan, a former Chicago police officer who was off-duty as a cop for the Northern Burlington Santa Fe railroad, opened fire at four officers with his service weapon. The police then shot him 28 times and he somehow survived. He was then convicted of trying to kill the four officers. McCollum talked about this case while the media were in the locker room. Before we asked the players questions about the protestors and media were aware of the protest coming, it seemed McCollum had questions of his own about law-enforcement's relationship with black men.
"People have a right to protest or disagree on something," McCollum said about the protests via text message. "(As) long as they aren't being violent I don't see anything wrong with people voicing their opinions."

"I mean it's a protest," Damian Lillard said. "So their intention is to get people to join them and gather for the cause they represent. And I'm not mad at them about it." Lillard has also addressed the issue on social media over the past weeks.

From reports about the protests, everything was peaceful. Also, the Trail Blazers organization released a statement about "media reports" saying that the arena being in lockdown were false. Full statement:There were media reports tonight that Moda Center was in lockdown to prevent entry and exit by guests attending the Portland Trail Blazers game versus Indiana. These reports were false. As with any event, ticketed guests gained entry into the building. And when guests were ready to leave, they were allowed to exit. When the game ended, complete egress from the building was guided through safe and convenient exits. Tonight's heightened police presence in light of the anticipated public protests was a safety precaution for our guests and property. We greatly appreciate the men and women of the Portland Police Department, and our own internal Security, Guest Services and Operations staffs for their professional management of tonight's events. We also thank our Trail Blazers fans and Rose Quarter guests for their cooperation and understanding.
Sometimes there are nights when events outside of the game are bigger than the game itself. This was one of those nights. And before the protests and dozens of fully armored police offiers there was the Flying Ford Escape fiasco! Candace Buckner of the Indianapolis Star and I had just talked about the bizarro season for Indiana on the first Blazer Banter podcast. The game was pretty bizarro. And also bad. Very bad.
There were 29 turnovers between both teams. The Pacers had 17 and the Blazers scored 24 points off of Indiana turnovers.
Robin Lopez got into it with David West tonight. He said that West pushed him and he called the play cheap. What is it with the Blazers and the Central Division this year? First Chicago's Mike Dunleavy, now Indiana's David West. And as luck would have it, the Blazers play both of those teams on their next road trip.
Wesley Matthews talked about the upcoming trip. He thinks it will be tougher than it looks like on the schedule. "It's not going to be the easiest trip," Matthews said. "It's going to be our longest so far all season. We got to start winning on the road. We've been blessed to start the season off with a lot of home games. We've done a good job and took care of business and the schedule starts to open up. That's always a good measure of a team. A few road games we've had, we haven't had a really great offensive outing yet this season. On the road it's all about defense. On the road its about taking teams out of their comfort zone. Not letting their crowd get into the game. Get the players their second winds. Just finding ways to win. We don't have to go looking for our offense. We just have to go in and and make it miserable for them on the offensive end."
Tonight, as Terry Stotts said postgame, "helped" the Blazers defensive numbers. Of course Stotts isn't wrong about that. The Blazers are fifth in defensive efficiency according to NBA.com, allowing 99.3 points per 100 possessions.
Matthews also got hit in the right leg late in the game. It still hurt after the game. "(It's) sore. It's going to hurt tomorrow. I don't even know what happened. RoLo had big man syndrome. Roy flopping, I was just a casualty."
There was fear for a moment that Lillard, who led the Blazers with 23 points had injured his hand. After the game he said he felt fine and received an x-ray. "I felt it right away," he said. "I mean I got the rebound. I was trying to dribble out of traffic. I got fouled and got off balance and my hand just got caught underneath me. Jammed it pretty good. And after that I was trying to make sure it wasn't broke. I was trying to move it as much as possible but it was pretty painful."
LaMarcus Aldridge passed Mychal Thompson for third on the Blazers all-time rebounding list. "It's an honor. It shows how long I've been here. But it also shows I overcame a lot of doubters in the beginning that thought I wouldn't even be on these lists. It's an honor and I'm still hungry for more."
The Blazers are now 15-4 after 19 games. On their upcoming five-game road trip, they face one team with a record above .500. If the Blazers learned anything from last season, it's that you've got to take the wins where you can get them to survive the marathon. But it'd be hard for them to categorize anything worse than 4-1 on the trip as a success.