Photo shows how Trail Blazers have progressed on both ends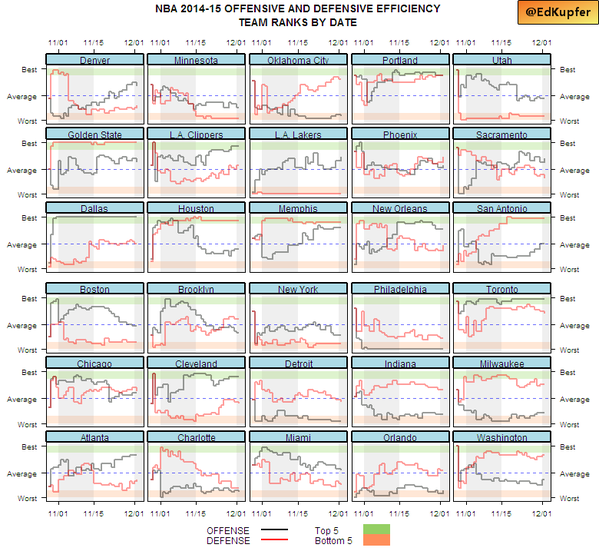 The Trail Blazers' defensive improvement has been one of the biggest stories of their season thus far. A graph from Ed Kupfer on twitter shows where their defense has been since the start of the season.
Ed produces all kinds of cool NBA-related graphics and you can follow him on twitter here.
According to NBA.com, they are currently sixth in the NBA in defensive rating and Kupfer's graph shows us that after a swoon at the start of the season the Blazers defense has been trending up.
Although the Blazers played strong defense in their 11-game win streak last season at around the same time, their defense is much improved from this point last season.
According to NBA.com, the Blazers were 22nd in the league in defensive efficiency through 19 games on Dec. 4 2013. So far the Blazers are one of four teams in the league that are in the top-ten in both offensive and defensive efficiencies and the graph shows where the Blazers stand.
They're the only top-five offense that is in the top-six in defensive efficiency according to NBA.com, for whatever that is worth. But it's a good way to look at their balance this year.
Coincidentally, Corbin Smith and I discussed the sustainability of the Blazers defense the BISCASTBALL podcast over at The Podium Game when I was a guest.
The Blazers defense has a lot to prove, mostly because they've never shown they can do this before. It looks like they've made progress with their defense and Kupfer's graph shows us that they are trending up.
Additionally, it looks like the Blazers have sustained a success on both ends for longer than most of the other teams in the league. Only Memphis and Golden State have been as consistently above average on both ends of the floor.
With a host of Eastern Conference opponents coming up, the Blazers have a golden opportunity to improve on their already impressive start.
The national perception seems to be coming around on the Blazers as a serious contender in the tough West.
If Portland keeps this up, a lot more people will start to come around, too. The numbers will be too hard to ignore.