Trail Mix: Blazers 107, Timberwolves 93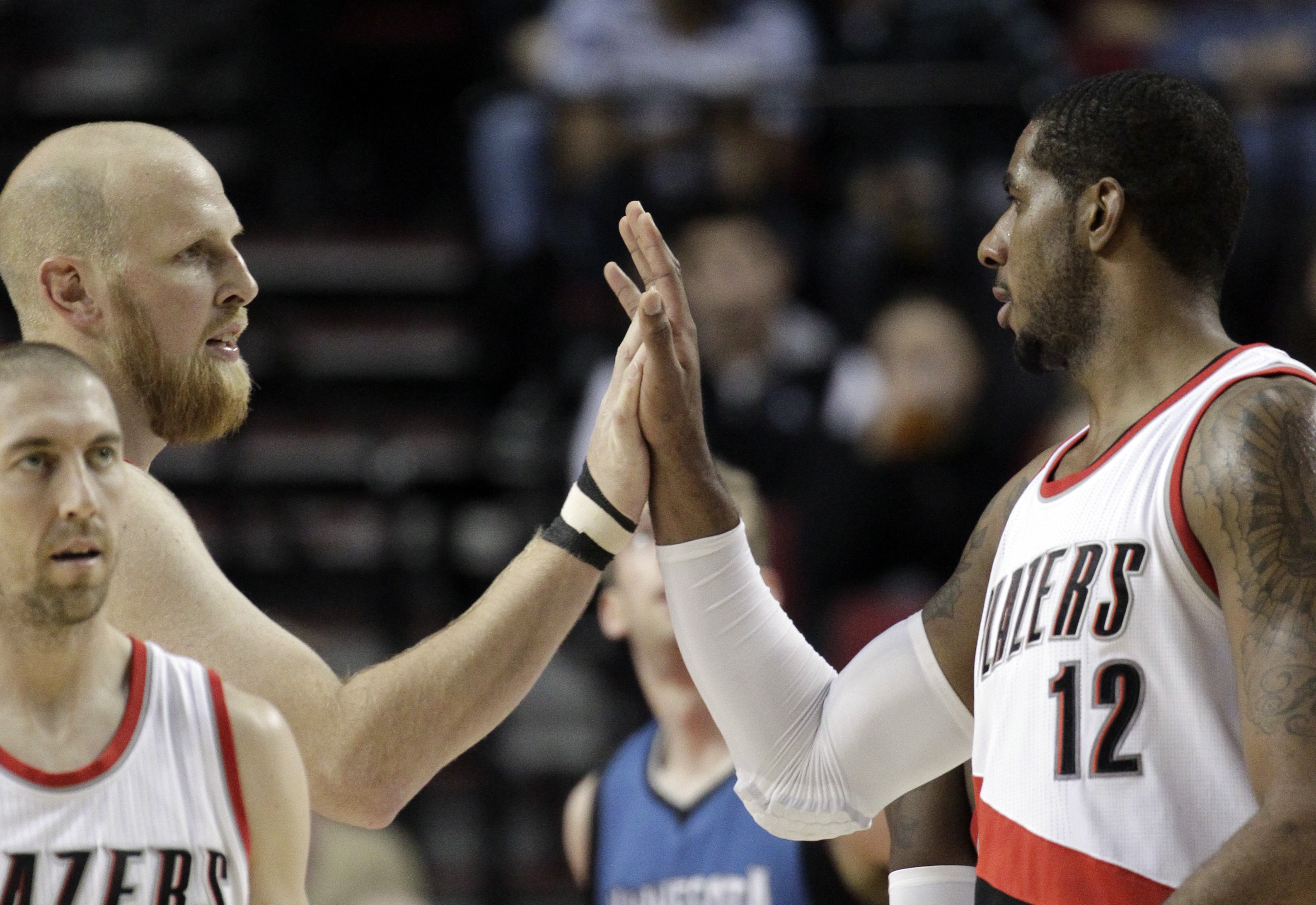 The Portland Trail Blazers defeated the Minnesota Timberwolves 107-93 Sunday night. The photoabove is an apt descriptor of the reaction from the Blazers after tonight's win.
Congratulatory for the result but unexcited and unimpressed about how the journey there.
(Game story in Monday's Columbian and on columbian.com)
Head coach Terry Stotts addressed his displeasure with Portland's fourth quarter defense in his opening statement from the night. And several key players are either playing through injury or illness.
LaMarcus Aldridge was the star of the game with 26 points and 15 rebounds. Former Blazer Mo Williams made his return to the Moda Center, scoring 22 points and 11 assists.
It's a game they'll no doubt take. But the Blazers weren't impressed how things went against a young, depleted and sick Minnesota team.
One of Aldridge's chief issues with the game was Portland's level of understanding against Minnesota's zone defense. The Blazers had prepared for zone but Aldridge thought the Blazers weren't doing sticking to a game-plan against the zone early. "We have sets that are made for the zone that gave us good shots. We just kept playing basketball and we shouldn't have. In the 2nd half we ran our plays." It seemed like the Wolves played zone out of a last resort. All of their big men save for Gorgui Dieng are injured and they played zone, likely, to try to make up for Portland's size difference. Minnesota coach Flip Saunders was happy with how his zone performed. "Our zone was good tonight. Our zone had the ability to take away their top penetration. With us we play so hard. We have such a slim margin for error." Read between the lines: "they're really talented and we have nobody healthy."
The Blazers have far from a clean bill of health. Matthews (elbow), Aldridge (illness) and LIllard (gastroenteritis) are all playing through something. As of Saturday, Nicolas Batum's knee was still bothering him. Will Barton was also a late scratch with an illness.
Andrew Wiggins, the number one overall pick of last year's NBA draft, was blowing chunks. According to Saunders, Wiggins was on the toilet for a couple of minutes. "I went to the batroom at halftime and he was throwing up for about two minutes straight. He said he wanted to give it a go and I just saw him defensively and he just said no. He didn't have the energy." Wiggins had 7 points in 18 minutes and looked as if he was going to throw up on the court. When he sat on the bench he sipped on Gatorade like crazy and rarely sat up straight. Rough night for the rookie and perhaps those who wanted to see his first pro appearance in the Rose City.
Wiggins actually beat the Blazers down the court early on for a lay-up. Mo Williams was pushing the pace and getting the young Wolves up the court. The Blazers first quarter defense put them in a hole. LaMarcus Aldridge pointed to the dry erase board in the locker room with offensive and defensive efficiency breakdowns by quarter. "I thought in the first quarter our defense wasn't there. We weren't as good as we can be. Second quarter we picked it up and we had a much better defense. Our rating there says 69. This was a whole lot better and I thought our offense got better with it." It was the second quarter that really sparked the Blazers. Allen Crabbe made his presence felt from the perimeter. Other than Matthews, he was the only player to hit multiple 3's for either team. He matched his career high with 9 points tonight.
Crabbe had some quotes in our game story. But here's some more stuff from him that didn't make it about trying to perform well while he's given an opportunity with both Will Barton and CJ McCollum missing the game. "It's just the game of basketball. I've been waiting so long for the opportunity to play it's like I got to give it my all. Because I know the opportunities in the NBA you may not get that many. I feel like I really just have to play good basketball right now. Doing what they ask me to do, knocking down my shots. Playing good defense and just not give them good reason to not play me anymore." Stotts may have some tough decisions if he keeps playing well once everybody is healthy again.
Matthews likes what he's seen from Crabbe. "He's doing what we need him to do," he said. "He's not going above and beyond. He's playing his role, he's making shots. He's shooting shots he's supposed to shoot. He's defending, he's running the floor, he knows the offense. He's just being a solid basketball player."
Matthews is balling. He made six 3's for the third game in a row. As of Dec. 1, Matthews leads the NBA in 3's. He's played one more game than Steph Curry (52) who trails him. Lillard and Matthews have made 100 three-pointers to 92 for the second-place duo, the Golden State's "Splash Brothers," Curry and Klay Thompson.
Another Matthews stat: he made the identical amount of 3's in November '14 as he did November '13. The difference? He's taken 22 more 3's this November. He was 41.4 percent from 3 this November even with the increased volume. The Blazers have had more early season injuries this season which could account for taking more shots. So far, the Blazers are enjoying the results of Matthews' increased volume.
Once again, Batum isn't doing quite as well as Matthews. He's shooting 24 percent on 3's so far this season. His teammates are telling him to keep shooting. "The more shots the closer I will make the next one. I can't think about it. That's what my teammates keep saying to me. 'Shoot the next one, shoot the next one.' I'm 0-for-6 now, I don't care, shoot the next one. So, I'm going to come back."
Once again, Stotts referenced Batum's career track record as reason why he expects his shot to come back.
Williams came back to Portland and sports editor Micah Rice wrote about the impact he still has on the Blazers. After he made his first basket he started joking with the Blazers bench. Multiple times he had conversations with guys on the bench and was nearly in the Blazers huddle to talk to Thomas Robinson and assistant David Vanterpool during a timeout. "He was part of the family so it's good to see him. He was out there joking and trying to call out our plays during the game and that was fun for us." When asked if Williams knew the Blazers' current plays, "He didn't because things change. We have new names for them and we tweak things. He didn't even know his team's plays out there. Much less our plays."
There were jokes to be had after the final buzzer. Tomorrow will be a "maintenance day" for the Blazers to get better. They'll then head to Denver to face the Nuggets, whom they scored 84 points against in the first half of their last meeting a few weeks ago. The Nuggets have since won seven of nine games. "We have a big test against Denver," he said. "We know they're not too happy with us. They're not the same team. I guarantee you they haven't forgotten that game."