Trail Mix: Grizzlies 112, Blazers 99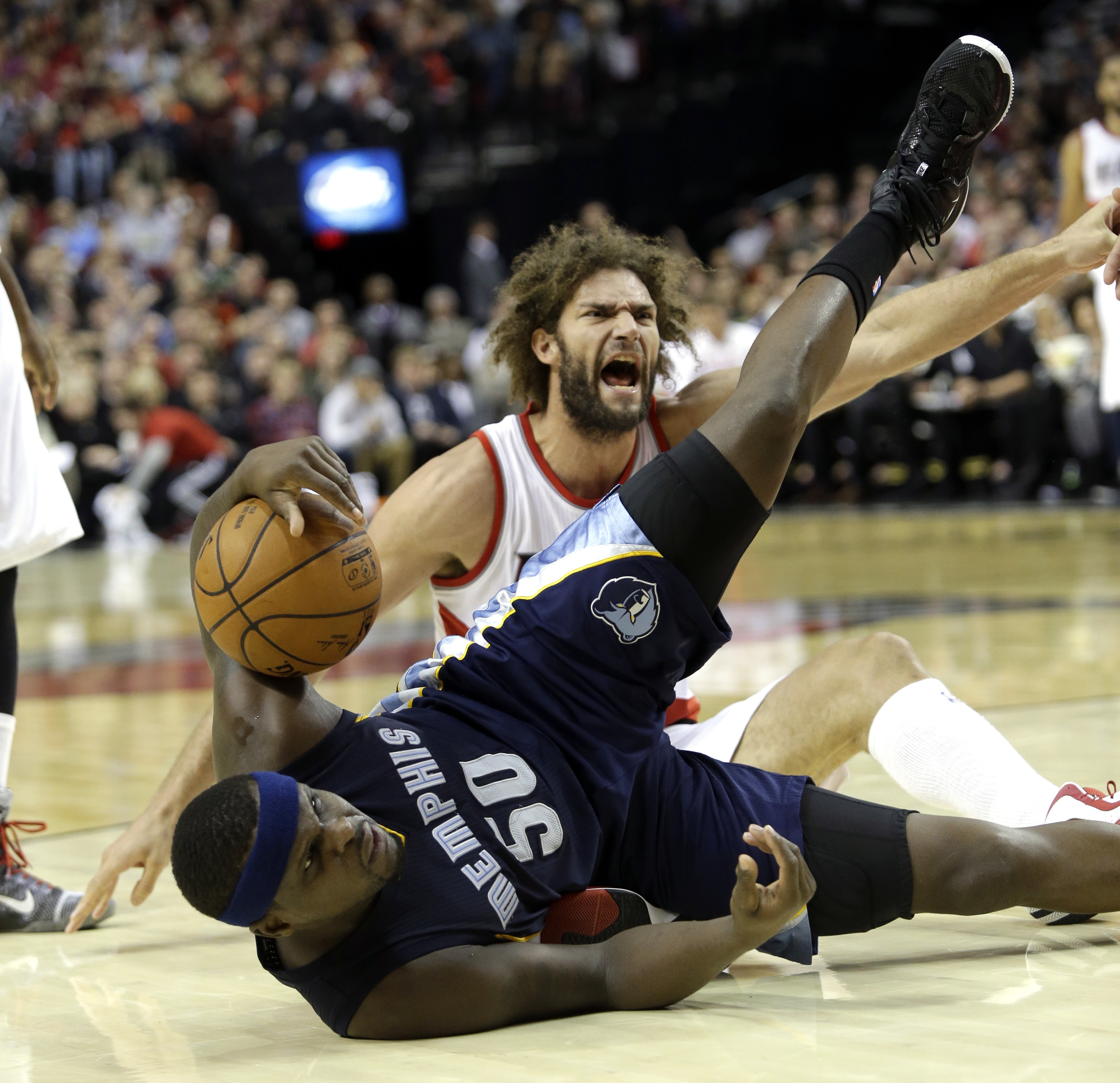 The Memphis Grizzlies defeated the Portland Trail Blazers 112-99 to end their nine-game win streak.
The Blazers had a great start to the game, jumping out to a 18-6 start but the Grizzlies showed them how it's done with defense. They also torched the Blazers on offense. The Marc Gasol-Mike Conley pick and roll was deadly for Portland. The duo combined for 47 points, 18 assists and 17 rebounds. Conley described his connection with Gasol after the game. "Me and big fella have known each other a long time man," Conley said. "We both know how each other loves to play and he's so unselfish he's fun to play with. We don't even have to speak and we just have to look at each other a certain way and I'll go baseline cut or run the other way, whatever it is. It's a fun relationship we got goin'."
Things obviously weren't as fun for the Blazers. "We'll watch the film, but I thought in general the transition defense in the first half–they're not really an offensive transition team per se, but they are efficient when they do get out there," said head coach Terry Stotts on what the defense could improve on. "We gave up too many of those opportunities in the first half. I thought the ball got to the paint a little bit too much and that's their strength. Both Gasol and Randolph are good in the paint. But we can shore up the penetration a little bit on the pick and roll. I thought they made shots. We had a lot of momentum shots that could have swung the tide a little bit, but again, you always get a different perspective when you watch the film the next day." The Grizzlies outscored the Blazers in fast break points 16-4  and in points in the paint 54-38. Wesley Matthews, the only Blazer to have a good game, said that the Blazers ball movement wasn't what it needed to be, "allowing" Memphis to play good defense. "When the ball stayed one side of the court, because when they load up, they're big, they're active," Matthews said. "They've been a top ten, five defensive team for however many years. When we got them moving around with our movement, we were able to get good looks."
The Blazers did have plenty of good looks. Stotts mentioned that they missed a couple of momentum 3's that could have swung the game. Lillard missing a pair of wide-open corner 3's in the same possession personified the night for every Blazer other than Matthews. Batum was 0-for-5 from three as he continues to struggle from the 3-point line after returning from injury. "It's tough. It's tough especially when it's such a big weapon for us," Matthews said. "We got good looks though. It's not like we shot forced ones. It's not like we shot difficult ones. You could put us in the gym right now and we could make those left handed. Some nights are like that, but we have to rely on our defense. In that nine game stretch, our offense wasn't perfect. We were still missing shots then but our defense was on point , and it wasn't tonight.
In the second quarter Matthews had to leave the game with what the Blazers called a right elbow laceration. The game had to be paused to clean blood off the court. Matthews was flexing his right elbow for parts of the game. "Well it took me a while for my elbow's to start hurting and my hand to stop tingling," he said. "But yeah, the adrenaline got it going. We can't let it. We got to look at the film honestly. I got to look at the film, it's still to fresh, it's still too early to see. Right now the only thing that's playing in my mind is us missing a lot of shots. A lot of gimmie's, a lot of stuff not going in. We've been a really good defensive team all year. It might have been one of those games that we might have just got beat. You can tolerate that than not working and getting out hustled. I don't think that was the case tonight."
Matthews also talked to Hunger Games star Elizabeth Banks in the middle of his hot streak and a fourth quarter Blazers run, apparently saying he was a big fan.
Lillard and Stotts both say they see a more assertive Marc Gasol this season. "Marc Gasol just seemed more assertive offensively," Lillard said. "(He's) calling for the ball and making moves. Z-Bo. But it seems like the guys coming into the game know exactly what the team needs from them. Guys like Pondexter coming in looking for those threes. Beno Udrih coming and being aggressive on pick and rolls. Similar to us. Steve and Chris and AC and Will, everybody knows what they need from them to come into the game."
I asked Lillard after the game about whether the Grizzlies were the deepest team they've faced so far this season. "I think Golden State is a pretty deep team. I think Sacramento is a pretty deep team. They were a better team than some of those teams. Those guys came in and did what they had to do with a lot of confidence and they played well like they have all season.
The Blazers and the Grizzlies played a competitive and physical game but Memphis coach Dave Joerger talked about the respect both teams have for each other. Aldridge and Gasol know each other well and Robin Lopez was also pretty chatty with former high school teammate Quincy Pondexter and former Suns teammate Vince Carter. "They're really good, and we like coming up here. We like playing them. We like the atmosphere. They are just very professional. There are some bang-bang stuff because both teams are pretty physical. But the in general the players like each other. It's good competition."
The Blazers will practice tomorrow where they will presumably look at the film, mentioned by just every Blazer who spoke to the media, to see what they need to tune up. But this much is certain, Memphis is very impressive.