Trail Mix: Blazers 105, Bulls 87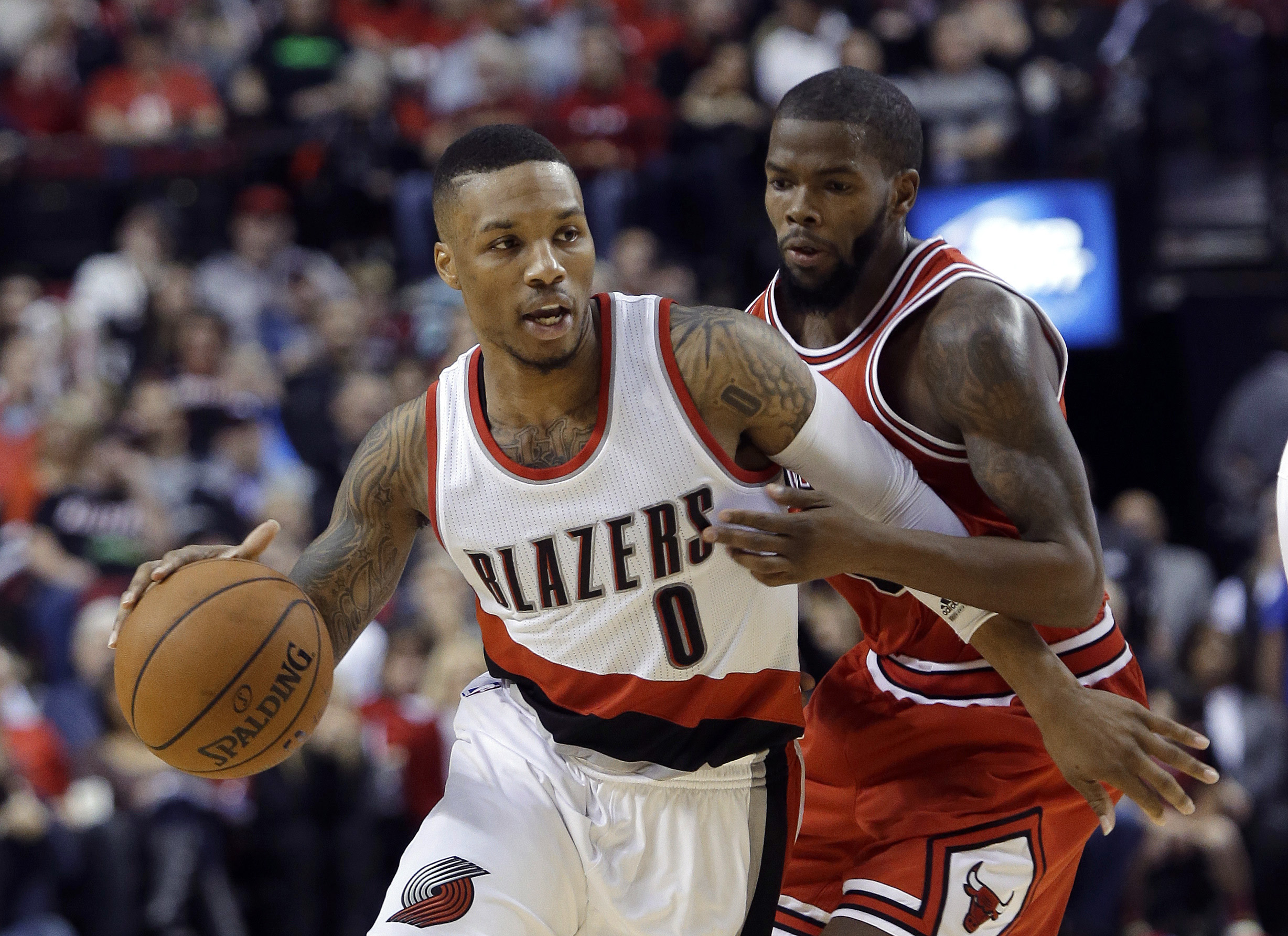 The Portland Trail Blazers rolled to 105-87 win over the Chicago Bulls on Friday in Portland. Their starters didn't have to play in the fourth quarter and the Blazers are now winners of six straight games.
Along with our game story from tonight we also have a notebook from tonight's game, touching on Damian Lillard's relationship with Chicago Bulls coach Tom Thibodeau and Will Barton's early season struggles both mentally and on the court.
Lillard was fantastic again but was also at the center of the game's most dramatic moment. Video via YouTube user G4NBAVideos [youtube http://www.youtube.com/watch?v=UKb5l-RxQFQ&w=560&h=315]. Lillard's immediate reaction was that the play was "cheap." He then said, "I was surprised, it was kind of funny to me. Because he, when I was shooting the ball and I saw him coming towards me kind of fast. He's not stopping so I kind of let the ball go and I was kind of thrown off when it did. I felt to the ground like he really just…I didn't understand why. It was cheap. That's not something worth my reaction to be all angry when nothing is going to happen on the floor anyway." And here, Lillard is giving a lesson in Hold Me Back 101, The Style of NBA "Fights." There are no fights in the league so he knew nothing would happen but you could also sense the resentment and a little bit of "he's lucky nothing would have happened."
Dunleavy told reporters after the game that he wanted to stop play because his teammate Joakim Noah was down on the floor. Lillard also wasn't going to buy that either saying, "I don't care about that. I thought it was a cheap play. It is what it is. I don't. We didn't. We had a play in the second half where Taj Gibson was down and you know Jimmy Butler fouled RoLo and it was a regular foul. I don't think that's an excuse to me." The foul Lillard is referring to happened at the 6:19 mark when Gibson re-injured his left ankle which caused him to leave the game. It's not the first time that Lillard and the Bulls have had an incident.
Matthews' initial response was a classic tough guy retort. "I think you saw what I thought about Dunleavy's shot on Dame. It's over and done with." But then he opened up a little bit. "That it wasn't a necessary play. If you want to get frustrated, be frustrated. He's a defenseless player shooting the ball, I know anything could have happened if he fell." The Blazers have backbone and Matthews is a big part of what keeps them upright. He was ejected in their kerfuffle in Golden State in last season and was first into the scrum tonight to stand-up for Lillard.  "That's what you're supposed to do. As a team, it's my third year with Dame. You start to feel the…more than just teammates it's like a brotherhood. Someone takes somebody out, it's only right that you come to their defense. My team was right behind me afterwards."
Obviously the fight was reminiscent of their fight against the Warriors which Matthews said brought the Blazers together. However, he also liked that the Blazers didn't let the fight take them out of playing the game. "We definitely got tighter after that. We're trying not to, we don't really want to form a bond over a play like that. A play like that, hope it doesn't happen again but it did and we acted in a proper manner, a decent manner. The techs were dived out and we continued to play basketball. That's the thing I'm proud of. We came to each other's aid, we had each other's back and we continued to play basketball. We didn't get hung up or caught up in something that was anything but basketball." Matthews probably talks about how much he loves basketball and how great of a game it is more than anyone on the team. That the Blazers handled it the way they did showed both their toughness and their polish. Matthews also took the concept of taking a "business-like" approach to a whole new level when describing the win. "Definitely a big win. Not only was it a good team, but it was next on the schedule," he said. "We took care of business from the jump. It was one of our better defensive nights. We'd like to take care of the ball a little bit more than we did, but it was a good all-around performance." You always hear about players and teams taking a business like but I don't know I've ever heard a player so earnestly refer to the game being the next game on the schedule as a takeaway from the game. But that's Wes.
The Oregonian's Jason Quick alluded to that Golden State moment from last season in his piece from Friday's game.
Tom Thibodeau didn't seem to think the Dunleavy foul was that big of a deal. "

It's just part of the game, a lot of frustration," he said. "I think we gave them four offensive rebounds on that play. That's part of the game." 

Robin Lopez didn't play too much of a starring role in this one but the Blazers have won six in a row so I asked him what he thought the Blazers needed to carry over to succeed on the road. "I think the important lesson is that we've been doing it with defense," he said. "Obvioulsy we've been shooting the ball pretty well for the most part. I think even tonight when the offense was flowing and Chicago started getting back into it we came back to the defensive end and I think that's a lesson that will serve us well if we keep that in mind."
Terry Stotts was impressed with the way his team took care of business. "Obviously Chicago didn't  have three of their main guys, but I liked our demeanor, I liked our disposition, the way we came out of the gates. Our defense was solid. To hold them to 22 or less every quarter was a good sign for us. The offense kind of came and went but I thought our defense was pretty solid all night."
The Blazers had Nicolas Batum back for the first time since November 9th. The Blazers were definitely glad to have him back. "It was good to have him out there," Stotts said. "I thought he played better in the second half. I don't know how he felt, but I think he showed a little bit of rust from not being out there, but it felt like we had our team back." Robin Lopez was glowing after the game about Batum. "It's always big having Nic in with us. He does so many little things on top of the big things he accomplishes."
The Worldwide Leader also did a 5-on-5 where three of their experts picked the Blazers as contenders.
The Blazers got the full treatment as the game was also broadcast on ESPN. ESPN's Kevin Arnovitz talked with Damian Lillard about removing refined sugar from his diet on the latest TrueHoopTV.