The Moda Center Food Review: Fowl Language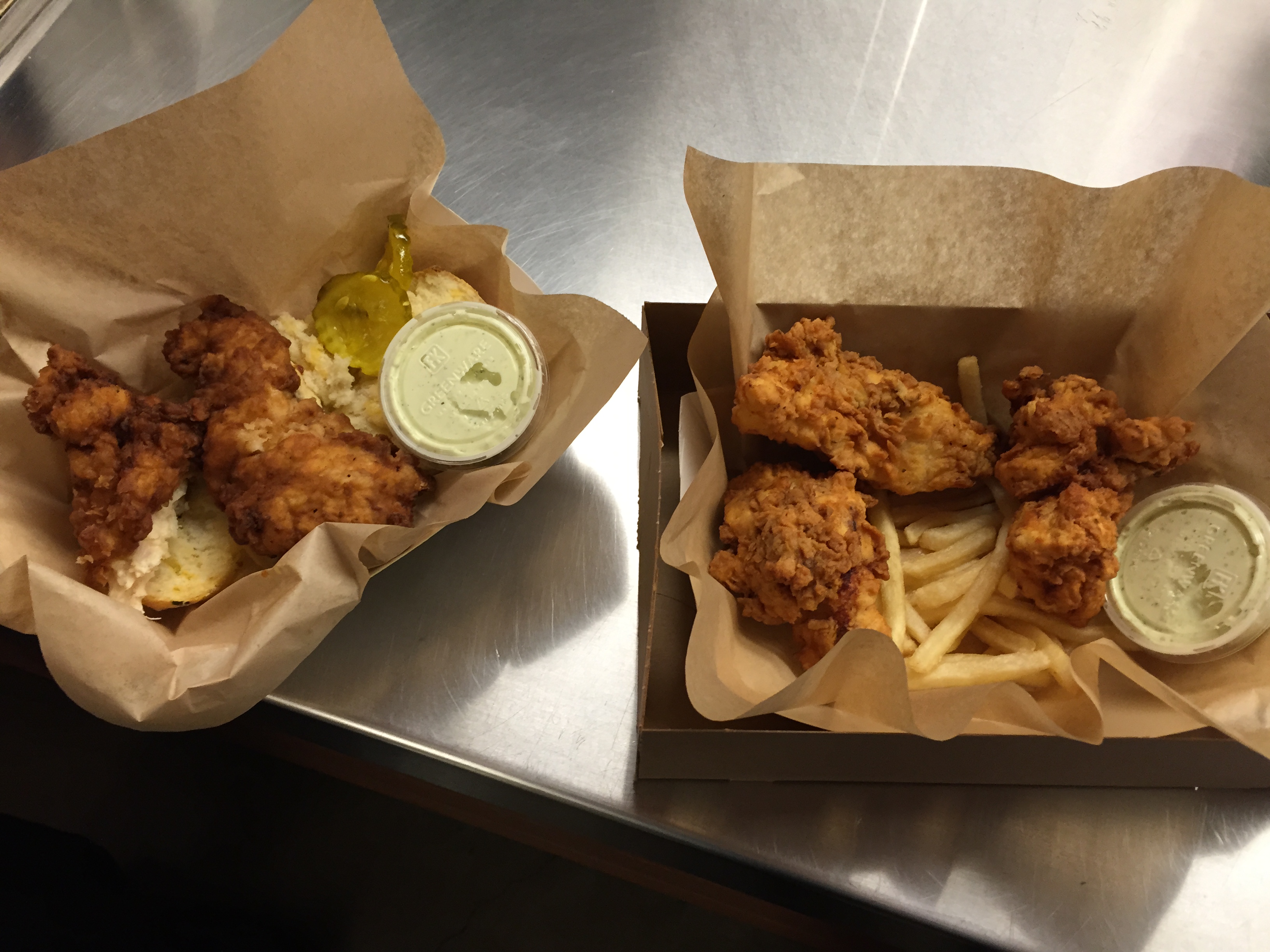 Previous editions of the Moda Center food review
Fowl Language, 100 level
A few weeks ago we reported that the Blazers no longer offered Fire On The Mountain at Blazers games. On Monday we tried the Moda Center's replacement for the local wing business in "Fowl Language."
Fowl Language offers a couple of items including the biscuit sandwich on the left, purchased by guest eater and ESPN Insider Kevin Pelton, and the hand-breaded chicken strips on the right.
You're given the choice of white meat or dark meat for each of the items with white meat costing $9.50 and dark meat at $9.00.
I ordered the white meat strips as did our third guest eater and my buddy Sean Highkin from ProBasketballTalk.com and Bleacher Report.
Personally, I enjoyed the strips and I also took note that they took a little bit of time to actually fry your chicken when you order it. My favorite fried chicken joints always do the cook to order thing and I was pleased that I was provided the same courtesy at the Moda Center. They also give you a dipping sauce with your purchase.
The biscuit was a pretty good size and and in the chicken strip meal they give you three pretty good sized strips. And they were very hot. I took a bite and I could see the steam coming from the center. As far as the fries that they give you in the basket, it wasn't your typical overload of fries to try and fill you up.
It was a refreshing take on the chicken strip basket that made the chicken the star of the show rather than the mountain of french fries it sits on top of.
But here are a couple of things that I want to nitpick. The first of which is that the they charge $2.00 for an extra sauce. $0.50, I could understand. But two dollars for a small thing of sauce? Full disclosure, I didn't even finish the single sauce (Pesto Ranch) that I got but if you want even the slightest bit of variety in your dipping you'll need to break that beloved 10 dollar mark.
Also, as far as I noticed there was no hot sauce available at Fowl Language. Luckily we were able to eat in the media room where there is a variety of hot sauce options. But for the rest of the hot sauce craving population at the Moda Center doesn't have an option at Fowl Language.There are hot sauces at various Moda Center kiosks so this is an issue that can be quickly remedied.
Other menu items at Fowl Language include garlic parmesan wings that I did not try but I'm sure might stand out to a wing enthusiast. Their chicken was good, as was the breading. The price also wasn't bad, coming in under 10 dollars which isn't easy at the Moda Center.
I might be back once the reviews are done but there are many, many more to do.
As I'm sure you've noticed we've decided to space them out. But by seasons end we hope to have a full catalogue of your culinary options when watching the Blazers.