Trail Mix: Blazers 97, Nets 87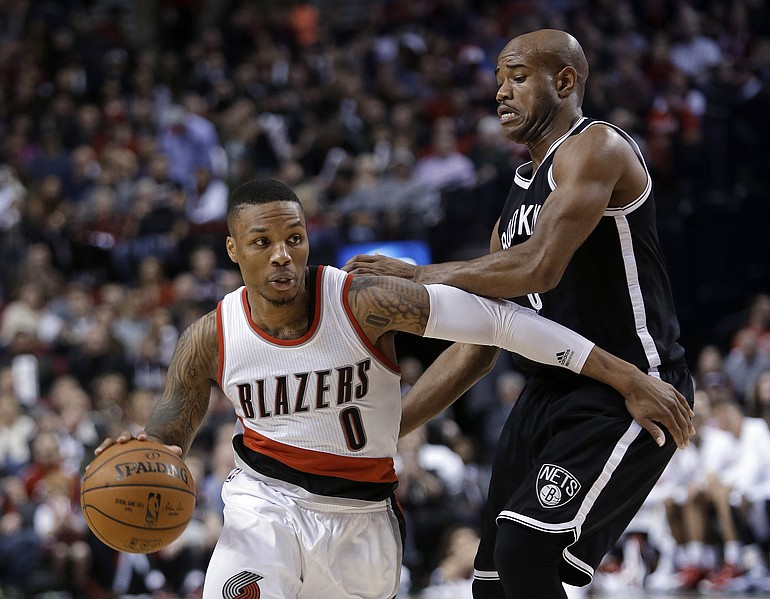 The shorthanded Portland Trail Blazers defeated the Brooklyn Nets 97-87 on Tuesday night to move to 7-3 on the season. LaMarcus Aldridge did not play nor did Nicolas Batum as the Blazers won with a starting line-up featuring Meyers Leonard in place of Aldridge and Allen Crabbe whose played in Batum's stead the last three games.
We missed the tip due to State up in the Puget Sound area but here is the recap from tonight that will be in tomorrow's Columbian.
Damian Lillard talked about the significance of the win without two of their big guns. "It was not easy at all, especially without two of our starters, our best player. It makes everything tougher, but guys are ready for the challenge. We knew that it would't be one or two guys having to do a whole bunch more, but we'd need everybody to step up and fill in those games. A.C. did a great job. Steve came in and did a great job. Chris, Will, Meyers had a great start to the game. Joel impacted the game. So I think everybody came in and pitched in and kind of filled those holes." Lillard made sure to name out the whole squad but everybody truly had their contributions on Saturday night.
Meyers Leonard got the start, which if you had read the scouting report for today's game, was a very possible. We got our answer that Stotts trusts in Leonard. "I liked the spacing that he'd provide. I've got confidence in Meyers," he said. "If you look at that preseason game that he had against the Clippers, our preseason game, he played terrific. Then he came down with the illness and wasn't able to get in the rotation, but I liked his energy. I thought he could run up and down with Garnett in the game, spacing the court particularly for Dame in pick and rolls. His style of game matched up well against them to start the game."
When Meyers Leonard was asked about how his positional shift has helped him, a hilarious interjection from Chris Kaman interrupted his response. "I think so a little bit. I think people see a 7-foot, pretty strong, big-wide shoulders….

Kaman "Is that how you see yourself?"

Can I continue please?

No seriously I think everyone thought coming in that I was a five. I think I can do both. I think I can defend in the post and learn to roll to the basket and finish better. I think right now certainly my strength is spacing the floor. even out to 3 now, I'm feeling comfortable out there and I think it helps my team when it comes to driving lanes for Dame. Two or three possessions in a row people got lay-ups at the basket because KG didn't want to leave me. Continuing to learn spacing with guys on the court. I messed up a couple of times, I was in Wes' way or I'd be in someone else's way. Just taking it day by day.

Kaman has been something of a mentor for Leonard and he talked about what that means. "This is my 12th season. I've been around the league, I've been around the World. I know what to do and what not to do. I try to help him as much as I can I will help him. That's what I've been trying to do. He gets a little bit of anxiety and excitement. He gets a little ahead of himself sometimes but he's going to figure all that out. I'm sure of it. He's going to have a bright future if he continues to play and work hard and you should see him get increased opportunities when the time comes."
Kaman worked with Blazers assistant Kim Hughes early in his career and had nothing but great things to say. "The right guy got a hold of Meyers at the right time."
Lillard also played his butt off tonight and almost willed the Blazers to a win, at least in the 2.5 quarters of ball that I saw. He's played without LaMarcus many times throughout his first two years and he showed again that he's a winner. He had 10 assists and five rebounds to go along with his 28 points. He got people involved and was still a terror for anyone who tried to guard him. When he ripped away a rebound from forward Mirza Teletovic late in the fourth quarter, you just knew Portland wasn't losing this game. Wes Matthews' stepback three on Teletovic in the last few minutes didn't hurt either.
Lillard said after the game that the win helps give Portland confidence. "It gives us great confidence because it wasn't like Wes came out here and got 40, or I came out here and got 40. It was a collective effort just like every game that we play. The guys that might not get a lot of opportunities, they came into the game ready. Guys stepped right in and they were ready to contribute. They filled that hole. They filled that gap in our team without Nico and LA and we were able to play our same game and get a win."
Allen Crabbe continues to play well in the starting line-up, matching a career high with 8 points. "It's just a good opportunity for me. I think I took advantage of it and I think I did pretty solid while he was out. It was all about staying mentally prepared waiting for the opportunity."
Portland's defense was pretty good again, even though the Nets went 1-for-19 from the three-point line. Stotts conceded that they missed a lot of open looks. "They were not if not the leading three-point shooting team in the league, they were close to it. That was a prioirty going into the game, was chase them off the three-point line. They still got 19 attempts up, but I think two or three of them were in the last minutes. But we were very attuned to the shots that they were getting. Joel and Meyers both did a nice job on Teletovic as far as not letting him break open on threes. They took 19 and I'm sure they missed some open ones, so it's not like we made them miss all 18 of them, but I thought we made them work for them."
On a non-basketball note, it was great to have CSNNW's Dwight Jaynes back with us on media row after missing an extended period of time after a fall. Stotts welcomed him back during the post-game presser.
Don't look now, the Blazers are 7th in the league in defensive efficiency after tonight per NBA.com. Their offense is currently fourth. Without their two best players, they got a win against a respectable team with veteran talent. We'll learn more about this team when they hit the road but during this home-heavy November they've looked every bit the part of a contender.