Blazers cruise against Nuggets 130-113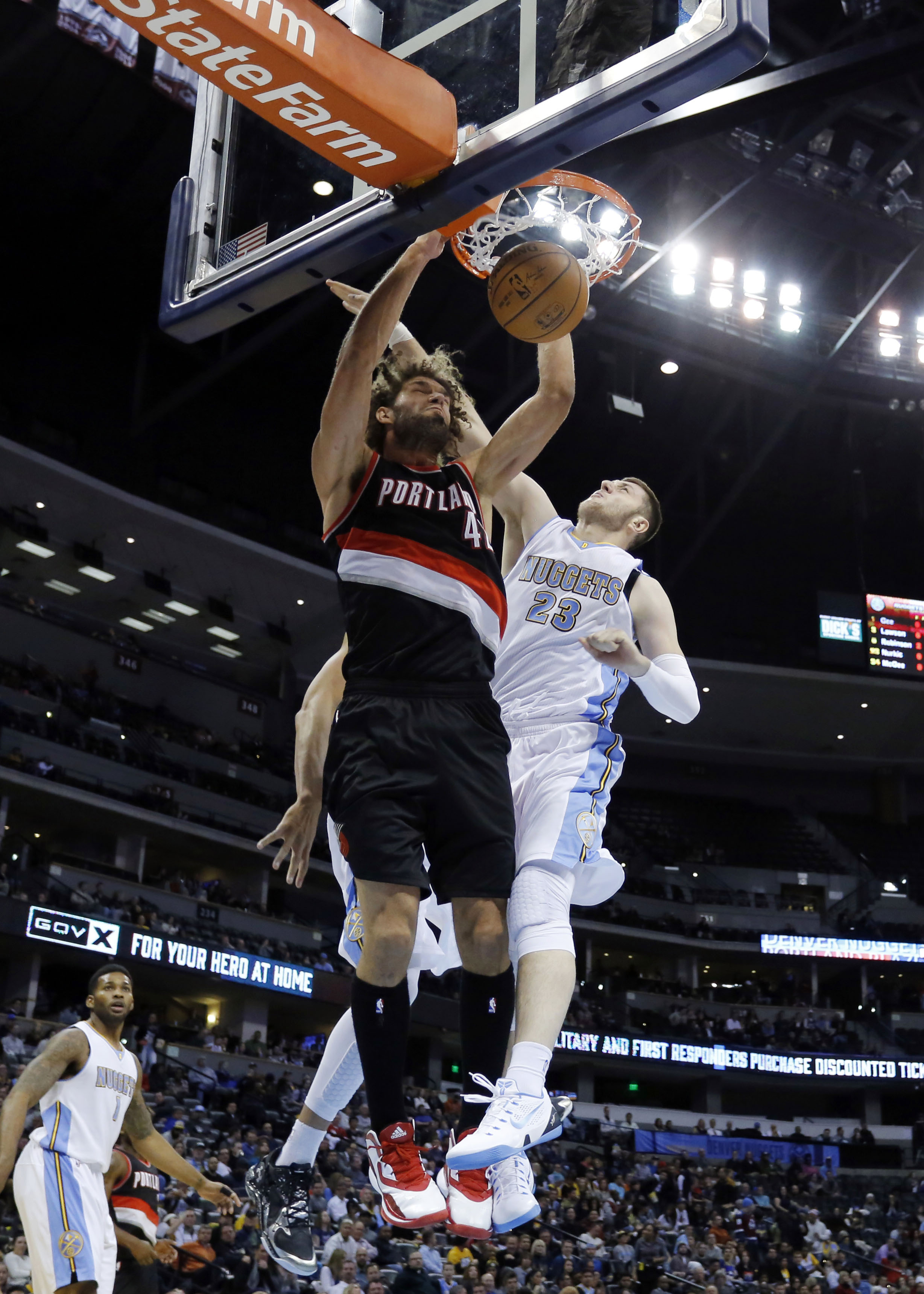 You could see reasons for a Blazers loss in Denver. The local press questioning the Nuggets effort, talk of it being a must win and Portland coming back from 23 points down.
But the Nuggets proved to be an even bigger mess than we previously thought and the Blazers, smelling blood, searched out quality shot after quality shot in an uptempo game featuring no defense from the Nuggets. Damian Lillard scored 27 points to lead the Blazers including a personal 9-0 run to put the Blazers up by 27 in the the third quarter.
[youtube http://www.youtube.com/watch?v=l4NBXQlwBN4&w=560&h=315]
Denver came out fast and furious on defense in the first four minutes. They doubled LaMarcus Aldridge and they were keeping the ball away from everyone not named Robin Lopez. Lopez touched the ball on Portland's first four possessions (1 made shot, 2 misses, 1 turnover) on his way to 19 points and 5 rebounds.
But after Lopez helped buoy the offense a little bit and Portland's defense kept Denver from getting ahead, the flood gates opened with Aldridge hitting a few jumpers and then all hell broke lose for Denver. Seriously. Aldridge's first two jumpers spurred the Blazers on to a ridiculous run where they scored 34 of their season-high 39 first quarter points in 8:51.
It can't be stated enough, Denver is atrocious. This is the type of stuff you expect to see when the Blazers are playing against the 76ers. Not against a team that won 57 games two seasons ago. Obviously injuries and the firing of George Karl changed their fate but it's a reminder of how quickly it can all change in the league. And frankly, it's quite sad to see almost the exact same talent that took Denver to 57 wins look so listless.
But the Blazers should be credited with never letting their foot off the gas pedal and capitalizing on an opportunity to rest their starters in the fourth quarter. There were times were they were slipping but ultimately they never let Denver feel like they had a chance of coming back in the game. The most troublesome stretch for the Blazers was before Lillard's mini-run in the third quarter.
The first half was a great example of one team getting everything they wanted and another team that didn't look like they were sure what they wanted. Their offense lacked fluidity, Ty Lawson could not get loose at all and their defense gave up open look after open look. Their broken rotations and it seemed like every Blazer big man got great looks at inside the restricted area.
It helped matters that the Blazers bench continues to develop chemistry and also hit some shots. CJ McCollum was Portland's leading scorer in the first quarter with 8 of his 15 points and Chris Kaman finished with 16 points and 7 rebounds.
The Blazers had one of the best first halves in franchise history tonight, two points shy of the franchise record for points in a half.
But the Blazers are also pretty damn good and they look even better than they were a year ago. The defense is a big reason why although their defensive rating slipped to 11th after the game, which wasn't helped by the Nuggets scoring 35 points in a 4th quarter of garbage time. But their offense is now in 2nd. The Nuggets crawled to some respectability in the first half but on the whole it was a dispiriting performance.
They're 6-3 and fourth in the West. And for all of this to be done without Nicolas Batum, one of their most important players, makes it that much more impressive.
If Batum comes back at full strength soon and the Blazers reserves like McCollum and Crabbe continue to develop confidence that could benefit them as the season progresses.
Notes
According to NBA.com/stats, the Blazers starting line with Allen Crabbe is scoring 114.3 points per 100 possessions while only allowing a 2013-14 Indiana Pacers-esque 91.6. Stotts found something with this without interrupting the developing chemistry with Portland's bench unit.
About that bench unit, Chris Kaman, Steve Blake and CJ McCollum seem like they are a downright force at this point. Line-ups with those three and either Will Barton and LaMarcus Aldridge or Aldridge and Damian Lillard, have outscored Portland's opponents in a small-sample according to NBA.com.
It's still pretty depressing how bad Denver is. As Mike Acker of the Willamette Week pointed out to me on twitter, I guess we have to wait until these guys play the Lakers to truly determine whether this is rock bottom. Losing to the Lakers might be the only thing that's worse but at least the Lakers try, from what I've seen, as flawed as they are.
Portland is off tomorrow and they will practice Friday before Saturday's home game against Robin Lopez's twin brother Brook and the Brooklyn Nets.
Chris Kaman told The Oregonian's Joe Freeman that the Blazers have as much firepower as any team in the league.