Trail Mix: Blazers 116, Nuggets 100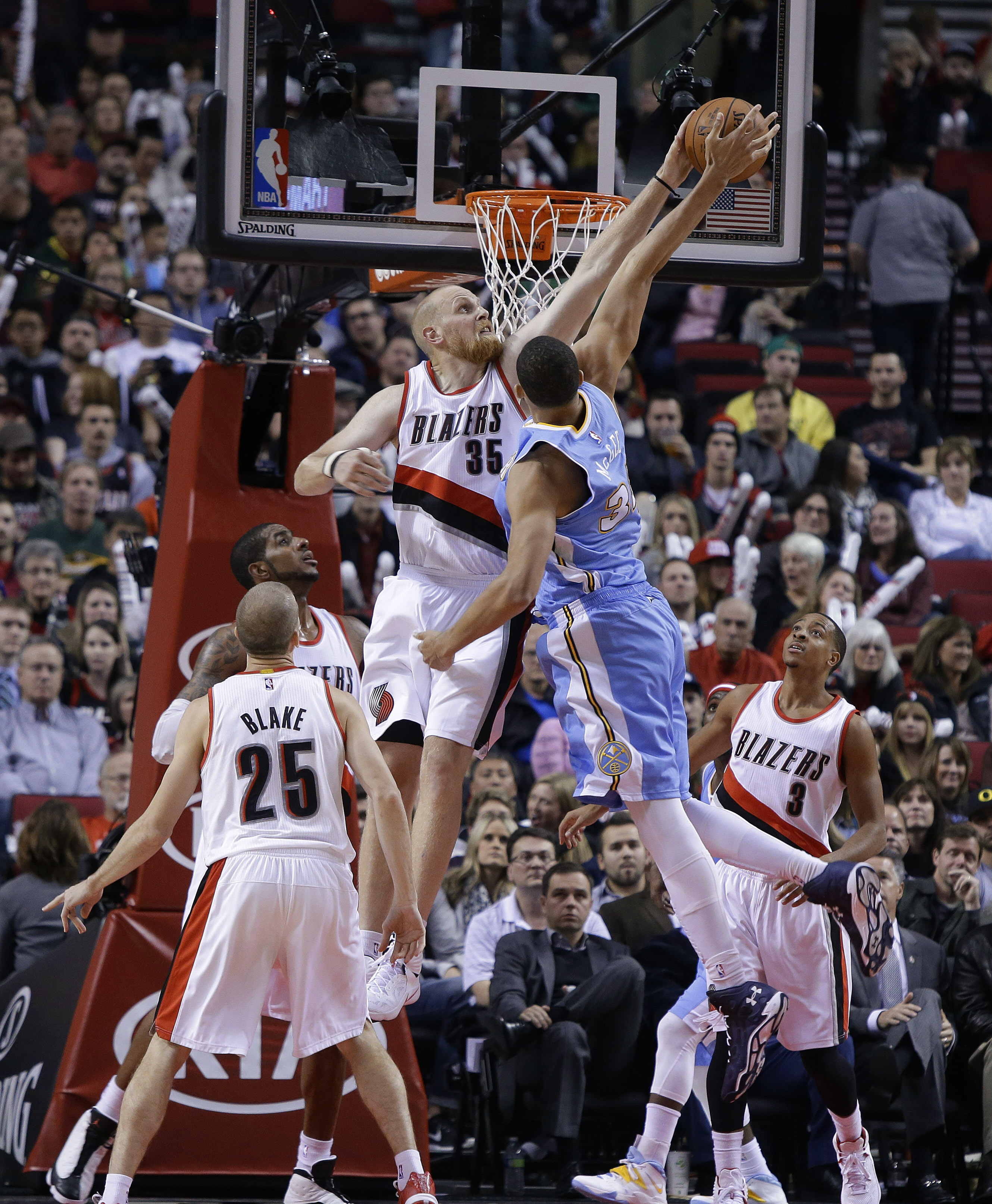 The Portland Trail Blazers handily defeated the Denver Nuggets on Sunday night 116-100 at the Moda Center.
There was also a notebook from tonight's game.
LaMarcus Aldridge scored 28 points, 9 rebounds, 4 assists and a block on the night. Chris Kaman has played against Aldridge a lot in his career and only one thing surprises him. "Probably the only thing that surprised me is why he doesn't shoot the turnaround jumper more," Kaman said. "I'm surprised on that but other than that I've been watching him play and playing against him for his entire career. I've had the opportunity to be on the West Coast most of my career as well and we usually play him four times. He's a lot stronger than  you think he is. Integrity, he creates a lot of space. He has a knack for shooting the basketball and it's cool to see especially when he's got it going."
Kenneth Faried of the Nuggets admittedly had his hands full tonight. "He's a stretch four. He can stretch out to the 3. He proved that tonight, stepping out and making a three. In the playoffs last year he was a threat to score every time he touched the ball. And that turnaround jumper is no joke. He keeps the ball high so it seems like it's going to go in automatically."
Aldridge did hit one three-pointer and is 4-for-11 (36 percent) on the young season. "I can shoot them," Aldridge said. "I think coach doesn't mind. I'm not going to live out there. I had just missed a shot and it came back to me and why not? You know. When guys don't close out to me I just take my time with it and I end up making it. I'm not going to live out there at all. That's not me."
Matthews was everywhere in this game. He scored 21 points and after tonight he is averaging nearly 18 points per game on 50 percent shooting while still shooting slightly below his standards from the three-point line. He made a play diving for a loose ball in the second quarter that kept momentum alive and led to an open Aldridge jumper. "It's just energy," Aldridge said about Matthews. "That's what we need. He's a hard worker, hard player, he does the things that guys don't do. Guys doing that sets the tone for all of us." Matthews said: "I was actually mad that I missed the shot. It was my shot that initiated all that. I was treeing to make a play. RoLo kept the ball alive, I was able to slide in behind. Anyway I can help this team out I'ma do it."  Here's how Kaman described Matthews' contribution: "Setting screens making sure you're holding your screen. Don't gamble or go in the backcourt. Control your transition defense by doing that and taking care of the basketball. Those are the small things that nobody talks about. Wes going down and digging that basketball, that's big for us. That was a key time too in the game in the possessions where they were at and the score was at."
Matthews shot had a career-high 13 three-point attempts tonight. "That's nuts. I didn't even feel like it. They were all open. I don't even think there's not one that I would take back. They all felt good. I was doing my job and letting it go."
Kaman talked a lot about how Denver's pace may created more chances for them and referenced Denver's pace as a reason to credit Portland's defense. And it's true that Denver's 100 points look inflated when they had an offensive rating of just 98.9 points per 100 possessions according to NBA.com, well below average.
The other Blazer who has stepped up and has been a consistent force is Kaman. Kaman went for 12 points, 8 rebounds and 5 blocks with one of them captured in the photo above. "It probably surprised me a bit," said Terry Stotts.  "He's got very good timing. He blocks a lot of shots with hiis left hand. It think a lot of the great shot blockers like Russell, David Robinson, being left handed gives you a little bit of an advantage with that. He's, I think he's really doing a good job of protecting the paint. I think his rebound is part of his defense. He collects rebounds outside of his body. And but the fact that he's helping in the interior, at the rim defense is something that we need from him." Did Stotts just compare Chris Kaman to Bill Russell? Maybe. But he has been better than anyone in that role has been for the Blazers in a while.
One reporter asked Stotts whether he would consider Kaman grabbing rebounds outside of his body as an "out of body experience," which caused Stotts to chuckle. "I don't even want to venture what a Kaman out of body experience would be."
Here's what Kaman had to say about his defense: "Sometimes it's good, sometimes it's bad. Last night I didn't have any blocks. I just want to be as consistent as possible and be effective and efficient. You know, sometimes you're there you can go get them and sometimes guys are smart and they'll pass it off. You just have to make sure you're doing your job every time and hopefully you have the effects on blocks and you try to get him."
Stotts likes to think of Kaman and Blake as the rocks of Portland's second unit and they've proven to be solid pick ups. Additionally, it seems like CJ McCollum is benefitting from having players who know how to play. McCollum and Blake both improved their shooting from last game but it seems like the second unit is developing an identity.
Nicolas Batum suffered a knee contusion according to the Blazers during an awkward play in the final minute of the game.
The Blazers honored season ticket holder Sandra "Sandy" Zickefoose who collapsed at Thursday's game and tragically passed away. The Blazers placed a lone rose on her seat but there were more placed by the end of the game.
People continue to put flowers on Sandy Zickefoose's empty seat in Portland. Good on you guys back home. pic.twitter.com/CEneNjxmgk— Dane Carbaugh (@danecarbaugh) November 10, 2014
Steve Blake popped Kenneth Faried after a hard screen and drew flagrant foul. [youtube http://www.youtube.com/watch?v=G4h2qktflIM&w=560&h=315] via YouTube user watchnba201415. Hat-tip and Happy Belated birthday to Ben Golliver of SI.com.