Trail Mix: Blazers Don't Panic Against Cavaliers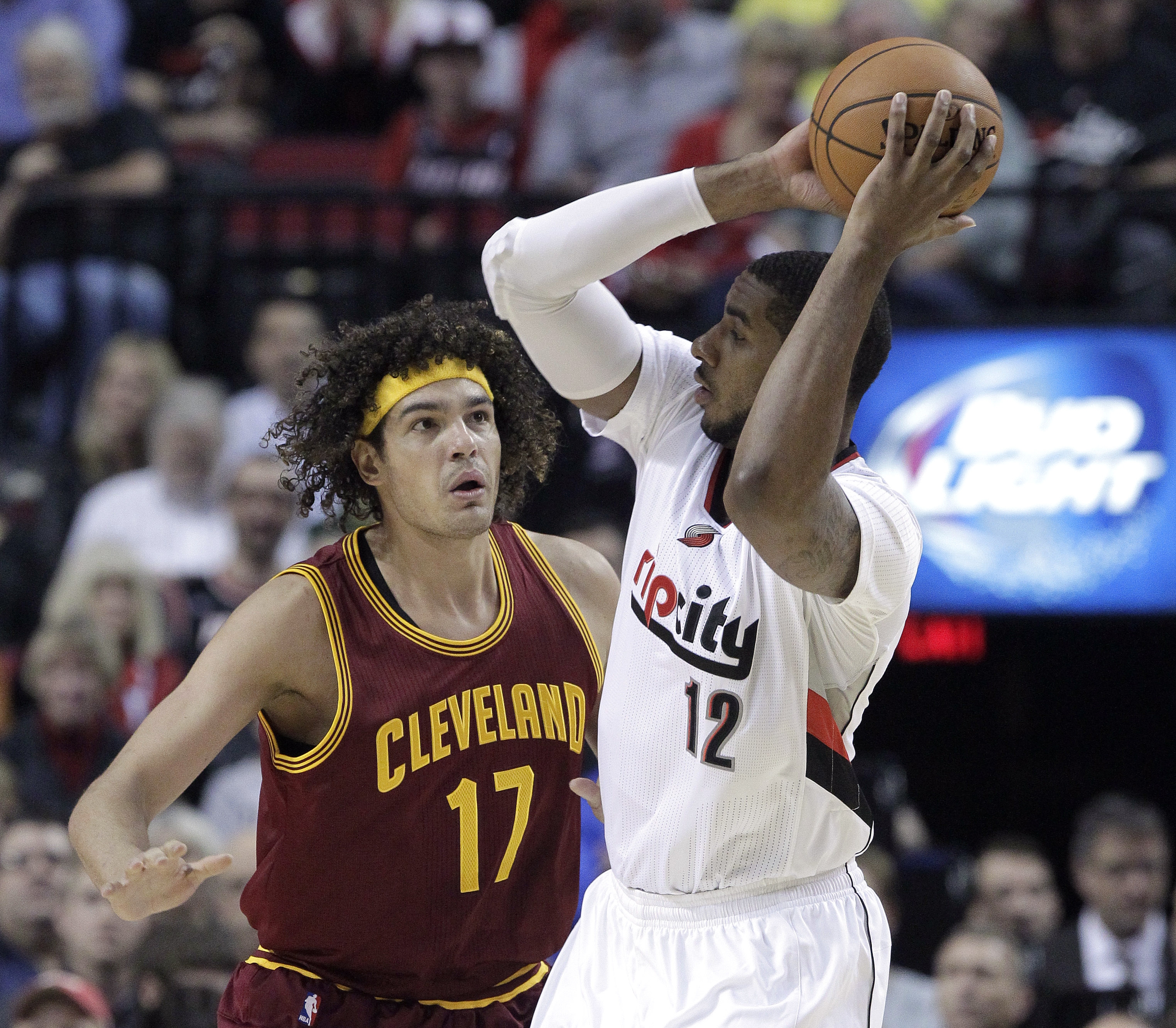 The Portland Trail Blazers won with great defense in the final three quarters of their 101-82 win on Tuesday over the Cleveland Cavaliers.
It also could have been that LeBron James was trying to send a message. But the Blazers deserve some credit.
But it's indisputable that the Blazers could not stop Cleveland in the first quarter and Nicolas Batum admitted that they felt a "a little bit" of a "here we go again" feeling after giving up 30-plus points for the third time in four games. "We try to step our game up on defense. And we did a good job and I think they scored like 47 points in the final 3 quarters against this team."
It was pretty clear that LeBron James looked disengaged for much of the second half, but Kevin Love was still playing pretty well and always gives the Blazers trouble. Sure, the King did not deliver, apparently on purpose, but the Cavs are not a slouch offensively.
LeBron James said that the Cavs have some old habits that need breaking: "It's going to be a challenge, but I think I can do it, I think we can do it, I think I can get help doing it with the help of Mike Miller, James Jones and Brendan Haywood, guys that have won a championship before. A lot of bad habits have been built up over the last couple of years and when you play that style of basketball, it takes a lot to get it out of you, but I'm here to help and that's what it's about.
LaMarcus Aldridge said the key to success for the Trail Blazers was not panicking when they gave up 34 points in the first quarter. "We didn't panic. We stuck to our principals and we played the game the way we know we could play  in the second half so hopefully this gets us going in the right direction offensively and defensively."
Aldridge was also asked about the individual match-up with Kevin Love: "I just play basketball, I don't care who's out there. He's definitely one of the top power forwards int he league but it's always fun to, I'm always happy to play every night."
Damian Lillard brushed off questions about whether it was relieving to get back on track after having three off shooting games to start the year: "I mean that depends on who you asking the question. I've been telling you the same thing, that I'm fine. I'm just trying to make sure that I can do the most that I can to affect the game and help the team. Shots haven't been falling and they fell tonight. It just feels good to get a win. We were out of sync and wanted to so to get a win and get back on in the right direction that's the best part for everybody."
Lillard also talked about the team's ability to stay the course: "

ust, we got to go into it with the same focus that we had tonight. Everybody was locked in. We dropped to 1-2, everyone was all like, they don't look good offensively, defensively they aren't that great. It seemed like people though it was time to panic about it or something. The reason we thought it was great opportunity for us is we have a lot of tough teams on our schedule. For us to be out of rhythm, not defending great and have a tough schedule in front of us, that's really going to show who we are. We have to find ourselves in the midst of being a tough schedule.

The Blazers most used non-starter unit against the Cavs of Steve Blake, Will Barton, Wesley Matthews, Thomas Robinson and Chris Kaman didn't play particularly well offensively but on defense they barely let the Cavs score. It started in the second quarter and the Blazers had good energy from Barton and Robinson. Barton said " That was the whole plan was just to come out there and cause havoc. The second unit with me T-Rob and Steve, we wanted to be real aggressive and make sure that we shut those guys down and make things hard for them." Barton said that the Blazers bench unit needs to out play their opponents and it doesn't matter on which end they do it on. "That's the bench's job to change the game in a good way. The starters was already doing good, it was kind of a close game and we have to go in there and extend it. That's what we did and we did it on the defensive level tonight. Some nights it's going to be our offense and some night's it's going to be our defense."
The Blazers play the Mavericks tomorrow who have started 3-1 and LaMarcus Aldridge highlighted that match-up: "It's going to be tough because they are a much improved team. They have new guys, they are playing rest right now. But I think if we go out with the same mindset we had to night it should be possible."
Jason Quick of The Oregonian wrote about Wesley Matthews impending free agency and how the Blazers may have to pay a pretty penny. I've asked Paul Allen and Neil Olshey about the luxury tax and Matthews' impending free agency is a reason why.  Add on Robin Lopez who had 19 points and 6 rebounds last night, the Blazers starters could be getting PAID.
Via TrailBlazers.com beat reporter Casey Holdahl, Damian Lillard was on NBA Gametime in NBATV after last night's win.
Also, the latest edition of The Moda Center Food Review, featuring our first veggie option of the season.