The Moda Center Food Review: GuacoTaco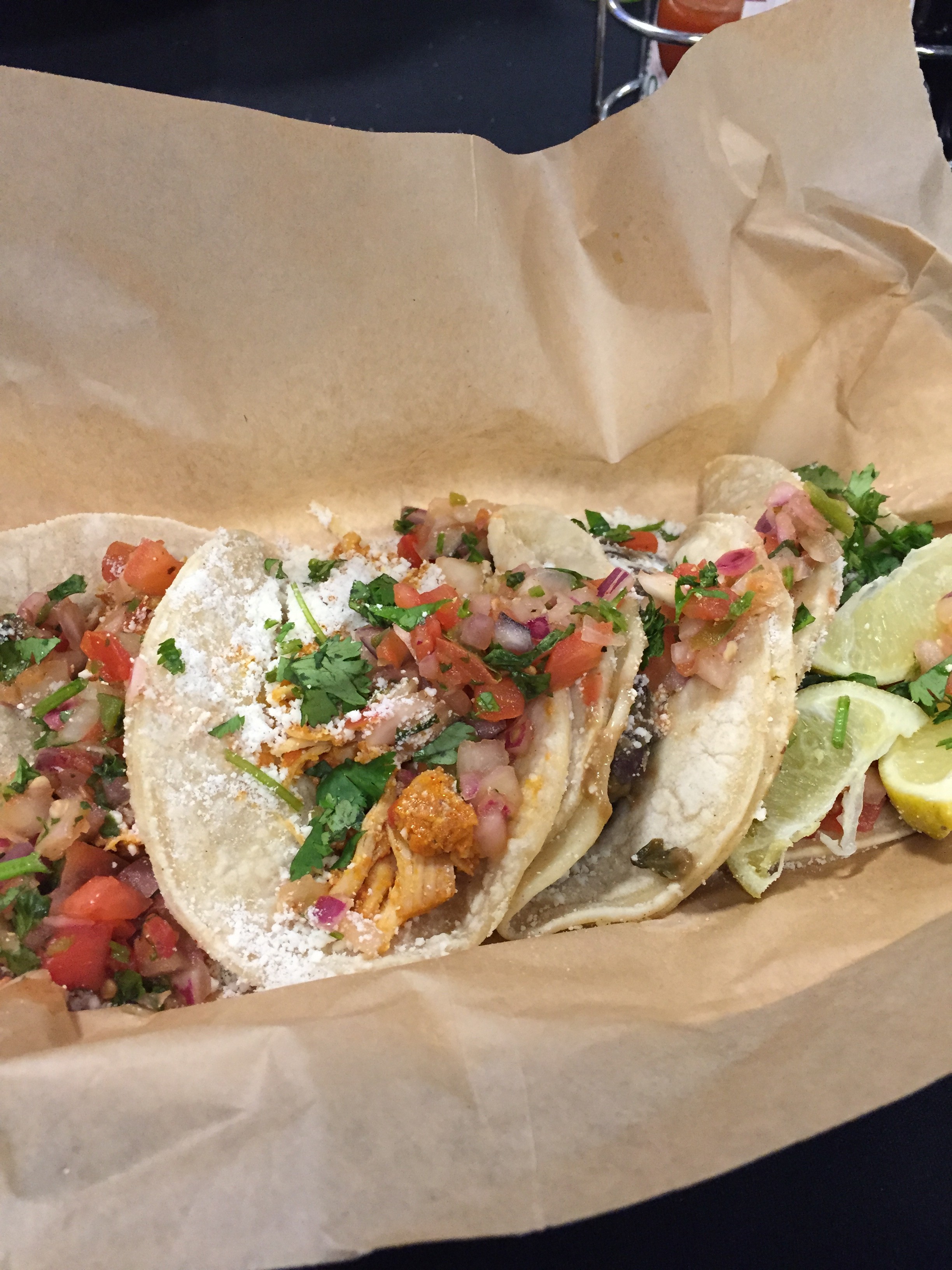 Previous editions of the Moda Center food review
100 level near Section 114
The choice to go here was a spur of the moment decision. It was Tuesday, so I figured it was only natural to get some tacos. However, this visit to a Moda Center food establishment did include my first vegetarian option, which could easily be made vegan.
The standard retail price for what I ordered, their four tacos along with chips and guacamole, which I didn't come close to finishing, is 14.50.
You may be saying to yourself…
Is this guy serious? He just wrote about how dropping 13 dollars for a Bunk Sandwich was pricey and he just got something that's 1.50 more? 
The deal, in terms of the amount of food you get is one of the best in the arena.
Take for example that it costs 10.50 to order three tacos of whatever your choice of meat. Or that it's over 10 bucks to buy an adult meal in many, probably most Moda Center locations. But you get ONE choice coming with no additional chips and guac which could be a meal of it's own. The tacos are going to fill you up and will also leave you more to share, while also getting to choose the meat or protein on each of the 4 tacos.
The service was also fantastic. When I asked for both mild and hot salsa's, I was given it without any bother. And when I was asked for condiments, I was asked the perfect question when it comes to mexican food: "What don't you want on them?"
I passed on the cabbage. But it was an incredibly efficient and refreshing approach, at least for this eater.
Especially if I'm getting tacos, I like to bounce around on flavors but I kept it simple on Tuesday. I got two chicken tinga tacos and two of their veggie tacos, which is a black-bean and tomatillo combination with a little red pepper.
The tinga was pretty flavorful and just a bit runny, which is understandable since they do things in the Chipotle/Qdoba style assembly line.
But I was very impressed with the veggie option they offered in the black bean-tomatillo taco. I've never had a veggie taco and this experience was solid. Lots of flavor, not too mushy, mixed well with the cheese and condiments. And if you're vegan, this can be done very easily. There's no dairy in the veggie taco's protein of choice.
This is a good spot, and if you wanna eat light, the three tacos aren't a bad move either in terms of value.
Notes:
I got to try the Schonz Ale by Pyramid Brewing last night. It was a really smooth beer but also had good flavor. And if you're a Blazers fan, you can try it at their games or you can buy it in retail. 
This is what it looks like when it's poured