Postgame Trail Mix: Warriors 95, Blazers 90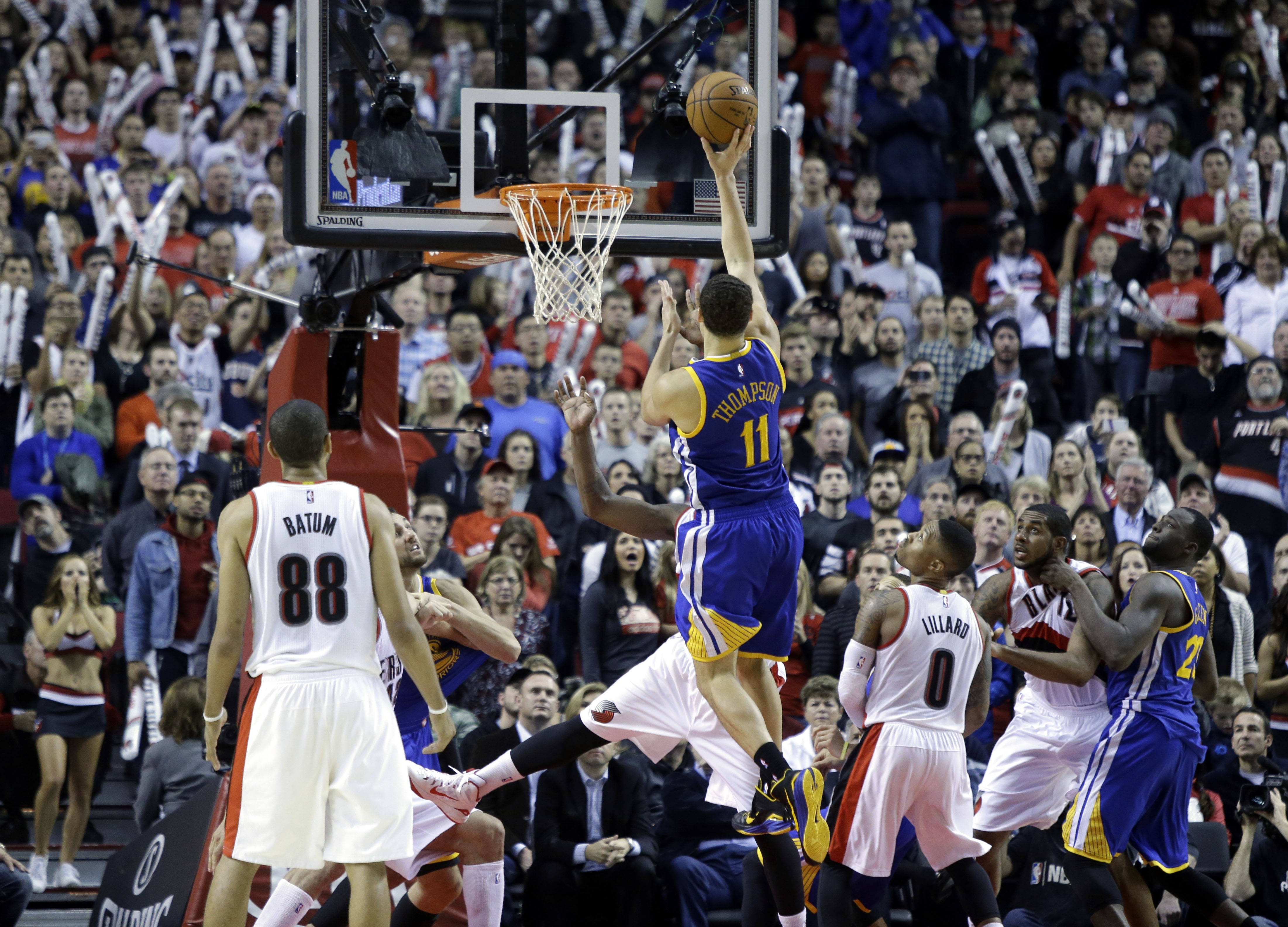 The Portland Trail Blazers lost on Sunday to the Golden State Warriors 95-90 to fall to 1-2 in the early season.
Golden State's Klay Thompson showed he was worth the money and also showing he can deliver in the clutch, finishing with 29 points including the game-winner with 8.7 seconds left.
We usually have a lot of good stuff that doesn't make our gamer the next day and although we usually like to share links in the Trail Mix, we hope that we can give you some more stuff from the games to hold you over until the next one.
Portland's defense has actually been what's kept them competitive while their offense has been mediocre. They're 18th in offensive efficiency and 9th in the NBA in defensive efficiency per NBA.com. Damian Lillard said: "We got to have confidence that we defended well enough to win the game and we didn't shoot well enough. We have to try to put both ends together. We defended well. We contested shots. Nothing was easy for them."
LaMarcus Aldridge on the defense: "Our defense has actually been better but that's going to come around. our defense has actually been better at times and for most of the game. We had a really good second quarter. Our defense is getting better we just have to be even better on defense until our offense comes through. Guys are taking shots when they are open and that's our style of play here and guys are going to make shots eventually."
There has been a lot of handwringing about why the Blazers are missing shots and why Damian Lillard, whose gone 11-of-41 to start the season, is missing shots. With a quick glance at shot charts, it doesn't seem like Lillard is taking any shots out of his comfort zone.

And he feels that's the case, too. Teams have been showing on Lillard's pick and rolls since his rookie season, so that's nothing new.

 "I'm getting to spots that I always get to on the floor. I just got to make the shots. I had an opportunity at the end of the shot clock and all I had to do was hit a floater off the glass and I kind of hit it, it rolled off the rim and I'm like "come on, man," running down the other end like "that has to go in." It's just stuff like that. I just have to understand I'll make those shots and not try to get too frustrated and not think bout it too much."
With Joel Freeland out for Sunday's game (more on that in a second), Thomas Robinson got minutes and brought energy the Blazers desperately needed. Robinson finished with 4 points and 6 rebounds in 14 minutes. "I did okay. I could have gotten a few more rebounds while I was out there. That's pretty much it. I try to spark my team best way I can. Second quarter, fourth quarter, it was kind of the flow of the game. It was a tough loss. There's some things we got to fix but we got to fix them." On helping the team with his energy, Robinson said: "I'm a dog, that's what I do. I'm an energy player so that's what I got to do or will do every time I touch the floor."
It's interesting to Robinson's mindset change. It seems like he definitely knows that he has to stick to his strengths to get a role on this team or in the league moving forward. This was the highlight of Robinson's night and Portland's second quarter where they outscored Golden State 26-21 via Dane Carbaugh of The Sporting News.
Joel Freeland seemed to suggest he could have played tonight if he wanted to push it, but felt that it would be best for him to rest. He said he hurt his left foot while accidentally kicking another Kings player in Friday's loss. He said he hopes to be able to go tomorrow, but there is no update on his status for Cleveland on Tuesday as of Sunday.
Chris Kaman had his first rough game coming off the bench so far this season. After averaging 12 points and 6 rebounds in the first two games, "Big Sasquatch" struggled from the field going 1-for-5, scoring only 2 points while grabbing 7 rebounds.
My goodness where the Warriors defending the rim with authority tonight. They got credited with 7 blocks in the box score as a team but Andrew Bogut and company changed a few more.
Robin Lopez had some things to say about USA Today's word choice in a headline about Klay Thompson's dunk on him in the fourth quarter. Mike Richman of The Oregonian has your recap.
Joe Freeman of The Oregonian has a good story about Wesley Matthews looking over the first of three possessions that ended with turnovers in the final seconds on his laptop with Nicolas Batum.
Finally, the latest edition of the Moda Center Food Review, where we discussed mayonnaise and it's place in the arena, along with my dinner tonight.