Blazers Rest Four Starters, Fall To Kobe-Less Lakers 94-86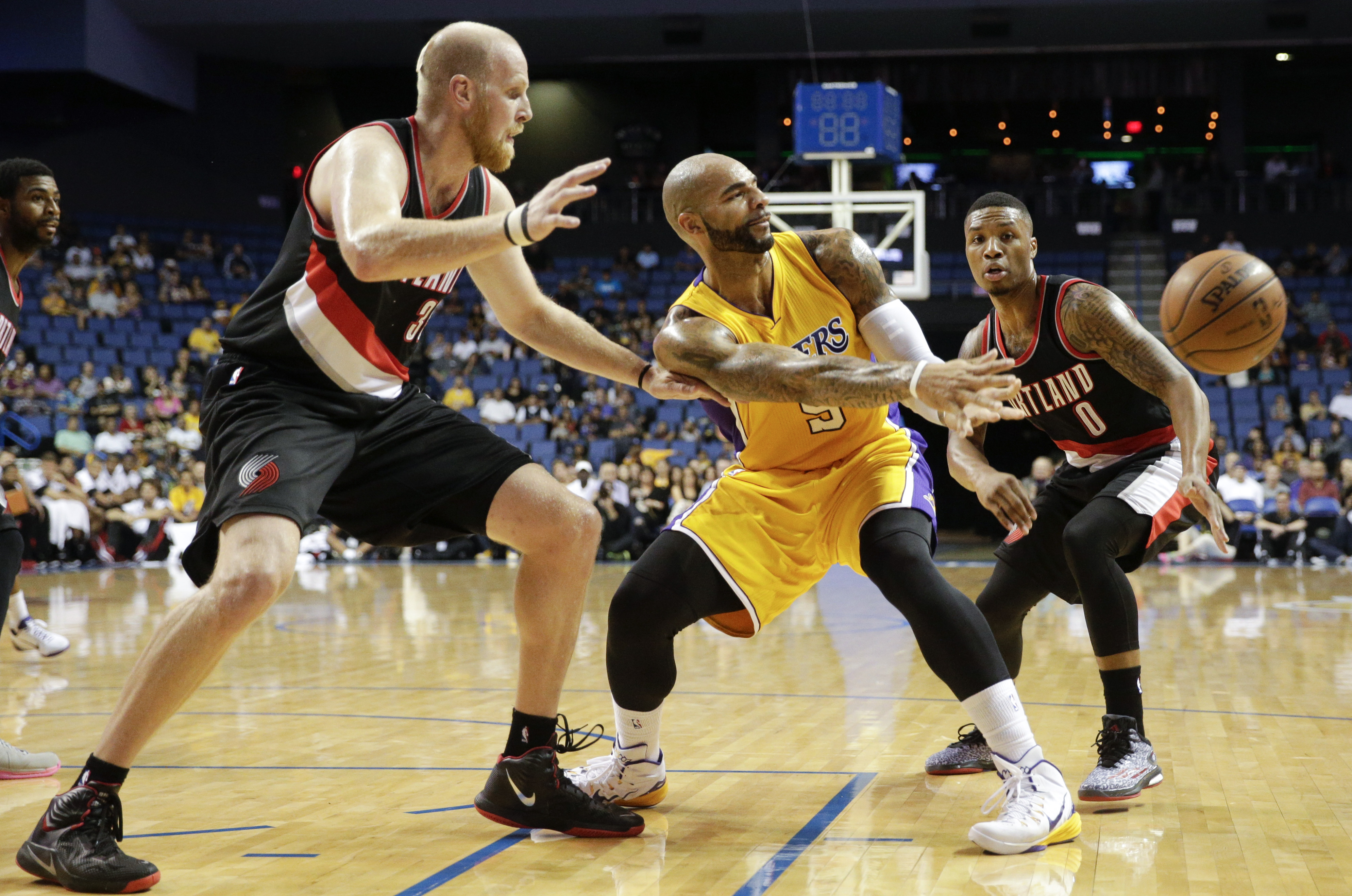 The Portland Trail Blazers lost to the Los Angeles Lakers 94-86 in Ontario, California on Wednesday night. The Blazers rested all of their starters except Damian Lillard, who had already missed two preseason games due to a foot injury.
The Lakers outworked the Blazers most of the night on the boards, ending the night with a +6 rebounding advantage including a 10-6 advantage in offensive rebounds.
Portland started the game with a line-up I'm fairly certain we haven't seen in the preseason with Lillard playing with Allen Crabbe, Dorell Wright, Thomas Robinson and Chris Kaman. Kaman, who was playing with stitches in the back of his head after being accidentally bitten by Denver's Timofey Mozgov.
The Blazers got off to a hot start with Kaman doing a little of everything from scoring in the post, finding cutters and blocking shots. They had a 14-8 lead in the first six minutes but it didn't last too much longer as they would score a mere 4 points in the final 6:16 of the quarter.
Lillard was credited with 5 turnovers, but he was far from the only Blazer to struggle turning the ball over. Will Barton also had 4 turnover and Allen Crabbe and Victor Claver (illegal screen calls) each had a pair.
The Blazers may be able to look at some individual performances from tonight with positivity. Meyers Leonard continues to show the new found confidence in his three-point shot that he and Portland's staff have been talking about. Leonard scored 13 points, 4 rebounds, 2 blocks and 2 assists, making 3-of-4 on threes in over 28 minutes.
Along with Leonard's night shooting the ball, CJ McCollum scored 17 points without making a single three-pointer.  He was 7-of-13 from the field and had a floater going seemingly all night long.
But while there can be positives seen in the performance, these Lakers they played tonight are not exactly world beaters. And "not exactly world beaters" is a pretty kind way to describe the Lakers who could be even worse than last year's depressing season. Their roster still is not settled and the fact that they've mostly played poorly likely plays into the desire of their players.
But if Portland's bench players truly want to make meaningful strides, they've got to be able to show they can actually beat other second units.
Then again, the Blazers will probably live with losing when their opponent goes 19-of-36 (52.8 percent) on midrange jumpers. The Lakers took 36 midrange jumpers. 36! Just because I was curious, the Wizards led the league last season with an average of 27 midrange jumpers per game. So, this was a tad bit ridiculous shooting by the Lakers tonight, too. The Lakers only allowed 19 shots at the rim total. It'd be interesting to see how many came from turnovers.
The Blazers had plenty of positives in the performances of McCollum and Leonard. Allen Crabbe really showed that he can move with guys on defense and while Barton struggled taking care of the ball, he did draw 6 foul shots.
Notes:
We were once again given good reason to exercise caution when it comes to trying to predict Terry Stotts' rotation decisions. The way Meyers Leonard played this evening will likely make the Stotts' decision on a fourth big man to use for opening night a little bit more difficult. Leonard has gotten better and at being in position. But he would likely be more useful next to veterans, much like Robinson's athleticism is complimented more with a veteran presence. A pairing with Robinson and Leonard doesn't particularly suit the two of them, at least not yet. While Freeland continued to show a steady hand, which will likely come to use during the season. If Leonard makes such a case that Stotts has the luxury to use them on a situational basis, all the better for the Blazers.
The Lakers are going to shoot a ridiculous amount midrange jumpers. You expect that with Kobe and Carlos Boozer on your team. But there was something fun about D'Antoni's teams lovably running a nice offense and getting good shots, even if they weren't very good players taking those shots. The Lakers were also 6/10 from the painted area outside the restricted area.
The Lakers didn't play Kobe Bryant tonight and won't for the duration of the regular season, according to reports.
Joe Freeman of The Oregonian reports Blazers guard Steve Blake could return for the Blazers preseason finale.
The Blazers only have one more exhibition game left. It's on Friday against the Clippers on NBATV at 7:30 PM.