Blazers Beat Nuggets 93-75 In Boulder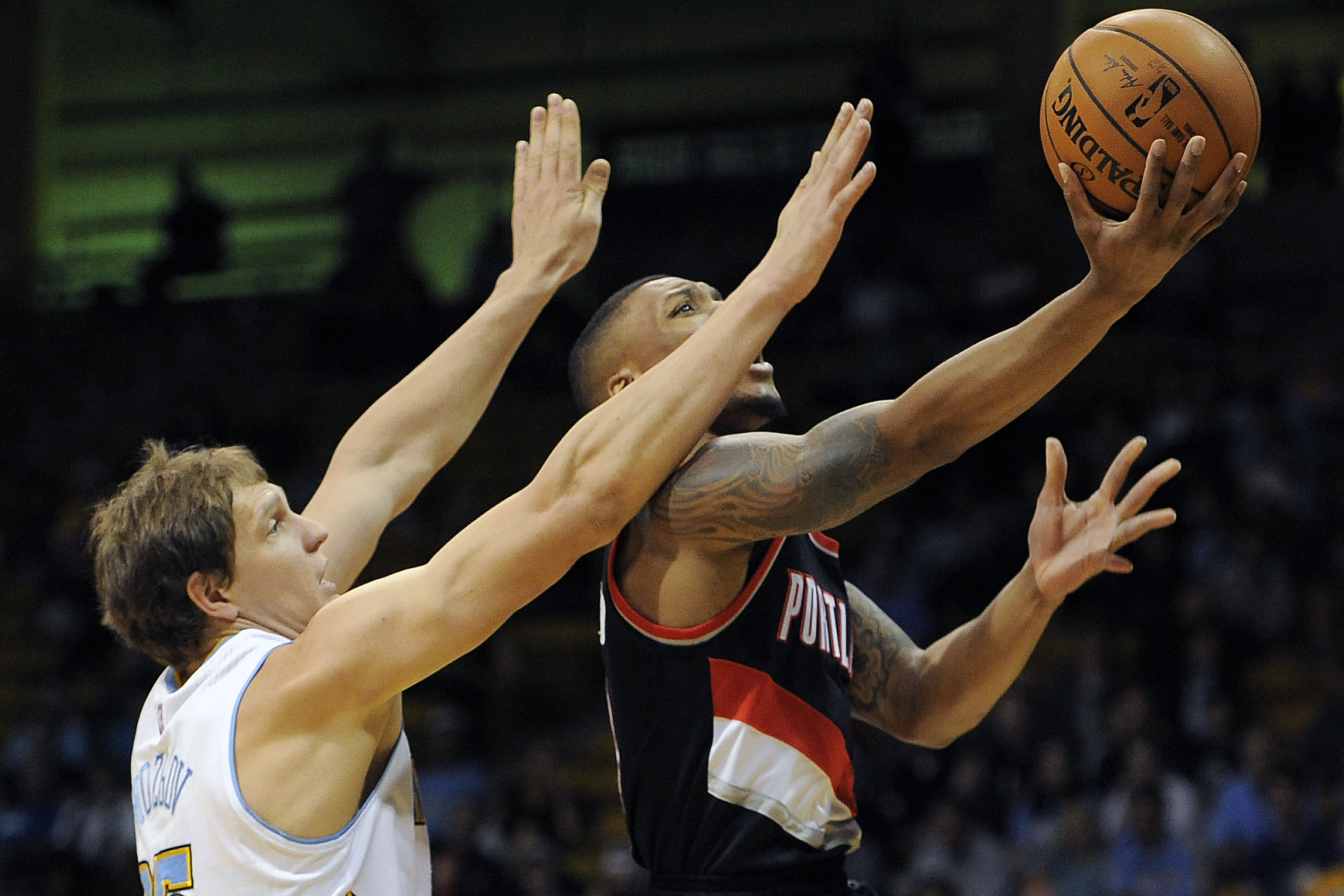 The Portland Trail Blazers defeated the Denver Nuggets 93-75 on Tuesday night in Boulder, Colorado for their third win of the preseason.
LaMarcus Aldridge scored 20 points, 11 rebounds and four assists in 37 minutes of play while Damian Lillard scored 18 points to go with 8 rebounds and 6 assists.
We could not see the game and only could listen to Wheels and Tone call the game. And thanks to Tone, listeners could hear that Chris Kaman got some teeth to the back of his head in a collision with a Nuggets player. Joe Freeman of the Oregonian reports that Kaman had a laceration that required 3 stitches on his head.
Sounds like #Blazers Chris Kaman was given three stitches on his head. I guess an opposing player chomped on his head with teeth.

— Joe Freeman (@BlazerFreeman) October 22, 2014
Sounds like a plot out of "Exploring Kaman".
Freeman also reports that CJ McCollum was given the back-up point guard minutes left in the absence of Steve Blake, who will miss the rest of the exhibition season with an illness.
McCollum's shot was off all night — he went 0 for 4 from the field — so he wasn't able to create for himself, and he finished scoreless in 14 minutes. But even though it wasn't anywhere near the standout outing McCollum had the last time he filled as a point guard — in a win over the Clippers at the Moda Center — Stotts said he remains confident with McCollum playing point.

"I thought he tried to make the right plays," Stotts said. "He didn't make his shots, but I'm not concerned about that."
Aldridge told Casey Holdahl of TrailBlazers.com he's starting to get a rhythm.
"I started out feeling good and then as the game went on toward the second half, I started to feel the altitude," said Aldridge. "My legs got tired a little bit, too. It's still preseason, that's why I wanted to do it here. If you can push yourself to play through the fatigue here, then when I get back down to the regular elevation, I'll be good to go. It felt good. I started out great, I kind of faded at the end but I thought guys pushed themselves tonight."

…

"I got into a little rhythm," said Aldridge. "I started knowing when my shot was going to come. When I see two or three shots go in, I feel like the basket is pretty big. Those guys are good defenders but I was in one of those rhythms."
As far as finding clues into the rotation, I'm going to err on the side of caution without reading too much into the line-up decisions this evening. Stotts said that the time for decisions would come after the trip and last season he did not tip his cap about Freeland making the rotation until the last game of the preseason.
Joel Freeland was the second big man off the bench after Chris Kaman for the second preseason game in a row after going in early against Maccabi Haifa. He brings a tough, defensive-minded presences off the bench, which really does separate him from the rest of the team's reserve bigs.
With the Blazers likely not extending their starters at all tomorrow night against the Lakers, it could be the last opportunity for Portland's other reserves–your Meyers Leonard's and Thomas Robinson's–to get one last long look before the finale against the Clippers on Friday.