Blazers, Wesley Matthews (Irregular Heartbeat) Prepare For First Preseason Game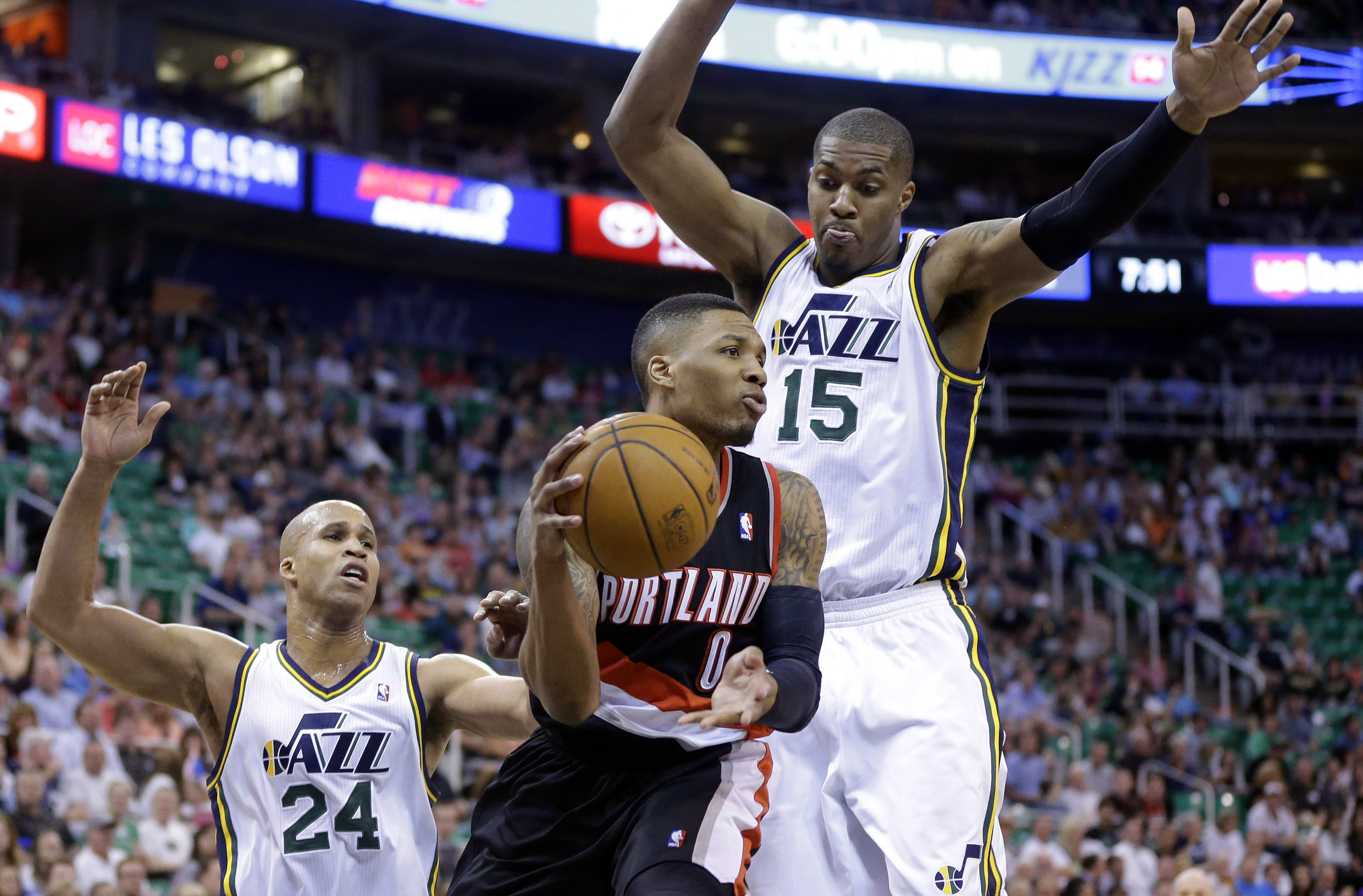 The Portland Trail Blazers left for Salt Lake City, where they will play their first preseason game of 2014, on Monday following their afternoon practice.
The Blazers face the Jazz on Tuesday at 6PM (no television). The preseason is where the final score doesn't matter but the Blazers still have target areas they want to work on.
"What I would rather see us is have a great defensive preseason, that's all I really care about," said Wesley Matthews who has been given the greenlight to play from the Blazers medical staff after being limited in action after an irregular heartbeat. "Us being in the right spots and if we are not in the right spots, bust our butts to get to the right spots."
As for what the Blazers want to do on defense, I took a pretty extensive look at what those improvements would look like it last week.
According to Terry Stotts, the Blazers have been pretty good in their halfcourt defense but he wants to see better transition defense in the preseason after what he saw in Fan Fest.
"I think our weakside alertness has been better," Stotts said. "Our transition defense has been good in practice, like I said last night I thought we gave up too many (transition baskets) in the Fan Fest. But, the true test is going to be when you play somebody else."
Matthews, who missed two practices and was limited in two others before being cleared to play, said the Blazers have closely monitored him.
"They're still just monitoring everything that I'm doing they have a heart rate tracker on me," Matthews said before lifting up his shirt to show media members the monitor. "Everything's been good so far. Another test is tomorrow, I went through everything today in practice for the first time."
Mattthews added: "I'm just going to take it game by game. I know I'm playing tomorrow, that's where my head's at."
Of course, although the game will not be televised the preseason will also be a chance for people to get extended looks at players that are fighting for a rotation spot.
"You know they all know," said Stotts of the opportunity to win minutes. "I've read some of their comments to you, they all know that the starters are the starters, I know Chris and Steve were brought in to contribute. And all the other minutes are up for grabs so I think everybody is aware of that."
The spots in the rotation that are up for grabs appear as though they will be in the front court and in the backcourt.
Joel Freeland won a rotation spot last year in the preseason but now it appears that he Thomas Robinson and Meyers Leonard are all fighting for one or maybe two rotation spots.
Victor Claver has played on the wings or at at the four for club and country in the past but it remains to be seen how close of a look, if any, he's getting.
Probably the most fun position battle to watch will be on the wings between CJ McCollum and Will Barton. All of the Blazers have raved about how much better each guy has gotten and they both showed well in the Fan Fest, showing what they can bring.
CJ McCollum showed off his smooth and quick, scoring ability with 9 points as well as improved quickness on defense while Will Barton had a stat-stuffing line bringing buoyant energy and disruptive defensive length.
Second-year man Allen Crabbe is a much different type of player than McCollum or Barton according to Terry Stotts, more of a spot-up shooter and defender, so it will be interesting to see how, or if he fits in a battle to get playing time.
Crabbe said he'd worked on his ball-handling and playmaking but it looks like McCollum and Barton will also shoulder the responsibility of setting up the offense when they're on the court.
But while one game won't determine everything, this is where players start to set themselves apart. Stotts says he will evaluate things for the whole month of exhibition play and camp, taking everything into account as he did with the case of Freeland last October.
"That's what I'm looking for this year: the separation, match-ups, how guys play well with whom and all those things, " he said. "Games matter, practice matters. Anytime you're on the court it matters."
Other things to look for: 
LaMarcus Aldridge taking a couple more three-pointers. He's been practicing them this summer, and in training camp, but I would expect him to take maybe one per game this season. https://vine.co/v/OmEXHI2LYdD
Meyers Leonard's defensive improvement. He says he's seeing things faster right now, preseason may be a good indication of how that's coming along. He was productive in Fan Fest with 9 points and 8 rebounds in 28 minutes.
Thomas Robinson's jumper is something to keep an eye on. He injured his thumb in the summer but he seems to be over a few mental hurdles in recovering after having it banged on a couple of times in practice but bouncing right back.
Minutes for the starters and veterans. It seemed like Damian Lillard and LaMarcus Aldridge didn't plan on playing a lot in the preseason when they were asked about it on Monday. Terry Stotts gave Nicolas Batum an evening off last week but Stotts would not commit to giving the starters preseason games off just yet. "We'll see. Tomorrow, the starters are going to start."