The Next Level: Portland's Defensive Responsibility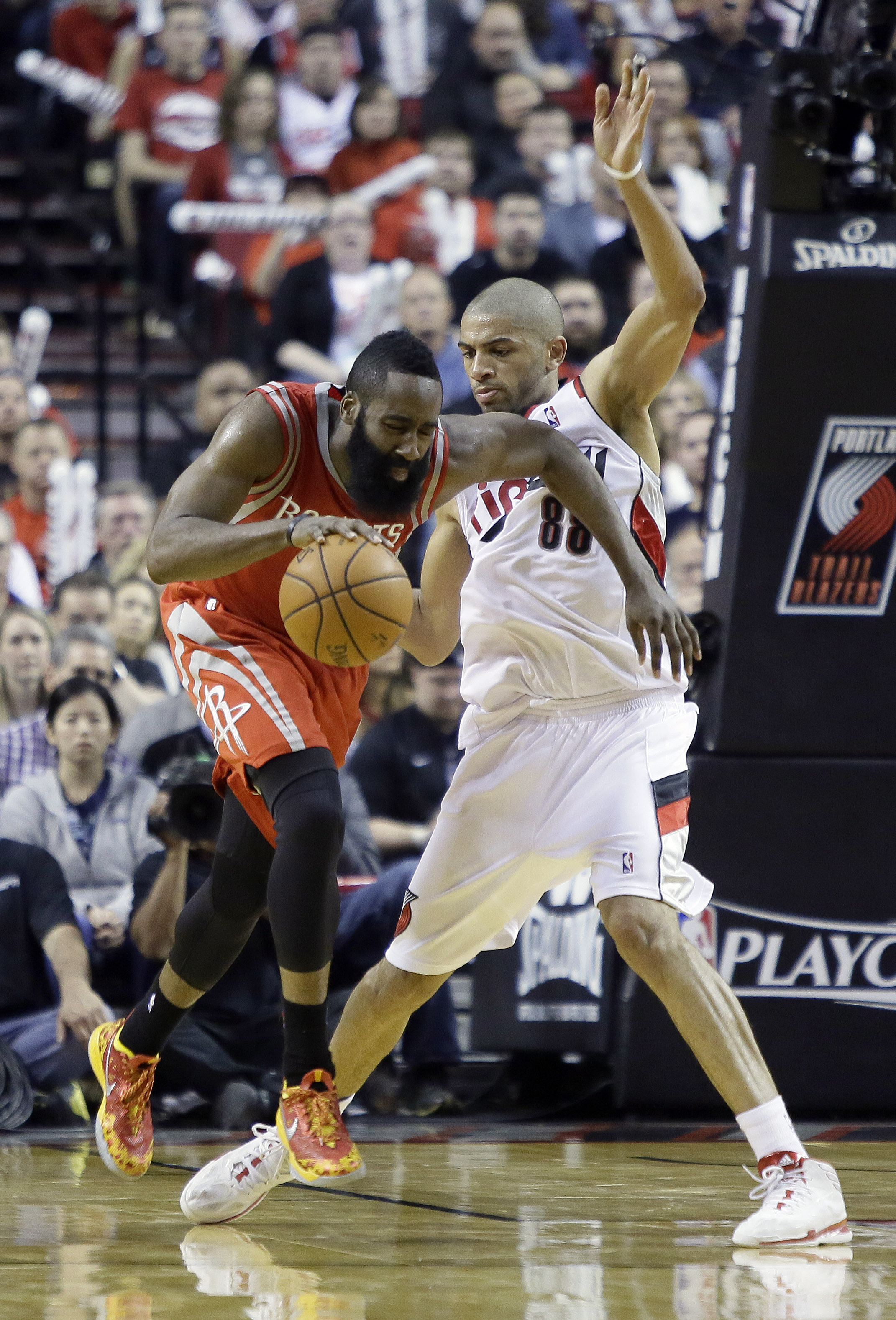 Words like "angry" and "hungry" have been used to describe the sentiments of the Portland Trail Blazers entering this season after winning in the first round against Houston and being beat down by the San Antonio Spurs in five games.
Last year the question was whether the Blazers could be at least average on defense. This year, it's whether they can count on it every night to be a top team in the Western Conference.
"You just have to continue to show up defensively," said Wesley Matthews on what the Blazers need to do improve on their second round finish last year. "We made big strides last season. We were consistent with what our principals were and that's the base. The year before that it was kind of up and down. Last year we knew what we were supposed to do, where we were supposed to be. It's going to come down to the players. It's going to come down to us. You can scheme or do all that stuff and we really have to to go and get it done and make our minds up that it's going to be very, very, very tough for people to score on us."
Portland's offense was one of the best in the league last season, finishing in the top-five in offense according to NBA.com while Basketball-Reference.com said the Blazers finished 2nd in offensive rating.
Last season Terry Stotts completely overhauled their base defense into a more conservative pick and roll scheme to help force midrange jumpers, trying to limit high-value attempts for other teams.
The Blazers made a significant jump, going from 26th in the league in defense to 16th. The acquisition of Robin Lopez got much of the credit and Lopez certainly changed Portland's defense at the rim.
The Blazers players like Matthews often said they counted too much on Lopez, which was certainly a case to make.
The Blazers allowed the second-fewest three-pointers in the league last season and were elite in forcing midrange jumpers something Stotts still wants to do.
While Lopez certainly made a difference at the rim (the Blazers had the third-lowest opponent's field goal percentage in the restricted area, but the second-most opponents attempts), the Blazers defense was still slightly below the league average overall.
Notice in the list above not a single team was ranked in the top-ten defensively.
Where the Blazers struggled the most was in the playoffs was in transition and on the defensive glass. Portland struggled to find shooters, effectively get back and limit teams from getting to the rim. This was their doom in the Spurs series.
They were 13th in defensive rebounding, which hurts even more if you can't offset those second chances with turnovers. The Blazers were dead last in the NBA in turnovers and it wasn't even close with third-lowest opponents turnover rate since the three-point line existed according to Basketball-Reference.
Stotts says he isn't concerned because many of the top defensive teams aren't high turnover teams.
Many of the top-defensive teams, six of last year's top-ten in defensive efficiency, didn't register in the top-ten in turnovers forced. The Spurs, Pacers and Hornets all were in the bottom-ten in opponents turnover-percentage but, all three of those teams are in the top-four in defensive rebound rate.
Terry Stotts said at media day that one of his goals is for the Blazers to allow fewer attempts at the rim, but some of that can come from the half-court too. Weakside defense in particular is something Stotts and his staff are targeting in this camp.
"The things we are going to be emphasizing is giving up fewer transition points I think that and fewer attempts at the rim," said Terry Stotts at media day. "Our defense at the rim was actually decent. We were top 5 in terms of percentage at the rim but we had too many times the ball got to the rim. SOme of that was in transition. Understanding how we need to do with transition defense, understanding our weak side has to get better."
While the continuity is important to the team trying to recapture the chemistry of last season, it may hold the key to the Blazers improvement on defense.
Portland wasn't bad in weakside defense, in fact, they had many possessions where they executed their defense to a t. But consistency was the problem.
Take Nicolas Batum and Damian Lillard's positioning on three high pick and rolls on the weakside in Portland's overtime win against Golden State.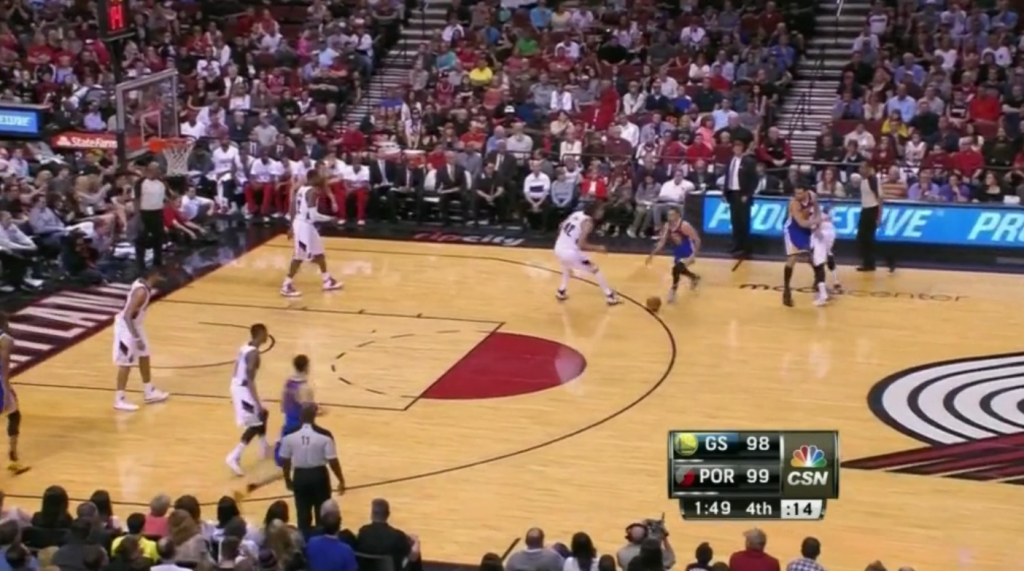 Batum is close to the paint as Curry gets around the screen. Damian Lillard is trying to stay close to Klay Thompson whose been hot, but he's far too close to Thompson to help deter Curry's drive.
Batum doesn't stunt towards Curry as he gets into the teeth of the defense and Curry is able to throw a pump fake at Lopez before turning around to make a bucket.
The next time down Batum corrects his mistake and Lillard is far closer. Curry gets off a three around the screen but Matthews chased him down and he missed.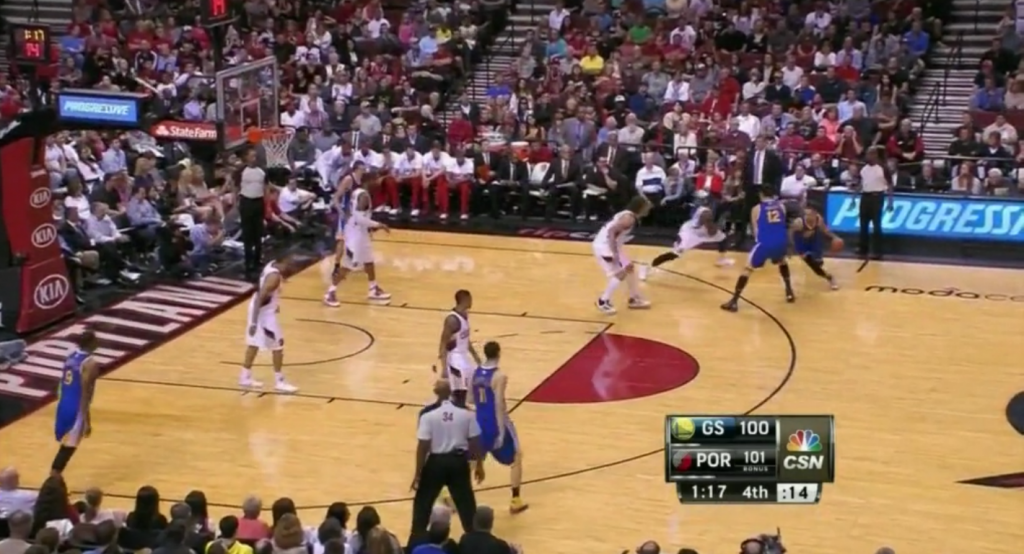 While a three isn't what a defense would like to see from Steph Curry, the Blazers have to be more consistent in maintaining the principals they installed last season.
"What we want to do is just make it a habit. Understanding a habit of protecting the paint first and building out," Stotts said. "Rather than starting out and trying to get back in. That, making that a habit so it's second-nature is the goal."
This much seems clear: teams continuing to get inside the restricted area can't last if the Blazers are going to make the jump into the top-ten in defense. And that will come from consistency in weakside help and attention to detail, which is what Stotts hopes. Here's another play where the Blazers fell asleep to allow a shot at the rim.
Matthews and Lillard get caught up with their guys and LaMarcus Aldridge is trying to stick close to Channing Frye.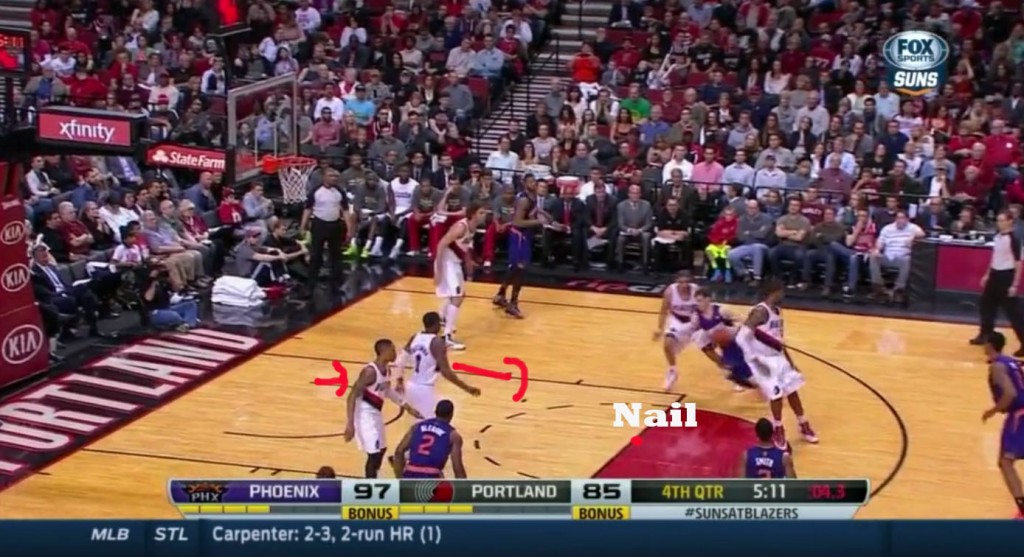 Nobody even close to the nail to help cut off Goran Dragic, one of the best in the league at getting to the hoop.
Although Matthews was the team's best defender last season, it shows that everybody on the Blazers can be better away from the ball.
"I think it's just about being able to keep doing it every time," said Damian Lillard "People say stuff about our defense but I thought we had a lot of good games defensively. If we didn't you know we wouldn't have won 54 games. We were great offensively and you can't win 54 games just on offense."
Lillard himself was going over a defensive situation with Meyers Leonard after practice which he said cost he and Leonard's team the game in a Thursday scrimmage, something Stotts was encouraged to see and wants to see more of.
"Any communication is good," said Stotts. "When the players on the court off the court talking about situations, they understand. It's one thing to know what to do and to go out and do it. When they communicate between themselves it makes the job easier for both of them."
Stotts hopes his team can be more aggressive and attentive in weakside defense like the Spurs, Bulls and Pacers were last season. Take Bulls positioning here on this pick and roll from former Blazer Mo Williams.
They have a Nazr Muhammed at the nail and Mike Dunleavy is cheating hard from the weakside corner. Jimmy Butler is at the elbow ready to cheat to the middle.
Perhaps this is the year the Blazers find out if they can reach that elite defensive level and they seem eager to do it.
"What I'm hoping is a better weak side and a better nail, reduces the number of attempts at the rim and puts is in a better position to rebound the ball. My hope is that we force contested midrange jumpshots," said Stotts.
But talk is easy in training camp and last year stopping attempts at the rim was a season goal that was never accomplished, but forgotten because of their team's spectacular run.
For Matthews, it's the Blazers who have to own the responsibility of becoming the defensive team they say they want to be.
"We got to hold ourselves accountable to hold each other accountable," he said. "It's good to see people pulling each other aside and just trying to figure it out. At the end of the day, a Coach has never gotten a stop for me, I've never seen a coach get in a passing lane or take a charge. It comes down to us."