Full Transcript: Blazers Owner Paul Allen Talks Luxury Tax, Championship Window At Training Camp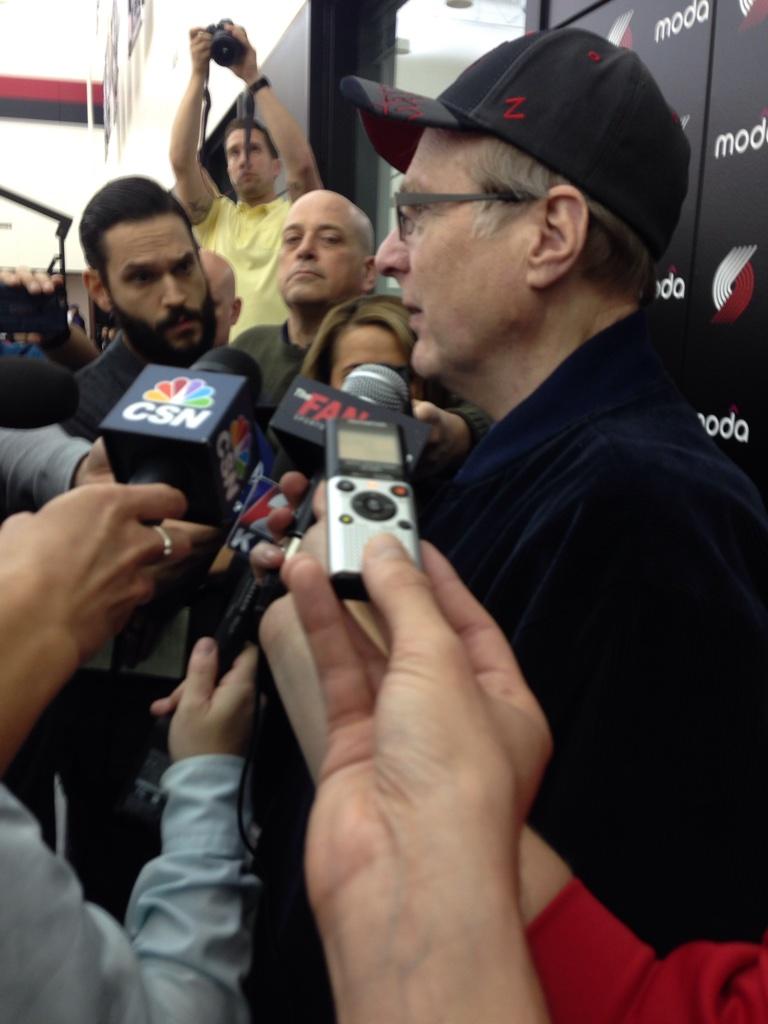 This is an edited transcript of Paul Allen speaking to the media on Tuesday September 30 at the Blazers practice facility in Tualatin. He was asked about the team's ceiling, continuity, willingness to pay luxury tax and more.
—————————–
Thoughts on the start of a new season?
It's always exciting. The new additions that Neil brought on board this summer are going to make a big difference for us. Steve and Chris Kaman. Steve first of all, I've always loved him as a player. Exchanged a couple of notes with him over the weekend so it's great to have them back. THe size and skills that Chris has are really going to make a difference with our second unit.
What's this team's ceiling? 
Well I think obviously we want to hopefully progress over what we did last year but I mean it's a long season how it plays out. I think we do have even more potential this year with the fact that all the guys know the system. We've had some success and we're going to build on that.
How nice does it feel to have almost all the guys back?
Continuity is important in sports. All sports. Some changed coming in and continuity with coaching and the system that you run. Now we are at the point of making tweaks here and there to improve in different areas. That's exciting to have that continuity and be able to progress.
Willingness to pay luxury tax to keep continuity? 
Well, it's been a while since I've been in the luxury tax. David Stern used to give me and extremely hard time about being as deep as we were in the luxury tax at one point. It's not something I'm looking at at this point but look we're trying to do what we can to be as competitive as we can in the future without causing ourselves as much problems down the road in going way over the cap and impacting our ability to sign free agents in the future and things like  that. It's a very delicate balancing act to try and create yourself a championship window and then keep developing young players. If you look at for instance with the Seahawks winning the Super Bowl that was with a very young team. So you have to blend with experience with young players and develop those as well. That's something Neil and his staff are focused on.
On visiting LaMarcus Aldridge in the summer to discuss his future
I thought it was very important that we have a direct discussion with LA. It went great and we presented him with a couple of options. Obviously he thinks the option of being unrestricted next season he's looking at a very long extension is the one he chose to pursue. We understand but we thought we should talk through all those things which is great to be able to sit down with LA and get a chance to really understand his thinking about the team. He's very excited about the team. You guys talked to him yesterday I hope you got that sense too.
Do you feel like you're in the championship window or close to it? 
There's some great times you know in the West. And the Spurs everybody is going to look to find a way that they can dethrone the Spurs, they are a very very good team. Superbly coached. That's all of our challenge being the Western COnference. There are other great teams too. It's going to be a real dog fight this year. We just want to be in a position to hopefully compete in the playoffs and hopefully go through.
Overall is this the best you've felt about the Blazers in a while? 
If you look at our depth, the continuity and the ability of the young players to get better, that's a key factor going into this year to see which of the young guys is going to continue to improve. I think in the offseason I'm sure you guys are going to write about how each young guy developed his game further. That's going to be another key. All of those things come into play. I think it's very good. I think it's very exciting looking forward to this year and then you've got the veterans Damian and LA, Wes continue to develop their games too. There's a great vibe around the team I think with the continuity, with the success that we had last year but I think we have more to prove.
On pace to turn a profit next year a big deal to you? 
We've had a little bit of a hangover in terms of our finances from existing contracts on the books like Brandon Roy's/. Some of those things completely expire, that should help our profitability.
Seahawks so far this season? 
It's great but we are only 3 games into the season. There's potential for us to keep improving there too. But if you look at some of the other teams we have to compete with. When you're the defending champion everybody is coming after you with everything they've got so I think we've learned a little bit from the San Diego game and we are going to see how that plays out but we have a very tough schedule and we play some great teams.
Difference from when you first bought the team?
It was funny I was just looking at the press guide. Certainly I was excited when I first became the owner. I think now I'm just as excited but I think we've got a great staff here and I'm not quite as involved in the details as I used to be although I really love the draft. We're going to meet after this practice and go over the plan through the season and even looking ahead to the offseason and look at things we are going to keep in mind. I love it and it's going to be an exciting year.
How meaningful would it be to get a title here?
That was an amazingly exciting and satisfying and unbelievable experience to win a championship. It's rare just to get the opportunity to contend for a championship and then to have such an amazingly dominant game in the Super Bowl was fantastic. When I think back to that moment I'm pinching myself and I'd love to bring a championship here to Portland.
Likelihood of bringing the NHL to Portland in the next five years?
It's something we look at from time to time. You know obviously we'd probably need to have a strong partner in terms of the ownership of the team or some things. The financial picture would have to all  pencil out. There are a number of hurdles to get over and the price of NHL teams keeps accelerating. It's something we look at but it's nothing imminent at this point.