Robin Lopez, Wesley Matthews Make SI.com's Top 100 List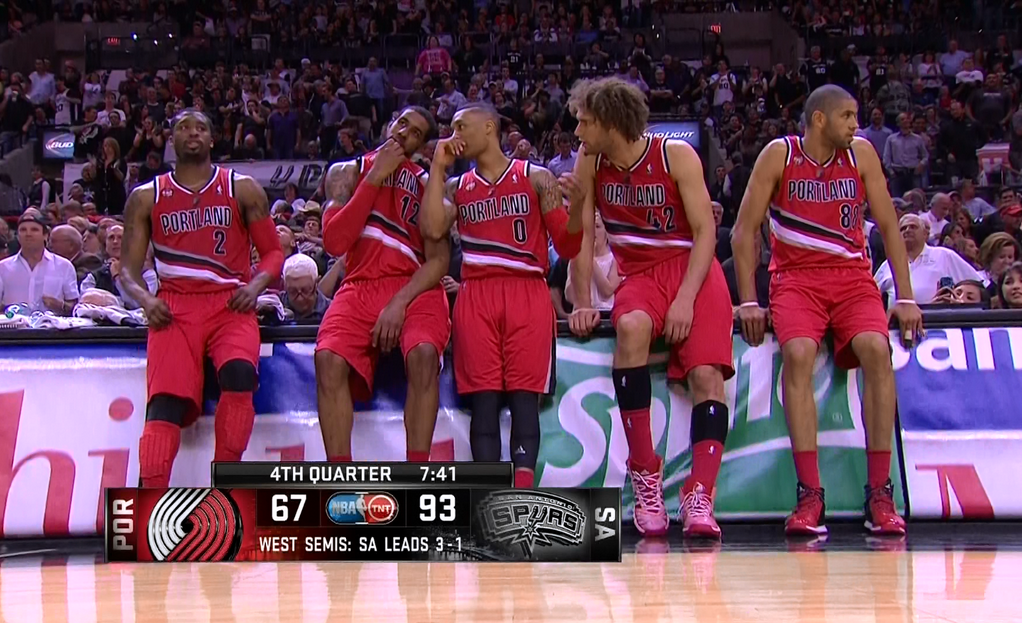 Among the various rankings of NBA players out on the interwebs, Sports Illustrated's caused the biggest stir amongst players last fall.
Our friend Ben Golliver and his compadre Rob Mahoney created some controversy by leaving big names like Carmelo Anthony and James Harden out of the Top-10 of their top-100 players list for 2015.
After the franchise's best season in 14 years, the Blazers entire starting five is now represented with Wesley Matthews and Robin Lopez making the list. The duo joins Nicolas Batum, Damian Lillard and LaMarcus Aldridge, all of whom were on the 2014 list.
Also, all the Blazers who were on the list last year saw their positions on the list improve. Golliver, as would be appropriate, did all of the write ups on the Blazers.
Could he be a full-time starting center on a playoff team?(Yes, he averaged more than 30 minutes for the first time in his six-year career and Portland won 54 games.) Could he play passable defense despite his lack of mobility? (Yes, he proved to be a massive upgrade over J.J. Hickson and a good complement to LaMarcus Aldridge, even if Lopez isn't the most athletic rim protector.) Could he avoid being his team's postseason Achilles heel in a conference that includes the likes of Tim Duncan, Dwight Howard and DeAndre Jordan? (Yes, Lopez was overpowered by Howard, but he filled his supporting role well enough that Portland defeated Houston to win a playoff series for the first time in 14 years.) And, most importantly, could he stay healthy under the strain of big minutes? (Yes, Lopez played all 82 games for the second straight season, a crucial achievement considering Portland's lack of interior depth.)  Now, Lopez has to do it all again to ensure that he makes the most of his free agency next July. 
Matthews should look back on 2013-14 as the season he finally convinced the NBA world to stop overlooking him.  A four-year college player at Marquette who went undrafted, Matthews has been typecast as an unspectacular, blue-collar grinder for most of his five-year career. A pairing with All-Star point guard Damian Lillard has really helped Matthews maximize his potential: a quality catch-and-shoot player who feasts on the open looks created by Lillard and Terry Stotts' pass-heavy offense. But viewing Matthews solely as an auxiliary offensive threat is no longer totally accurate. His 16.4 points per game marked a career-high, and he ranked among the league's most potent outside shooters, as only Stephen Curry, Klay Thompson, Gerald Green and Lillard attempted more than 500 threes and connected on a better rate than Matthews' 39.3 percent. A sturdy 6-foot-5, Matthews also found himself in the post more often against smaller defenders, which offered Portland a change-of-pace look and allowed Matthews to expand his game. Even though he doesn't quite have the athleticism and length to be a truly elite perimeter defender, Matthews' bulldog mentality was on display during the postseason, as he hounded James Harden into tough shots and turnovers. 
No. 43 Nicolas Batum, who moved up from No. 51 last season.
Batum is a jack-of-all-trades who seems ideally suited for his complementary role. He is equally capable of hitting catch-and-shoot jumpers, initiating pick-and-roll action, defending all three perimeter positions and executing chase-down blocks in transition. His toolbox was on display during the FIBA World Cup, where Batum made the all-tournament team and led France to a bronze medal. That latter accomplishment deserves praise not only because Tony Parker and Joakim Noah didn't suit up for France but also because Batum was coming off a season in which he played all 82 games and ranked sixth in minutes. Batum has put himself in the conversation for "second-best small forward in the West" behind Kevin Durant. 
No. 22 Damian Lillard made a huge jump from No. 47
When he eliminated the Rockets with his quick-trigger three-pointer, Lillard was just doing what he does best. His combination of volume and efficiency from behind the arc (6.8 attempts, 39.4 percent) was bested only by Stephen Curry last season, and Lillard's accuracy rose to 44.2 percent in clutch situations (the final five minutes of a five-point game). Lillard uses high screens and step-back dribbles to create looks, and he launches with the slightest bit of space. That rare gift — plus an improved ability to get to the line — helped Lillard rank No. 16 in scoring.
And LaMarcus Aldridge rounded out the starting five at No. 12, up from No. 18 last year.
The arrival of Robin Lopez, a big-bodied center, not only allowed Aldridge to play his preferred power forward position full-time, but it also gave Portland just enough defense to support its free-flowing offense. Throw in some nice progress from All-Star guard Damian Lillard, and the result was a surprising 54-win season, the Blazers' first playoff series victory since 2000, and a new national appreciation for Aldridge, who briefly earned some buzz as an MVP candidate while taking home All-Star and All-NBA Third Team honors. His eye-popping coming out party occurred early in Portland's first-round series against Houston: Aldridge tallied 43 points and 18 rebounds in Game 1 and then dropped 43 points and eight rebounds in Game 2, as the Blazers took both games on the road before finishing out the series in six games. Over a span of four days, Aldridge had succeeded in rewriting Portland's postseason record books.