Trail Mix: Nicolas Batum Earns FIBA World Cup All-Star Honors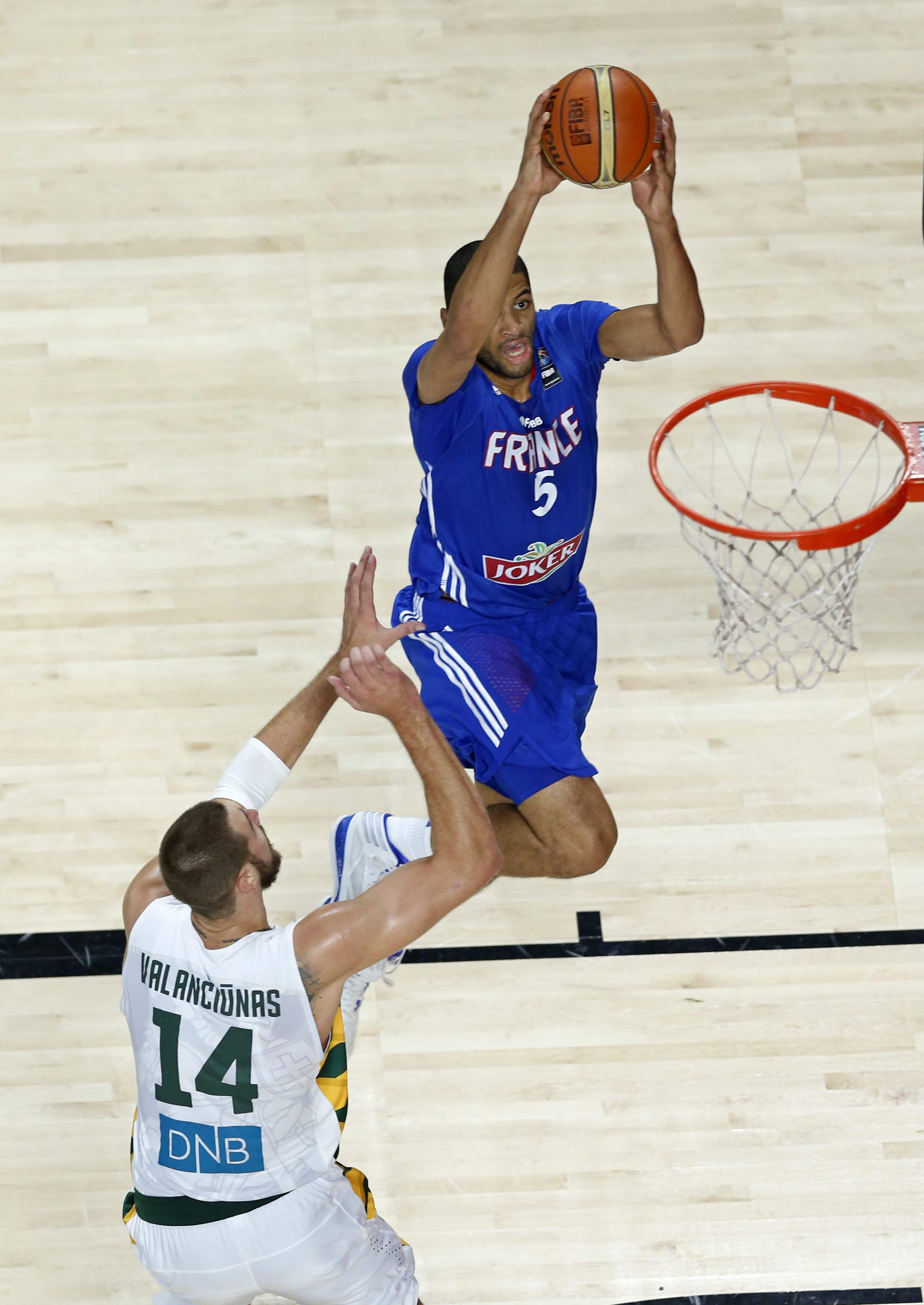 It was a big weekend for Portland and France forward Nicolas Batum.
He put up 35 points in a semifinal loss to Serbia but followed it up by putting up 27 points in the Bronze medal game to help France get their first medal in the history of the FIBA World Cup.
Batum earned All-Tournament honors, named to what FIBA called their "All-Star Five" for the World Cup.  Batum joined tournament MVP Kyrie Irving, Serbian guard Milos Teodosic, USA and Denver Nuggets forward Kenneth Faried and Spain big man and current Chicago Bull Pau Gasol.
Batum also got rave reviews from the critics.
Ben Golliver of Sports Illustrated had Batum on his starting five:
Nicolas Batum, France: 14.6 PPG, 3.1 RPG, 1.3 APG, 1.3 SPG, 48.9 FG%

Tony Parker's absence didn't stop Batum from leading France to the upset over Spain and, later, the bronze medal. Portland's 6-foot-8 small forward shook out of a perimeter shooting slump just in time to post 35 points (on 11-for-17 shooting, including eight three-pointers) in a semifinal loss to Serbia and 27 points (on 8-of-12 shooting and two three-pointers) in the third-place game against Lithuania.
ESPN.com's Marc Stein also put Batum on his starting-five.
I'm going to go out on a limb and suggest that the Blazers probably would have preferred that Batum take the summer off from national-team duty. Especially when they saw Tony Parker andJoakim Noah sitting out for France. But Batum wound up playing two of the best games of his life in the semis and the third-place game, leaving us all with a much more favorable impression than he did in London two summers ago with that infamous crotch punch on Spain's Juan Carlos Navarro. 
Here are some highlights from FIBA of Batum's highest scoring performance.
[youtube http://www.youtube.com/watch?v=TxZfNKSo89Y&w=560&h=315]
Adrian Wojnarowski of Yahoo! Sports writes that international basketball is on track to be a competition for younger players like it was before the 1992 Dream Team. Woj quotes a GM that says the idea is gaining support.
George will be the impetus to end the full participation of NBA stars, but far from the reason. After the 2016 Olympics in Rio, the World Cup of Basketball and Olympic Games are destined to become an under-22 developmental tournament.

"We need to get our vets out and move our younger players in," one NBA general manager told Yahoo Sports. "The support's there for the change, and it's getting stronger."
The Blazers no longer have an NBA Develop League single-affiliate after they ended their relationship with the Idaho Stampede earlier this summer. Now if the Blazers send any players down to the D-League, they will be suiting up for the Fort Wayne Mad Ants. The Mad Ants will also serve as the D-League affiliate for 12 other teams.
TrailBlazers.com's Casey Holdahl writes that Blazers forward Thomas Robinson says his return is on schedule after suffering a torn ligament in his right thumb in Summer League.
Robinson is still wearing a small protective shield when participating in drills and shooting exercises, but he expects to shed that accessory before the start of camp.

"Training camp is not even a question," said Robinson. "I'm fine. This will probably be off within the next week, so I'll be fine before training camp … I'm doing everything. I can do anything now. I've been back for like two weeks now doing everything here, so it's cool now. Just ready to play, that's all."
Also, in news from last week, Robin Lopez stated his willingness to play for the Philippines national team fresh off their first appearance in the FIBA World Cup.
National teams are allowed one naturalized player on their rosters and the Gilas Pilipinas had Brooklyn Nets forward Andray Blatche on their 2014 squad. Via spin.ph:
"If the whole Andray Blatche thing doesn't work out, I'm here for Gilas," Lopez said on Thursday after conducting a training camp organized by Gatorade and NBA Philippines at the Hoops Center in Mandaluyong. "I don't wish any harm to come to Dray because obviously he's played his heart out for that team and he's a great fit," the Portaland Trail Blazer said, referring to Blatche, who reinforced Gilas as a naturalized Filipino in the recent Fiba World Cup.

…

 "I'd love to (play for the country). I realized the passion these people have for basketball," said Lopez, whose brother Brook played with Blatche at Brooklyn in the last NBA season.


Robin Lopez was in the Philippines last week along with his Blazers teammate Wesley Matthews.
Matthews posted a picture with kids in the Philippines on his Instagram earlier this morning.
Training camp is about two weeks away. Can you believe it?