Blazers In FIBA World Cup: Nicolas Batum's 27 Points Leads France Past Lithuania For Bronze Medal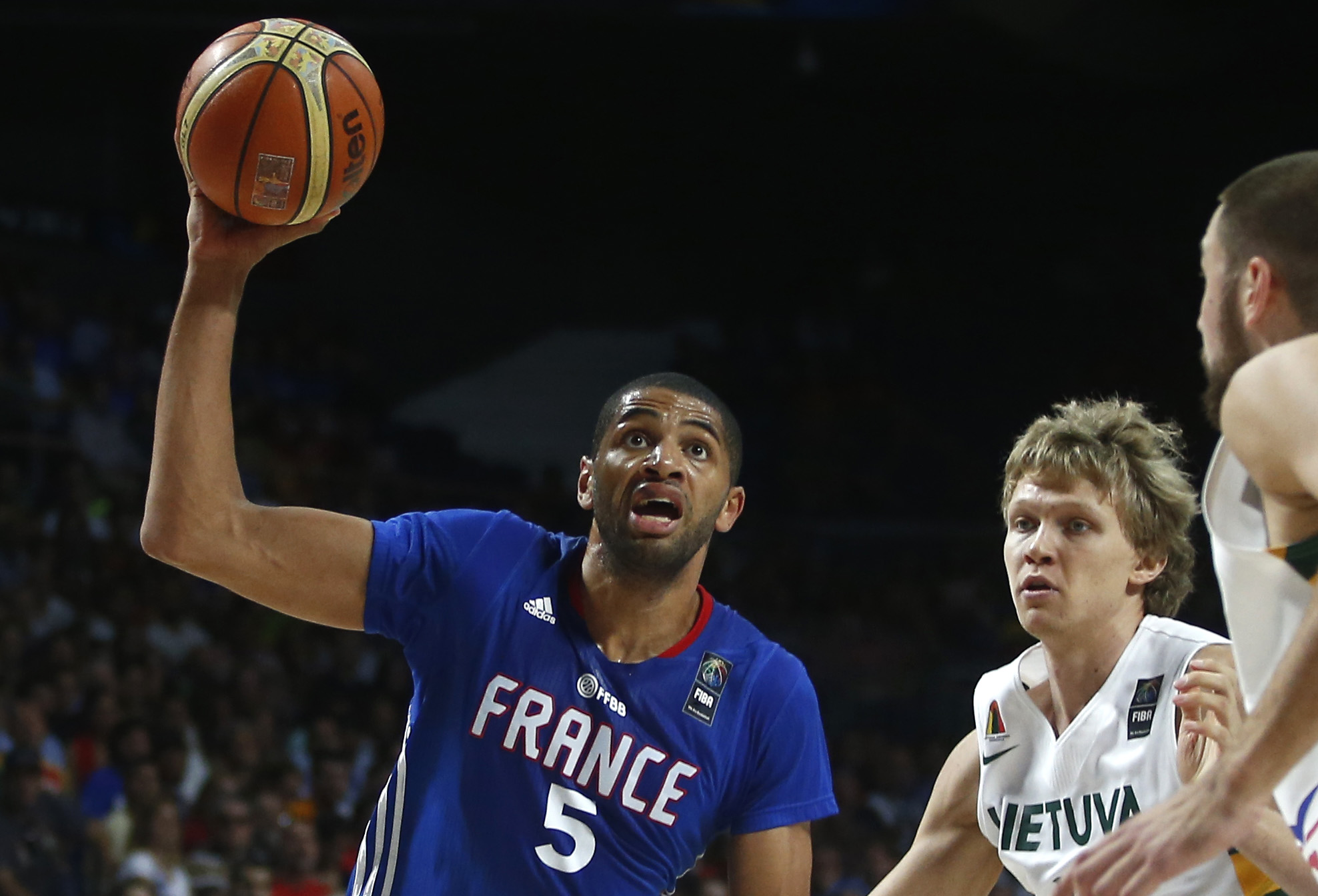 Welcome to The Columbian's coverage of your Portland Trail Blazers competing in the 2014 FIBA Basketball World Cup in Spain.
Damian Lillard did not make the final cut for Team USA while LaMarcus Aldridge withdrew from the process back in mid-July.
Blazers forwards Nicolas Batum and Victor Claver will be competing for France and Spain respectively throughout the tournament.  And, both players are in the same group for the preliminary round, Group A.
For the schedule of upcoming games for both players can be found right here.
Recaps of previous performances:
Nicolas Batum Game 1 | Nicolas Batum Game 2 | Nicolas Batum Game 3 | Nicolas Batum Game 4 | Nicolas Batum Game 5 | Nicolas Batum Game 6 | Nicolas Batum Game 7 | Nicolas Batum Game 8
Victor Claver Game 1 | Victor Claver Game 2 | Victor Claver Game 3 | Victor Claver Game 4 | Victor Claver Game 5 | Victor Claver Game 6 | Victor Claver Game 7
France 95, Lithuania 93: Bronze medal game
Nicolas Batum: 34 minutes, 27 points, 3 rebounds, 3 steals, 1 assist, 2 turnovers, 8/12 FG, 2/5 3PT, 9/11 FT.
After putting up a heroic 35 points in France's semifinal loss to Serbia on Friday, Nicolas Batum continued to play dominant offensively in the bronze medal game against Lithuania.
But this time, his team won, as he finished with 27 points on 8/12 shooting and basically did whatever he wanted when he got the ball. Batum had everything on display offensively again but he seemed to have more of a focus on attacking the basket.
Batum got the to the rim off the dribble and off cuts. Although his end-game free-throw numbers were slightly inflated because a free-throw shooting contest broke out rivaling this scene in "Finding Forrester."
[youtube http://www.youtube.com/watch?v=FIaxR4Z1jVY&w=560&h=315]
But prior to a final 50 seconds that included an incredible 27 free-throw attempts by both teams, Lithuania and France had played a great game for lovers of efficient offense.
Lithuania big man Jonas Valanciunas provided a leading performance in the post with 25 points and 9 rebounds in 35 minutes of play. It was Valanciunas that completely neutralized France's Rudy Gobert who only played 9 minutes after being in foul trouble much of the game.
Once again, Batum was a consistent scoring force from beginning to end while Boris Diaw made two huge buckets in the last two minutes to help France get ahead and force Lithuania to play the free-throw game. Diaw finished with 15 points, 4 assists and 2 rebounds in 33 minutes.
Joffery Lauvergne scored 13 points and 9 rebounds off the bench while Thomas Huertel scored 13 points. Although Huertel did miss a pair of free-throws to help give Lithuania life again late in the game.
Batum's close to the tournament has changed the entire perception of his performance, which could garner him All-Tournament honors when it's all over.
After they got blown out by Spain in the group stage, France steadily improved and their upset over Spain was truly the shocker of the tournament. But Batum also improved from that game and it wasn't all about his numbers from the field bouncing back.
In the knockout stage there wasn't a game in which Batum didn't take at least 6 free-throws per game. While he certainly has a different role on France, I think the Blazers would welcome if Batum or anyone else would get to the line a little bit more next season. Batum was also France's best perimeter defender and would often get switched to whoever was hot for their opponents.
Batum averaged 2.5 free-throw attempts per game in the regular season and his free-throw attempts went down even more in the playoffs although his minutes went up.
Damian Lillard improved big time from year 1 to year 2 in that regard but Batum has never been a guy with a reputation or record of getting to the line very often. Although he had a career-year finishing at the rim in 2013-14, I'm sure the Blazers would welcome more aggression in getting to the foul line from just about anyone but especially Batum, considering his role and contract.
Although Batum played major minutes for France, you can't argue that his participation in the tournament was a waste. He played probably the two best games of his international career to help his country win their first medal in the World Championships.
Batum has a little less than 17 days to recover before the Blazers start training camp on September 30. But he will be returning to Portland with perhaps more momentum than ever before.
Although France won the gold in last year's Eurobasket, this performance without Tony Parker and still managing to medal in the World Cup for the first time might be more impressive.