Blazers In FIBA World Cup: France Upsets Spain 65-52 To Advance To Semifinals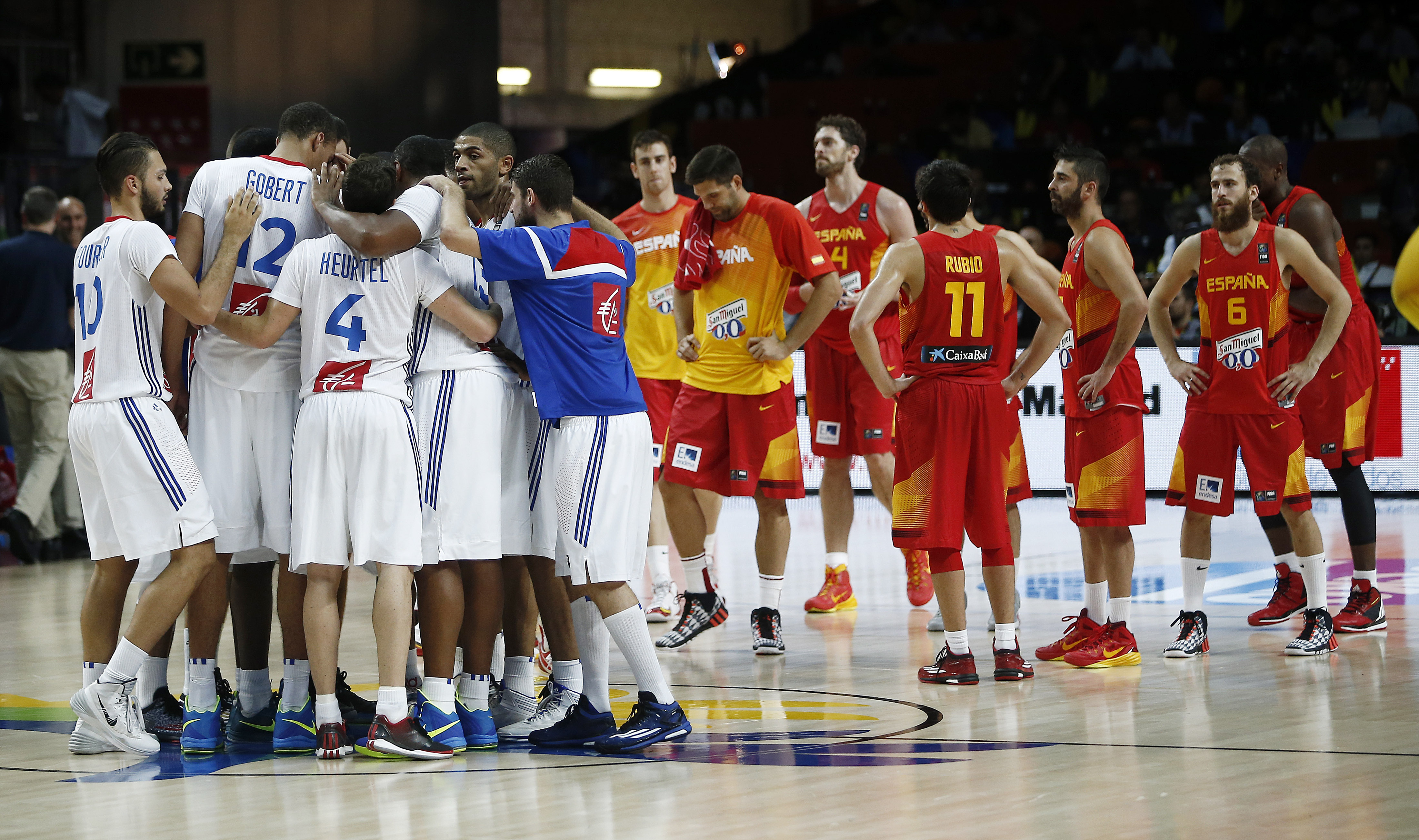 Welcome to The Columbian's coverage of your Portland Trail Blazers competing in the 2014 FIBA Basketball World Cup in Spain.
Damian Lillard did not make the final cut for Team USA while LaMarcus Aldridge withdrew from the process back in mid-July.
Blazers forwards Nicolas Batum and Victor Claver, whose birthday is today, will be competing for France and Spain respectively throughout the tournament.  And, both players are in the same group for the preliminary round, Group A.
For the schedule of upcoming games for both players can be found right here.
Recaps of previous performances:
Nicolas Batum Game 1 | Nicolas Batum Game 2 | Nicolas Batum Game 3 | Nicolas Batum Game 4 | Nicolas Batum Game 5 | Nicolas Batum Game 6
Victor Claver Game 1 | Victor Claver Game 2 | Victor Claver Game 3 | Victor Claver Game 4 | Victor Claver Game 5 | Victor Claver Game 6
France 65, Spain 52: Quarterfinals
Nicolas Batum: 9 points, 4 rebounds, 1 assist, 1 turnover, 1 block, 2/9 FG, 0/4 FG, 5/6 FT
Victor Claver: DNP
Nicolas Batum has a history of using the media as a way to take pressure of his teams ahead of pivotal games.
In the lead up to his national team's huge game against their arch rival Spain, Batum told the media that if Spain lost it would be a "national disaster." 
And in both cases it appeared that Batum's team never felt the pressure. Also, it's worth questioning whether they smartly held back a little bit of their strategy in their previous meeting in the group stage, a 24-point Spain win.
The biggest difference maker, it seemed, was France and Utah Jazz center Rudy Gobert. Gobert, heading into his second NBA season, scored five points, 13 rebounds, one blocked shot but several more shots changed.
Spain's bread and butter had been their big men and Gobert played merely 11 minutes in the opening round game that Spain had dominated. Gobert had showed signs of improvement in Las Vegas during summer league but against the Gasol's and Serge Ibaka he may have been the best big man on the floor in this game.
Wednesday was no different from the rest of the tournament for France in that they were bitten by the turnover bug, having twice as many turnovers as Spain (16-8). But it didn't really matter as Spain had a terrible 2-for-20 game from behind the three-point line.
It also didn't help matters for Spain that Ricky Rubio, Marc Gasol and Serge Ibaka combined to go 3-for-21 from the field.
France's offense was product of good player movement and ball movement on the perimeter. Batum initiated a lot of France's great plays even though he only got credit for one assist on the game. Boris Diaw continued his dream summer after winning an NBA Championship by scoring 15 points, 5 rebounds and 3 assists.
Also, while there is no way to replicate Tony Parker, France's point guard Thomas Huertel scored 9 of his 13 points in the 4th quarter. Also, Mickael Gelabale made a couple of big threes and scored 9 points.
France's team defense was outstanding but they needed a complete performance to pull off an upset of this magnitude which is what they got. Gobert had an unexpectedly dominant game to go with it.
Batum did lead the game in free-throw attempts as well, with all six of his attempts somehow coming from three-pointers. It included this one (below) below the belt from Juan Carlos Navarro, whom you may remember has a history with Batum over blows in the same area.
https://vine.co/v/OzPH3hghgwi/embed
It's certainly safe to say Spain picked the wrong day to have their worst game of the tournament. But, it has to be said that France probably played their best. Wednesday was yet another reminder that in a single-elimination setting, anything can happen.
Now, the host Spain will have to watch the tournament play out on their home soil without a medal. And, it appears that the United States now faces little challenge to win a gold medal.
Victor Claver's final tournament averages in 6 games played: 6.8 minutes, 2.3 points, 1.5 rebounds, 0.2 assists, 0.8 turnovers, 0.5 steals, 0.2 blocks, 41.7 FG%, 25 3PT%.
Up next: USA Basketball faces Lithuania on Thursday at noon while France plays Serbia on Friday at 1PM.