Lowe: Blazers New Court A Downgrade, Still A Top-10 Design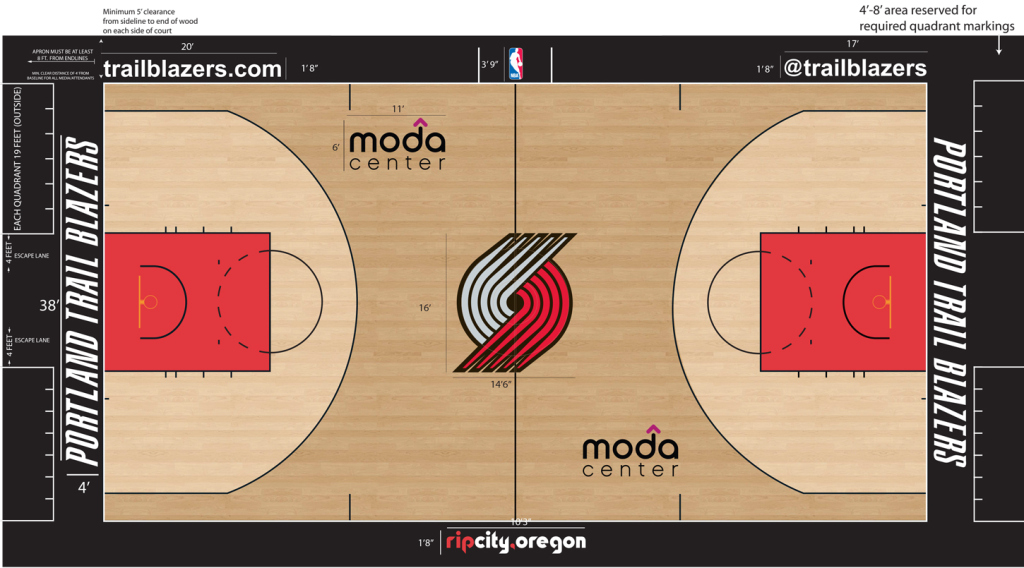 Zach Lowe of Grantland.com is usually a bastion of serious NBA analysis for fans who want to learn more about the league. But as he sometimes does, Lowe also takes a look at the lighter side of things.
On Tuesday he ranked the all 30 NBA courts with the Blazers coming in 8th on the rankings. The Lakers were number one. This will be the first year with Portland's new court and Lowe thinks that the change overall was a downgrade.
Lowe writes
This is the only 2014-15 redesign that strikes me as a downgrade. The Blazers are joining the two-toned club, though their midcourt wood is more muted than Minnesota's glazed coating, and at least they're making an effort to zig one way as the league zags the other.
Of course, Lowe once again stated his love for the trademark pinwheel logo at center court.
The Blazers had a design contest which did feature this two-toned look. But it also appears that the Blazers made some executive decisions regarding the baseline and the half-court sideline logo, f the design Lowe was provided with is in fact the new court at the Moda Center.
Casey Holdahl of TrailBlazers.com writes that the team still says that they are waiting to unveil the new design on opening night.
This version is similar, though not entirely the same, to one of the three courts that was up for fan voting. This new court design has also popped up on the new edition of EA Sports' "NBA Live 2015," which would seem to indicate that this may very well be the new court, though the team declined comment on the matter other stating that they "look forward to unveiling the new court design on Opening Night."
The voting for all three courts has been closed for some time.
So, I guess we will technically have to wait although Lowe has obtained exclusive information of a much more important nature, such as a league memo detailing the financial situation of every NBA team, before.
For what it's worth, I think this design is pretty fresh. I especially like the "Rip City, Oregon" touch at halfcourt by where the scorers table would likely be.
And with regards to Lowe's list, it's pretty hard to argue against the ones in front of it.