Trail Mix: Blazers Single-Game Tickets Released, NBA Nearing New TV Rights Deal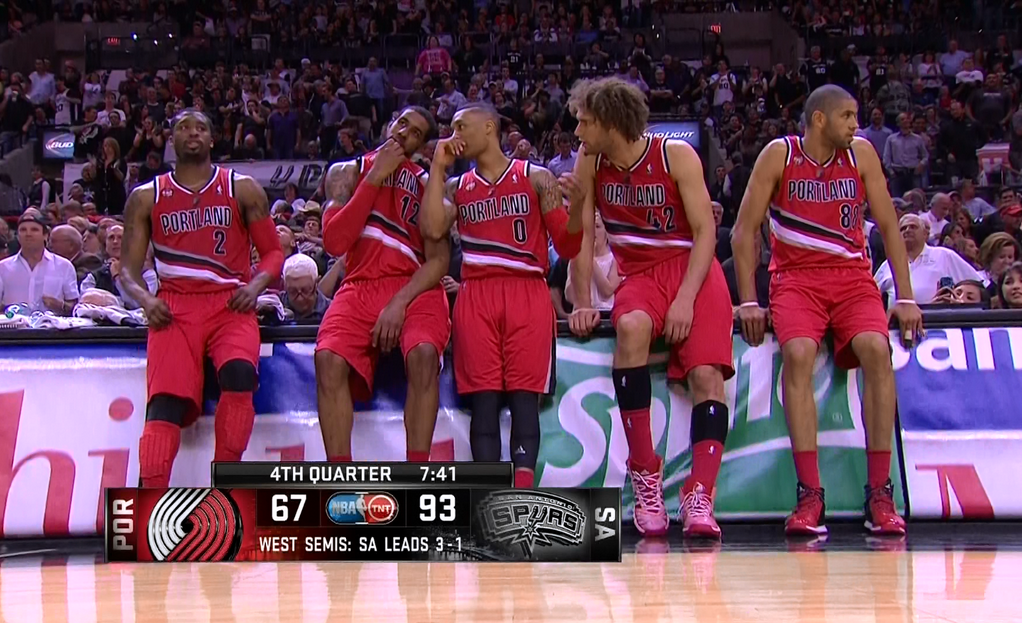 Happy Monday to all! We are now about three weeks away from media day and the beginning of training camp later this month.
No, I can't believe it either. Alas, we have some Trail Blazers and NBA news for you to munch on in the meantime if you still need to quell your hoops hunger.
If you want to secure tickets to see the Blazers and the rest of the league in action at the Moda Center, you can officially do that today. Single-game Blazers tickets went on sale today at trailblazers.com. The link to single-game ticket sales is right here.
According to the Sports Business Journal, the NBA is nearing a juicy new television rights deal to stay at ESPN and TNT.
Talks have progressed so rapidly that details are emerging on a massive agreement that would see the league's annual rights fee more than double, with ESPN and Turner combining to pay more than $2 billion per year on average. One source said ESPN already has committed to pay "well over" $1 billion per year, and Turner is not far behind for a media rights extension that would kick in with the 2016-17 season.
In the same report, it says that it appears doubtful that the NBA would negotiate a media rights deal with a third network such as Fox Sports or NBC Sports as has been speculated before.
That's a lot of paper for the league and it's no wonder that teams like the Kings, Bucks and Clippers are going for record numbers.
And while we're on the subject of owners, we turn to the bizarre story of Atlanta Hawks owner Bruce Levenson and the self-reported existence of racist emails regarding the Hawks and fan attendance.
Full text of the e-mail can be found via Jeff Zillgit of USA Today.
According to Zach Lowe of Grantland.com, there have already been rumblings in NBA circles about moving the Hawks to Seattle, although that talk may be premature.
The sale, plus the Hawks' sad history, sparked immediate talk in NBA circles on Sunday of whether the team might be a candidate for relocation — possibly to Seattle. It's possible, given skyrocketing franchise values and the chaotic history of the Spirit group, that buyers will come calling for more than just Levenson's share. A new majority owner is a game-changer in any city.

But we need to slow down. The Hawks have been in Atlanta since 1969, and the league has made it clear in Milwaukee and Sacramento that it values continuity — provided continuity comes with a glistening new arena, which isn't an urgent need yet with the Hawks. Philips Arena opened in 1999, and though the lifespan of arenas keeps shrinking, there has been no loud outcry about replacing the Hawks' home. Atlanta is a top-10 TV market, larger than Seattle, and the headquarters of Turner and NBA TV.
Kareem Abdul-Jabbar had an interesting take in Time. Also, my good friend Sean Highkin analyzed the e-mail through the lens of NBA owners in the Post-Sterling era for Sports on Earth.
Inspired by the release of the Blazers broadcast schedule, Chris Lucia of Blazersedge.com put together a nice commemorative post about Mike Rice coming up on a quarter-century of service as an analyst for the Blazers.
Whether one loves or loathes him, there's no doubt Rice has left an impression on anyone who's tuned in to a local Trail Blazers television broadcast and heard him opposite Barrett, conducting a train that could go off the rails at any time. Rice has found a niche here in Portland, a place where his eccentricities are not limited by any societal constraints, perhaps even encouraged and fostered at times.

For 25 years The Wild One has made Rip City his home. Even if you occasionally find Rice a distracting sideshow, he deserves acknowledgment for his quarter-century of service to the Blazers organization, all the while maintaining a keen sense of individuality in a world where uniformity and taking the beaten path is often easier and, at times, rewarded.
Major congrats to Rice on a huge accomplishment.
Also, don't forget that the FIBA World Cup is still going on and both Blazers that are in the tournament are still playing. Although, one player is playing significantly more than the other.
Nicolas Batum's France and Victor Claver's Spain are slated to play each other on Wednesday in the tournaments quarterfinals in Madrid. Spain handled France in the group stage last week by 24 points and Batum had a rough game from the field. Since the first game, Claver has only seen action in garbage time as Spain hasn't had a close game all tournament.
Tip-off will be at 1PM on WatchESPN. Here's our latest update on their tournament so far.
Team USA plays Goran Dragic and Slovenia on Tuesday at noon in their quarterfinal match-up.