Blazers In FIBA World Cup: France And Spain Headed For Rematch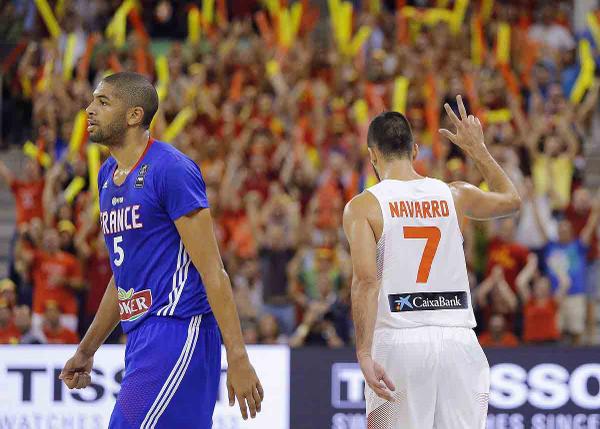 Welcome to The Columbian's coverage of your Portland Trail Blazers competing in the 2014 FIBA Basketball World Cup in Spain.
Damian Lillard did not make the final cut for Team USA while LaMarcus Aldridge withdrew from the process back in mid-July.
Blazers forwards Nicolas Batum and Victor Claver, whose birthday is today, will be competing for France and Spain respectively throughout the tournament.  And, both players are in the same group for the preliminary round, Group A.
For the schedule of upcoming games for both players can be found right here.
Recaps of previous performances:
Nicolas Batum Game 1 | Nicolas Batum Game 2 | Nicolas Batum Game 3 | Nicolas Batum Game 4 | Nicolas Batum Game 5
Victor Claver Game 1 | Victor Claver Game 2 | Victor Claver Game 3 | Victor Claver Game 4 | Victor Claver Game 5
France 69, Croatia 64: Round of 16, Elimination Play
Nicolas Batum: 31 minutes, team-high 14 points, 4 steals, 2 rebounds, 1 assist, 1 turnover, 1 block, 5/13 FG, 0/6 3PT.
Spain 89, Senegal 56: Round of 16, Elimination Play
Victor Claver: 6 minutes, 2 rebounds, 1 assist, 0/2 FG
Spain and France are headed for a rematch in the quarterfinals of the 2014 FIBA World Cup after both team won their opening games of the knockout round.
From a Blazers perspective, Batum has been the only one to play meaningful minutes for his team beyond the first game.  Spain continued to dominate their opponents, winning by 33 points against Senegal. Portland's Victor Claver was once again relegated to garbage duty in their win against Senegal.
On Saturday, Nicolas Batum may have played his best game in the tournament to help France hold off a tough Croatia team.
He shot only 5-of-13 but he had four steals with two of them coming at huge times for France towards the end of the third quarter.
France and Croatia was ugly for the most part, with both teams combining 55 first half points. But Batum showed his pedigree, rising above the fray at key moments to help France get a big lead, which they would need as Croatia frantically pressed to try and tie or win the game in the final moments.
Although Batum's numbers from the field don't look great on paper, it was the way that he did it was the most impressive. He took charge when France needed him to, he jumped passing lanes and was unafraid to go to work when asked. However, his three-point continues to be very un-Batum like, at least from what we see when he's with the Blazers.
Batum is shooting an ice-cold 5-of-25 from the three-point line and he went 0/6 from three against Croatia. One wonders where France could be if he could hit a couple more.
France guard and new Orlando Magic player Evan Fournier has only looked more comfortable as the tournament has gone on.
Additionally, Batum's leadership in the second half was key with Boris Diaw probably having his worst game of the tournament so far.
Spain has played the most flawless basketball the tournament has seen thus far. They've also provided the best Vine/GIF material of any team in the tournament thus far.
https://vine.co/v/Ou97K5DMnIA/embed
But if Batum can find his groove from deep for once in this tournament and France can force Spain out of their comfort zone, which nobody has done so far, they'll have a chance to make it close.
Although it was ugly at times, France's win and Batum's performance on Saturday should be considered as an encouraging sign for their chances in the quarterfinals against Spain on Wednesday.
The time of the game has not been announced but it's safe to assume it will be a 1PM tip-off on WatchESPN and NBATV as Spain hasn't played outside of that timeslot all tournament.