Blazers In FIBA World Cup: Spain Rolls France 88-64, Batum Goes Cold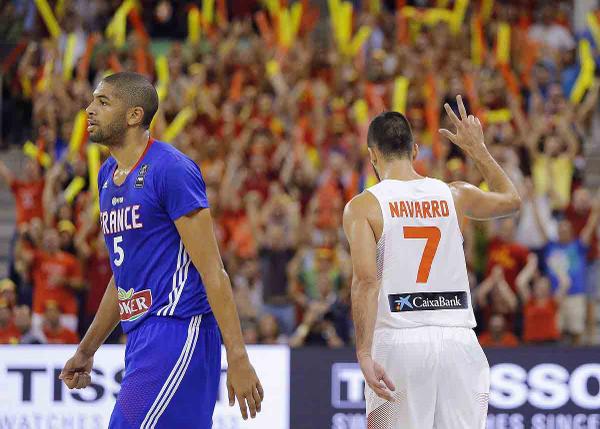 Welcome to The Columbian's coverage of your Portland Trail Blazers competing in the 2014 FIBA Basketball World Cup in Spain.
Damian Lillard did not make the final cut for Team USA while LaMarcus Aldridge withdrew from the process back in mid-July.
Blazers forwards Nicolas Batum and Victor Claver, whose birthday is today, will be competing for France and Spain respectively throughout the tournament.  And, both players are in the same group for the preliminary round, Group A.
For the schedule of upcoming games for both players can be found right here.
Recaps of previous performances:
Nicolas Batum Game 1 | Nicolas Batum Game 2 | Nicolas Batum Game 3
Victor Claver Game 1 | Victor Claver Game 2 | Victor Claver Game 3
On Wednesday, the two Portland teammates faced each other in a clash of the two best European teams of the past few years. But, it was Spain that continued to show their world class ability.
Spain 88 (4-0), France 64 (2-2): Group (A) Play, Game 4
Nicolas Batum: 29 minutes, 11 points, 2 rebounds, 5/15 FG, 1/5 3PT
Victor Claver: 3 minutes, 2 points, 1/1 FG
This game was fun. If you were a) a supporter of the extremely fun Spanish team that continues to roll or b) a neutral observer.
Spain looks to be the class of the tournament and that includes the United States. However, unlike USA Basketball, Spain has handled all competitors in the same manner.
Tuesday was more of the same for Spain, rolling to a 22-point win over France who has become their biggest rival on the European continent in recent years. France took the Eurobasket crown after defeating Spain in the semi-final in 2013 but Tuesday was the story of an overmatched opponent getting dominated.
Without Tony Parker, France is not the threat they were to Spain last year. Mix in a healthy Pau Gasol against a French team lacking in size and experience down low and you have the recipe for a blowout.
France's game-plan was pretty simple offensively. They wanted Nicolas Batum to go to work on whomever guarded him, calling post-plays for him and having him come off screens for threes. The game-plan didn't work as Batum's three-point shot continues to elude him in this tournament.
He went 1/5 from deep and he has only made multiple threes in one game of the four he has played in the tournament. We've illustrated the burden he carries on this team along with Boris Diaw, but one wonders if Batum is being asked to do too much and whether it's effecting his shooting.
He had 0 turnovers against Spain, something he had trouble with in early games but he 0 assists and it looked like the Spain gameplan was for him to score against the undersized wings of Spain.
If the guy you want to take most of your shots misses two-thirds of them, it's a recipe for disaster.
Spain's height was able to neutralize the athleticism France had on the wing and overall, Spain has looked like the best team in the tournament so far.
Batum shot poorly and didn't do enough of the other things or get other players easy looks.
There is no doubt that France is overmatched this summer against Spain and it would be unfair to place the blame squarely on Batum in a role he doesn't usually play. But, he didn't play too well and I'm sure if you asked Nic he would say he needs to play better.
At least for those who normally like to rib him for his lack of aggression, he didn't shy away from taking most of the shots in this match-up.
Using the old match rating, I'll give Batum a 5 simply based on the effort and quality of the opponent.
Up next: 
France plays against Iran at 9 AM on Thursday while Spain plays Serbia at 1 PM on Thursday. Both games will be shown on WatchESPN.