Blazers Nicolas Batum In FIBA World Cup: France Squeaks Out 74-73 Win Over Serbia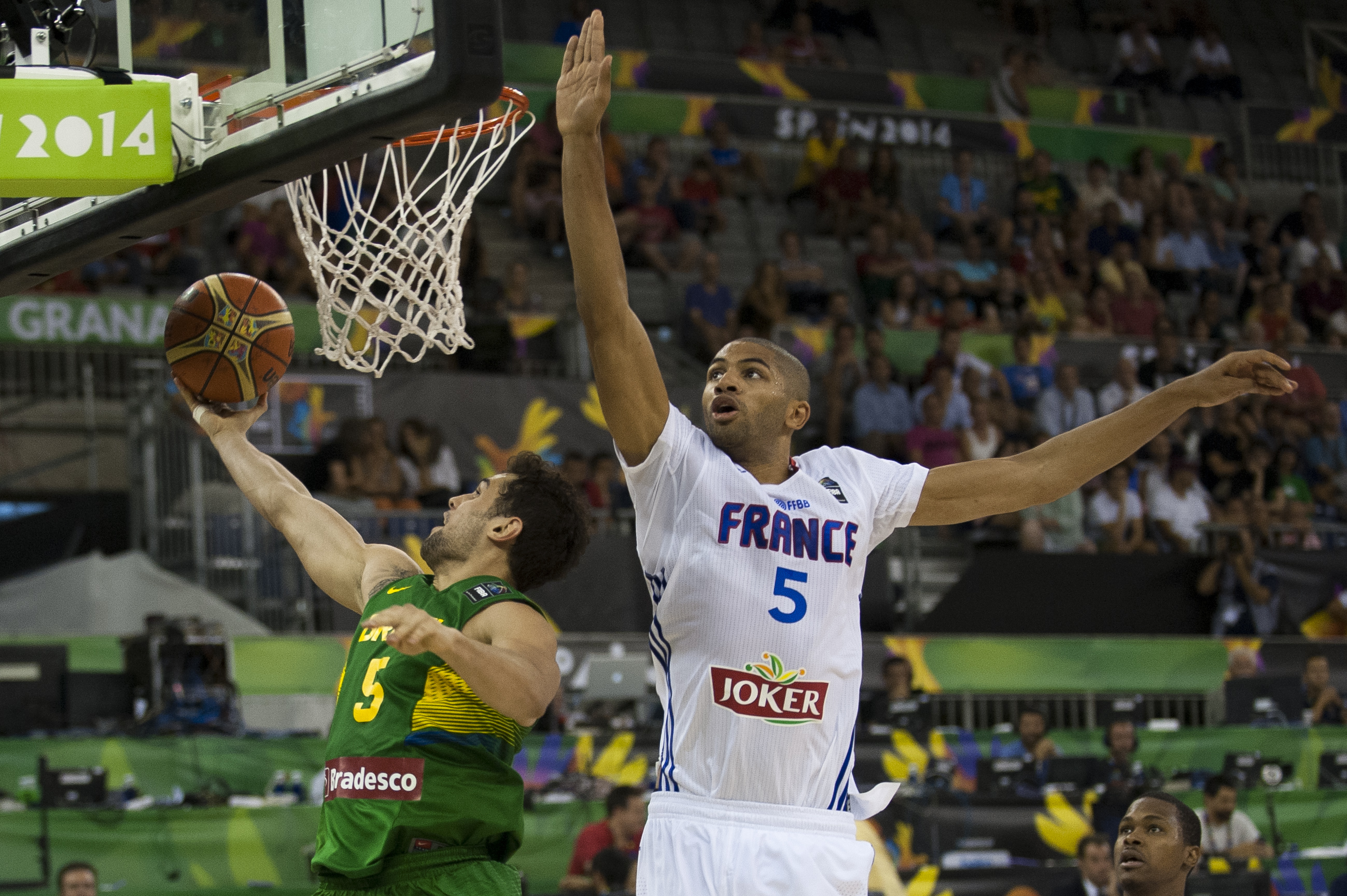 Welcome to The Columbian's coverage of your Portland Trail Blazers competing in the 2014 FIBA Basketball World Cup in Spain.
Damian Lillard did not make the final cut for Team USA while LaMarcus Aldridge withdrew from the process back in mid-July.
Blazers forwards Nicolas Batum and Victor Claver, whose birthday is today, will be competing for France and Spain respectively throughout the tournament.  And, both players are in the same group for the preliminary round, Group A.
For the schedule of upcoming games for both players can be found right here.
Recaps of previous performances:
France 74 (1-1), Serbia 73 (1-1): Group (A) Play, Game 2
Nicolas Batum: Game-high 34 minutes, 11 points, 6 rebounds, 1 assist, 3 turnovesr, 2 steals, 5/10 FG, 1/5 3PT
France went down to the wire for their second game in a row of the FIBA World Cup but this time they came out victorious thanks to a second-half come back.
French big man Joffery Lauvergne was fouled on a drive with 1.1 seconds left and he made the first of his two free-throws before missing the second to give them the 74-73 win.
Batum, as he will be throughout the tournament, was once again called upon to a little bit of everything. Batum was important to a third-quarter run that helped turn the game back into a nip-and-tuck affair.
France also got more contributions from the rest of their team in the scoring department. Lauvergne scored 19 while Antoine Diot had 15 points in 20 minutes of play.
Down the stretch, France got the ball into the hands of Boris Diaw who only played 20 minutes in the game to make plays. He delivered twice with a beautiful bounce pass off a pick-and-roll as well as a tough finish at the basket on the following possession.
Batum had one fewer turnover than he did yesterday against Brazil. He had one particularly ugly turnover in the fourth quarter, but Serbia was unable to make them pay. Still, they kept playing and after Diaw's lay-up to tie the game, Diaw came up big again knocking the ball away from Serbia's Bogdan Bogdanovic.
The steal led to the final possession where Lauvergne put his head down and drew contact for the game-winning free-throw. Then he cleverly missed the second free-throw as FIBA rules only allow for coaches to call timeout in a dead-ball situation.
Still, we saw some more of the same issues for the Batum and his French squad that we saw in their loss against Brazil. Serbian center Miroslav Raduljica had 21 points and 7 rebounds and the lack of French size was exposed. Sometimes, the best rim-protector on the floor for France is Batum, which is bad news against bigger guys.
However, thanks to some contributions from Diot, Lauvergne and also Edwin Jackson off the bench, France was able to take the win by helping out Batum and Diaw.
Serbia is not as talented as Brazil, but this was a tough one.
Batum's three-point shot continues to not fall, but he was more aggressive in the midrange and at the basket, going 4/5 on his two-point attempts. Also, I don't know if there is a player that will play more minutes than him in this tournament when it's all said and done. He's currently fifth in minutes according to FIBA.com.
Match rating: 6