Blazers Nicolas Batum In FIBA World Cup: France Drops Opener To Brazil 65-63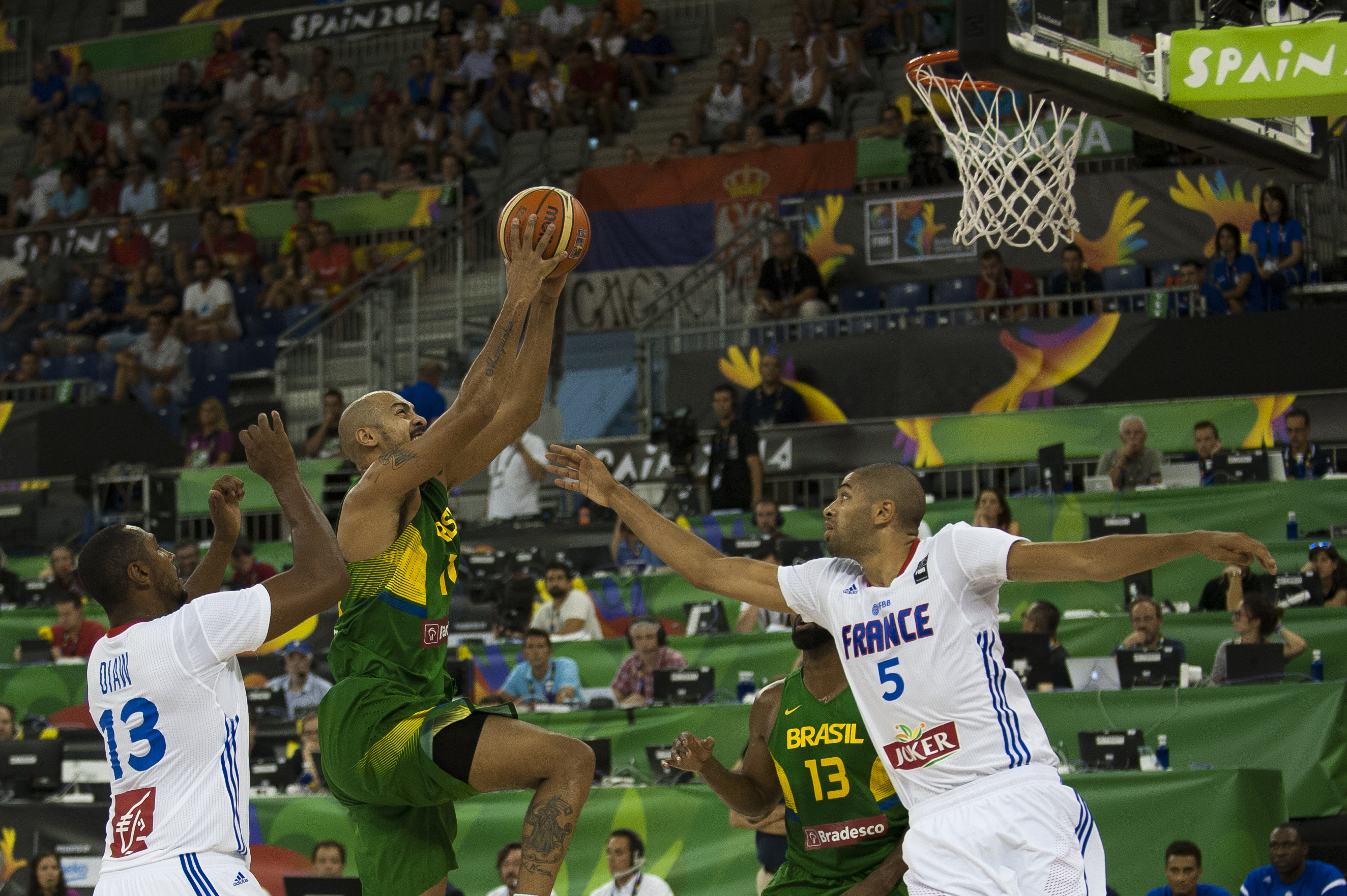 Welcome to The Columbian's coverage of your Portland Trail Blazers competing in the 2014 FIBA Basketball World Cup in Spain.
Damian Lillard did not make the final cut for Team USA while LaMarcus Aldridge withdrew from the process back in mid-July.
Blazers forwards Nicolas Batum and Victor Claver, whose birthday is today, will be competing for France and Spain respectively throughout the tournament.  And, both players are in the same group for the preliminary round, Group A.
For the schedule of upcoming games for both players can be found right here.
Brazil 65, France 63: Group (A) Play, Game 1. 
Nicolas Batum: Game-high 35 minutes, 13 points, 5 rebounds, 1 assist, 1 block, 4 turnovers (tied for game-high), 4/10 FG, 2/7 3PT.
This was a competitive game and it was a close game. A clean game, it was not.
From a defensive standpoint, both teams stuck to their principals but the sloppiness of the French squad was their demise. Batum and Les Bleus started off the game well but things got progressively harder as Brazil shut down their movement in pick and rolls.
Without Tony Parker, much more of the playmaking and scoring burden is on Batum and Boris Diaw. If Batum is one of your main playmakers, understanding that high turnovers are a cost of doing business with him at the helm is important. Without Parker, those issues will only be magnified.
In the last two seasons with the Blazers, we've seen Batum shoulder more of the playmaking burden. His game against France showed more of the same dilemma: the smart, sometimes brilliant passes mixed with a seemingly equal amount of turnovers.
The best actions the French team had all day involved Batum and Diaw. Diaw finished the game with several team-high's 15 points, 6 rebounds and 5 assists. Batum played a game-high 35 minutes, sitting down for only five minutes of game-time.
The burden on the two couldn't be easier to see. Brazil started closing the gape in the second quarter when Batum went to the bench and things looked like they were slowly falling apart for France on both ends when he wasn't on the court.
Batum didn't play great, but he didn't play poorly either. He was efficient with his shot-selection, with seven of his 10 field goal attempts coming from beyond-the-arc. Had a few more of those gone down, we're not talking about the turnovers.
Another thing that was evident for France, along with their over-reliance on Diaw and Batum was their lack of toughness and experience on the interior.
Brazil's big-man trio of San Antonio's Tiago Splitter, Washington's Nene and Cleveland's Anderson Varejao helped the Verde e Amarelo bully France on the glass, 42-30. The biggest difference was on the offensive glass where Brazil held a 16-4 advantage.
Towards the end of the game, Batum was either a) not included in the actions called by French coach Vincent Collet b) being face-guarded and denied the ball c) tired or d) all of the above.
Guard Thomas Huertel took almost every single shot late for France and their attempts to attack Brazil's Leandro Barbosa in the post were fruitless.
If I were to give out a match-rating for this, a la Ben Golliver last year during Eurobasket, I would probably give Batum a 5 for his game on Saturday.
He left a few plays out there, he carries a heavy burden for his team but it wasn't a particularly great performance and he was invisible late.
However, he and his teammates should be able to get some bounce back in their step as they'll play Serbia and Egypt in their next two games.
But, against Spain on Thursday, their lack of big men will likely come into focus again. Batum will have to be much better if they are to have a chance of winning that one.